Hong Kong Open Superseries: PV Sindhu silences detractors with impressive victory over Ratchanok Intanon
On Saturday, PV Sindhu looked like a player on a mission to prove to one and all that she had the hunger, the will and the stamina to be the kind of workhorse that Lee Chong Wei and Son Wan Ho have been in recent years.
It is a source of great delight for this inveterate supporter of Indian badminton to have to swallow his words, and report that PV Sindhu is a world away from the zombie-like creature, fatigued in body and mind, that was dragging itself around the court barely a week ago, wishing it were anywhere but playing a China Open quarter-final against teenager Gao Fangjie.
Those, including this correspondent, who had been raising the demand that the 22-year-old Pullela Gopichand Academy trainee be given time away from the sport to dispel the staleness from her game were proved wrong when Sindhu produced a sparkling display in the semi-final of the $4,00,000 Hong Kong Open Superseries championships to eliminate her nemesis, Thailand's Ratchanok Intanon, by an impressive 21-17, 21-17 scoreline in 43 minutes of domination.
The painful memories of Sindhu's 11-21, 10-21 decimation at Gao's hands in Fuzhou were dispelled in the face of a commanding display of aggressive badminton that propelled the Indian ace into a second successive Hong Kong Open final against the same player to whom she had surrendered in the 2016 final — the reigning World No 1, Tai Tzu Ying of Chinese Taipei.
Tai, in the other women's singles penultimate-round clash, overcame her usual mid-match problems against South Korea's third-seeded Sung Ji Hyun, to thoroughly dominate the opening game and the decider, and run out a 21-9, 18-21, 21-7 victor in 52 minutes; and take her head-to-head tally against the Korean to 15-9 in 24 meetings.
The significant statistic here is that Tai, who began her total hegemony in international badminton a year back, has won their most recent half-dozen matches, breaking the 9-9 deadlock that existed between her and Sung before the December 2016 Superseries grand finals in Dubai.
But let's return to Sindhu's memorable showing against Intanon, whom she trailed 1-4 in career meetings before the 2017 Hong Kong Open semi-final. This was a player on a mission to prove to one and all that she had the hunger, the will and the stamina to be the kind of workhorse on the world badminton circuit that Malaysia's Lee Chong Wei and South Korea's Son Wan Ho have been in recent years.
Determination writ large on her face, Sindhu revealed crispness in her strokes and alacrity in her movement around the court, to show that this was a player looking forward to add to her collection of Superseries titles, thus far limited to a solitary crown — the 2016 China Open, won at the expense of the host nation's Sun Yu.
It was strange to hear the sizable Indian contingent in the sell-out crowd at the Hong Kong Coliseum raise the kind of chants, accompanied by a drumbeat, that are normally reserved for India-Pakistan cricket matches: "Jeetega, bhai, jeetega; India jeetega! Haarega, bhai, haarega, Thailand haarega!" ("India will win; Thailand will lose!") and "India-a-a-a-a, India!"
The crowd support certainly seemed to bring out the best in Sindhu, who attacked from the word "Go!" and used her height to bring the shuttle down in the forecourt, making Intanon stretch forward in defence repeatedly.
When the strokeful Thai tried to turn the tables, and grab the initiative in the rallies, the Indian defended stoutly, keeping the shuttle in play, and forcing Intanon to take more risks and hit that one extra shot which would end up in the net. Intanon exercised all her deceptive wiles, but Sindhu read most of her strokes and found an effective counter to them.
Taking a handy initial lead of 6-2, Sindhu went into the mid-game break with an 11-7 advantage, which she enlarged to 14-7, to take a seemingly strong grip on the opening game. The Indian moved inexorably to 17-9, 18-10 and 20-13, before suffering from her familiar closing-out blues. The Thai switched to the low short serve and upped the pace, to claim a quartet of points before netting a backhand flick to surrender the first game.
Intanon was ahead initially in the second stanza, with some probing strokes to the corners, particularly to Sindhu's deep forehand, but the Indian strung together half-a-dozen good points to power ahead from 5-6 to 11-6 at lemon time. She never relinquished this lead, though Intanon closed the margin to 12-13 at one stage.
Watched closely from the sidelines by coaches Gopichand and Indonesian Mulyo Handoyo, Sindhu inched up to 18-14, and suffered some anxious moments as the Thai narrowed the margin to 17-19. Amidst a flurry of poor line calls, Sindhu secured her winning point on a successful line challenge, and raised her arms aloft in triumph a second time after seeing the result of Hawk-eye on the big screen.
There was no such drama in Lee Chong Wei's ferocious decimation of China's Shi Yuqi, conqueror of his great compatriot, Lin Dan, in the previous round. The Malaysian, who looks to have got back to his best in this tournament after a series of indifferent results in recent months, won at 21-19, 21-8, to set up a final confrontation with two-time former world champion Chen Long, a laboured 21-14, 19-21, 21-17 winner over Denmark's Anders Antonsen.
In Sunday's final, Sindhu will take the court against Tai Tzu Ying at around 3.30 pm (1 pm, Indian time), hoping to emulate the feats of the legendary Prakash Padukone and Saina Nehwal, the only two Indians to win the Hong Kong Open title, in 1982 and 2010, respectively.
The task is daunting, for Sindhu trails the Taiwanese ace 3-7 in career meetings, and has been beaten on four of the last five occasions that the two have clashed since last year's Hong Kong Open final. Tai has won each of their last three clashes.
Yet, Sindhu will take heart from the fact that she had beaten her Taiwanese rival in the 2016 Rio Olympics, on her way to the final, and also from the fact that she had been just two points away from a straight-games victory against the World No 1at the Australian Open in June this year, though she eventually lost at 21-10, 20-22, 16-21.
Nevertheless, whatever the result of the summit clash against Tai, Sindhu will be back in the World No 2 slot when the Badminton World Federation (BWF) rankings are declared next Thursday. There is still a substantial gap between her own points tally, and that of the runaway leader from Chinese Taipei, but Sindhu has successfully defended the Hong Kong Open points she had against her name, to edge out Akane Yamaguchi, who had usurped the World No 2 ranking last Thursday.
Sports
Battling injuries and indifferent form, Saina, 31, couldn't make her fourth Olympics after the sport's governing body, BWF, cancelled the last three qualifiers due to the pandemic.
Sports
Marin felt discomfort in her knee during training on Saturday and tests revealed that it's an ACL injury.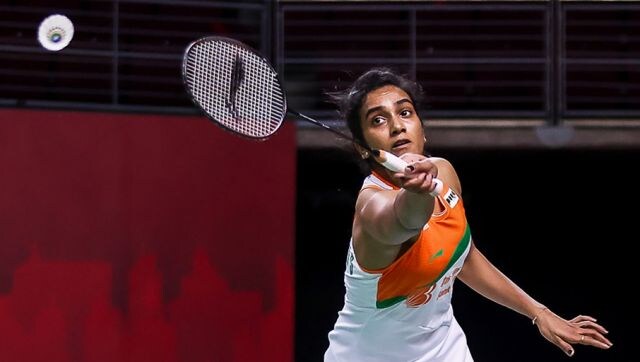 Sports
"I will miss you at the Olympic Games but hope we compete against each other soon, so come back fast and recover soon," Sindhu said in a video she posted on Twitter for Carolina Marin