Hong Kong Open: Caroline Wozniacki battles past Kristina Mladenovic, wins 25th career title
Hong Kong: Former world number one Caroline Wozniacki beat unseeded French challenger Kristina Mladenovic to take the Hong Kong Open on Sunday after a battle of wills that lasted almost three hours.
Wozniacki of Denmark, seeded fifth in the competition, stormed the first set 6-1 with Mladenovic visibly despondent and limping slightly.
The 23-year-old Frenchwoman emerged in the second set with her right leg bandaged and with a renewed focus, forcing Wozniacki to dive around the court with a combination of drop shots and powerful drives.
The set went to 6-6, with Mladenovic sealing the tie-break 7-4 to go even.
Spectators around the packed stadium waved paper fans constantly on a hot and humid afternoon, with temperatures at 30 degrees Celsius (86 degrees Fahrenheit).
Dressed all in green, a determined Wozniacki, 26, finally sealed victory in the third set. A tired Mladenovic was ultimately unable to match the Dane's power and consistency.
Frequently bending to lean on her racquet between points, the Frenchwoman was in tears as she desperately tried to fight back after Wozniacki took a 5-0 lead.
Wozniacki eventually took the final set 6-2.
"I'm really pleased with my week this week -- there was some good tennis and long battles," Wozniacki told reporters.
The Dane said the final had been a mental battle, as it was unclear to her how badly Mladenovic was hurt.
"It wasn't easy mentally because sometimes she would look like she couldn't play, and then she would run like Speedy Gonzalez -- clearly it's not that bad if you can run side to side. There was definitely a mental game. I just happened to win it," she said.
Wozniacki herself has battled back from injury and has had a resurgent run of form in the past two months, reaching the semi-finals of the US Open and winning the Pan Pacific Open in Tokyo.
She is still without a Grand Slam title to her name and said it was her ambition to win one.
"It's the only thing missing from my CV," she said.
Wozniacki had downed seventh seed Jelena Jankovic, also a former world number one, to book her finals place.
Mladenovic had been aiming for her first WTA title -- it was the third time she had made a singles competition final only to lose.
She told reporters she had struggled with exhaustion and a hamstring injury during the final after a week of long matches, as well as suffering in the heat and humidity.
"I was not coming out fresh and when you play someone like Caroline, who is running down every point, you have to fight," she said, adding that she was sad and frustrated during the match.
"It was very difficult. I have no idea how I made it to three sets."
Venus Williams and current world number one Angelique Kerber went out earlier in the competition.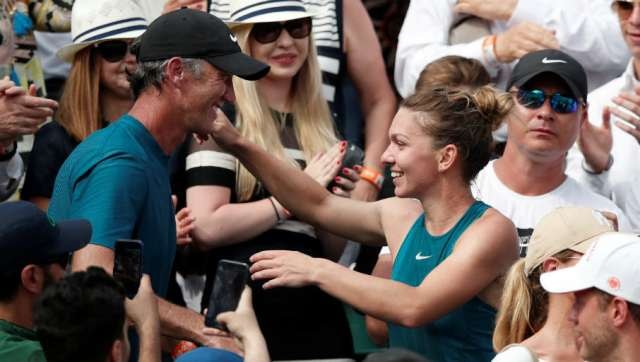 Sports
The Romanian, who turns 30 on Monday, also reached No 1 in the rankings. She is No 14 this week.
Sports
Paes and Bhupathi played together from 1994 to 2006 and reunited for their second stint from 2008 to 2011.
Sports
US Open Live: Follow live score and updates of the men's singles final between Novak Djokovic and Daniil Medvedev at Flushing Meadows in New York.