Hong Kong Open 2018: Son Wan Ho battles past top seed Kento Momota to enter first World Tour men's singles final
Top-ranked Kento Momota was sent packing from the Hong Kong Open Saturday after a stunning semi-final loss to South Korean Son Wan Ho
Hong Kong: Top-ranked Kento Momota was sent packing from the Hong Kong Open Saturday after a stunning semi-final loss to South Korean Son Wan Ho.
Son triumphed 18-21, 21-16, 21-19 in an exhausting 89 minutes – the longest match of the tournament so far – after seeing off a late boost from the exhausted Japanese star in the decider.
Momota led through the first game but slipped for long enough for his opponent to level at 17-all after conceding six consecutive points.
He kept the edge after the interval before Son broke into the lead at 12-11 with a gravity-defying let after a tap at net.
Momota evened with a backhand after springing back from prone position after a stumble but couldn't stop the sixth seed from powering ahead.
Son led through most of the third game but Momota kept at his heels, drawing level five times before an agonising miss on match point.
Momota has been in searing form since his return to the sport after a gambling scandal saw him slapped with a 12-month ban.
But the 24-year-old has had a slow run through the Hong Kong tournament. He beat Chinese great Lin Dan in the first round but complained of burnout after his first three matches all went to three games.
Son, 30, is through to his first top-flight singles final since his win at the 2016 Korea Masters.
Badminton
Veteran shuttler Ponnappa backs the Red Bull Shuttle Up event to improve the standard of women's doubles in Indian badminton and produce multiple champions down the road.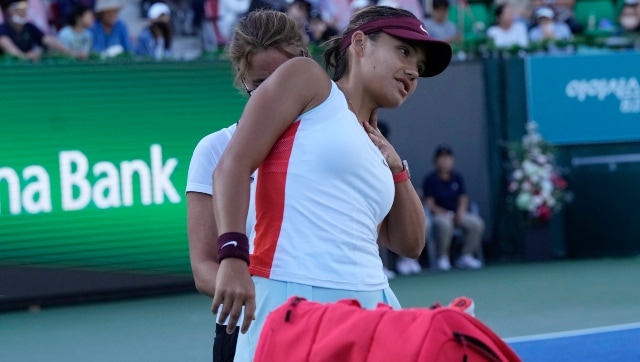 Tennis
Emma Raducanu and her opponent Jelena Ostapenko had won one set each and she was trailing 0-3 in the third set when she caught a left glute injury.
Tennis
Emma Raducanu will now face top seed Ostapenko from Latvia in the Korea Open semi-finals.