Puneri Paltan's resilience was on show at the Shree Shiv Chhatrapati Sports Complex in Pune. After an alarming defeat to Gujarat Fortunegiants in the opening game of their home leg, Puneri Paltan had bounced back to beat Jaipur Pink Panthers, U Mumba and Bengaluru Bulls. Sitting pretty at the top of the table, Pune had built a foundation to to launch their playoff bid. But then the home curse struck them. The hosts ended their home stanza with back-to-back defeats to Tamil Thalaivas and UP Yoddha — teams sitting at the bottom of Zone B.
As surprising the losses were, the script was a familiar one. Earlier in the season, Tamil Thalaivas and Haryana Steelers collapsed in their respective home legs after making a positive start. Out of the 18 games involving the home team, the hosts have managed just six wins so far this season.
The pattern is a continuation from last season where barring Patna Pirates and Gujarat Fortunegiants, no team managed a win percentage higher than 50 at home. Dabang Delhi and Tamil Thalaivas lost all the matches in their home legs to finish bottom in their respective zones.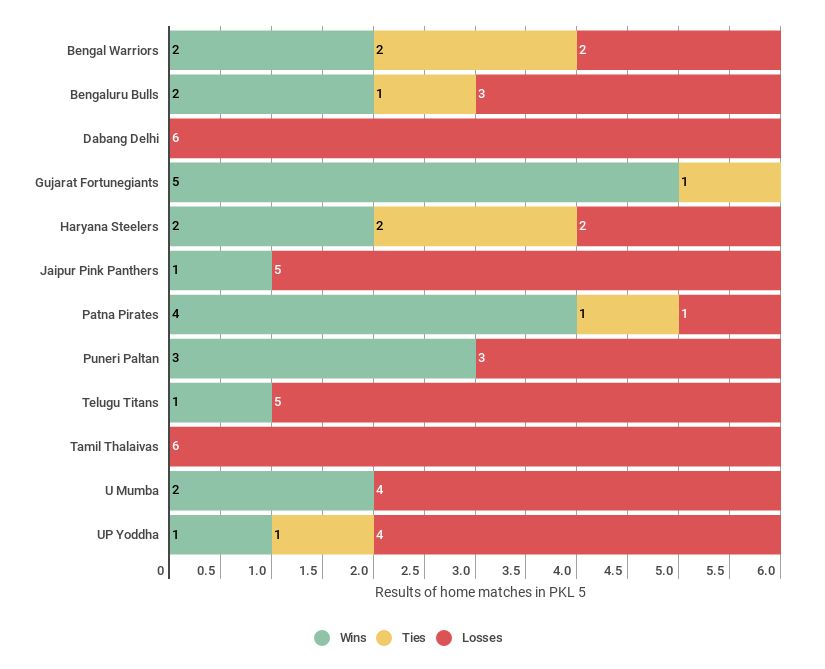 Puneri Paltan's win percentage of 50 — last season and in the ongoing season — ranks among the better home performances with most teams failing to win more than two matches in their own backyard since the season was stretched to three months in 2017.
However, the Paltan, like most teams, showed much improvement away from home with their win percentage shooting to 75. Such contrast was reflected by most teams last season with only Gujarat and Patna having a higher win rate at home than away from it.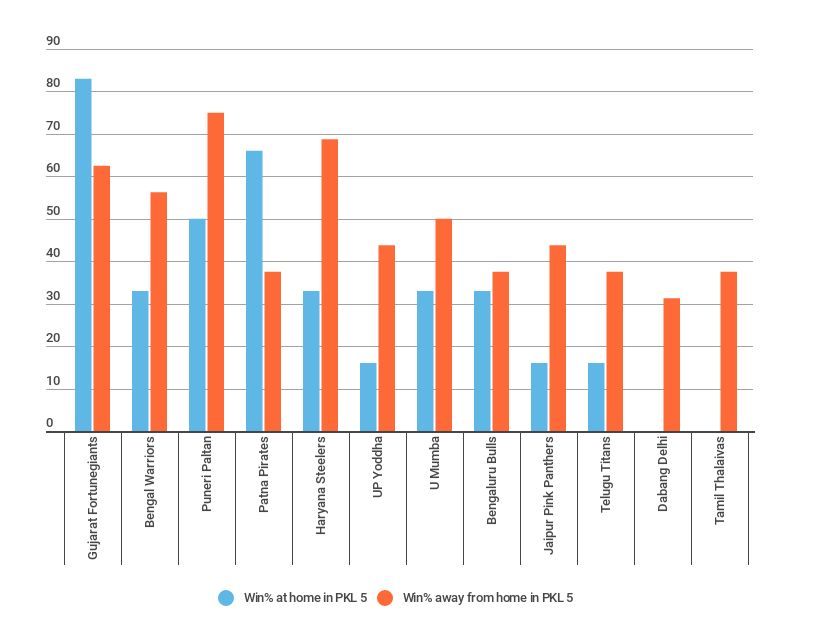 Across sports, playing at home is seen as an advantage, but to an extent that hasn't been the case in the Pro Kabaddi League so far, especially in the new format that sees the league run for three months where a home leg lasts for six days instead of four earlier.
Firstpost spoke to a host of players and coaches to understand why succeeding at home is such a difficult ask on the mat of Pro Kabaddi. Here is the list of factors that affect performances of teams on home patch.
Caravan format and the lack of a real home ground 
Pro Kabaddi follows a caravan format. Teams travel from one venue to other and hardly spend time in their home city, or barely train on their home ground. Majority of the teams do not have their pre-seasons in their home cities, so practically the team only plays or trains in their home stadium during the home legs. In other sports, teams are more closely connected with their home grounds as they play there more often.
Unlike sports like cricket, no external conditions impact the game in kabaddi, so the home advantage in PKL, doesn't really hold much bearing.
"There isn't a great deal of difference in home matches. Let's say 5 percent difference. The game is the same, and when you are on the mat, you don't really feel if you are at home or away," Jaipur Pink Panthers coach Srinivas Reddy told Firstpost.
With the caravan style format, the former Haryana Steelers assistant felt results at home depends on the momentum in which a team enters its home leg. So according to him, the home stretch becomes a double-edged sword with the large number of matches a team has to play within a short span of time.
"The form and the confidence that a team takes into a home leg is crucial. I feel the first ten matches are important. If you can win maximum matches in this period, your confidence is high. The team is in comfort zone. So if your home leg comes at a time you are in a good state of mind, its impact is doubled. If you win maximum matches in your home leg, it greatly boosts your chances of qualifying.
Similarly, if you are not in good form, then you don't get time to sort yourself in the home leg as matches come thick and fast. Hence it's a double-edged sword according to me," Reddy explained.
More matches, less recovery 
In a contact sport like kabaddi, the rigours of a three-month-long season take its toll on the players. Hence most teams haven't been able to sustain the level of the performances as the home leg progresses. Along with physical fitness, mental toughness also becomes crucial.
"The new format is definitely tougher on the body, but the main problem in home legs is the mental recovery. It is hard to get the previous game out of your system in just one day. If you have lost a game, you keep thinking about it for some time. In such situation it's very hard to focus on the preparation of the next game. Hence teams tend to struggle in home legs as there is no time to recover from a bad performance," Rohit Kumar, the skipper of Bengaluru Bulls reasoned.
Puneri Paltan coach Ashan Kumar echoed Rohit's thoughts suggesting the player's will to do a bit extra on home turf often leads to continued poor performances as he gets little time to reflect on it, and thus make any improvements.
"There is naturally more pressure when you play at home. The spectators always want you to win and as players you want to win as well for your fans. In the eagerness to do well, players end up taking the wrong decisions. Players tend to do a bit extra than what is needed. It's not always good for a player as he ends up losing his composure in such cases," Kumar said.
"If a player makes a mistake, the pressure further increases and he tries to do even more, especially in home legs as he has to fulfill the expectations of the fans. This is not good as you tend to focus only on your own self and that's not good in kabaddi, a sport that works completely on team ethic," the veteran coach elaborated.
Evenly matched teams, dispersed experienced players
With Pro Kabaddi introducing four more teams from 2017, the talent pool got spread out resulting in more balanced teams. A year on from the advent of the new format, teams are more evenly matched than before. Majority of games have gone down to the wire, and the team that is fresher, sharper and more composed emerges as the winner. Achieving such level of performance in the marathon home leg is a challenge and thus winning at home has become harder than before.
"The experienced players have got dispersed in the 12 teams. Initially every team had enough experienced players to handle the pressure during a home leg. In fact, certain teams were either very strong like U Mumba in the first three seasons, while some others pretty weak. Now almost all teams are fairly equal. So playing at your home ground, there is more pressure on you. That pressure and an equal competitor makes it slightly hard for teams in home legs," Ajay Thakur, who is captaining the Tamil Thalaivas side for the second year running told Firstpost.
In the first four seasons, where the number of matches were lesser, teams managed to remain unbeaten in 57 percent of the home matches. In season five and six, that figure has dropped to 40.33 percent. The average win percentage has also dropped from 43.75 to 32.58.
Teams like U Mumba that enjoyed a great deal of success in the initial campaigns, and had an enviable home record. The Mumbai side lost just two matches in the first four seasons and had a win percentage of 75 at the NSCI. Similarly, Telugu Titans who were quite a force in the early years had a win percentage of 56.25. That figure now stands at 16 in the new format.
Performances at home haven't been as strong for Pro Kabaddi sides compared to teams in other sports, but there has been a distinct dip in the performances of teams in their home legs since the new format was introduced.
Need for fitness
Patna Pirates will begin their home leg on Friday, and the Ram Mehar Singh-coached outfit were among the few teams who made the most of the matches at home. Singh, who also coached the Indian team at the 2018 Asian Games stressed the need for high fitness levels to be able to cope with the hectic home period.
"Fitness is very key in the longer format. If you see last season, the teams that reached the final had the best fitness levels. Gujarat and us (Patna) had very good performances in the home legs as well because our players were fit," Singh revealed.
Bengal Warriors coach Jagdish Kumble, whose team managed just two wins in Kolkata last season, shared the same view as Singh. The Warriors coach feels teams will be better equipped to deal with the challenges that a home leg brings this year.
"There are many tournaments where we play three matches in one day, so recovery should not be that big a problem, but it is hard for players to recover if they suffer injuries during home legs. I feel it's important to have a larger pool of quality players so there's a replacement ready," divulged Kumble.
The onus will now be on the Pirates to buck the trend of home struggles. Like the defending champions did last year, their matches at home could well propel them ahead of the competition in Zone B which is a very competitive zone. But as most teams have endured, winning at home is easier  said than done in the PKL. Over to you, champions!
Updated Date: Oct 26, 2018 18:02:41 IST