Hold your horses! Rise in I-league attendance is a minuscule ripple against the ISL wave
Against the all-conquering wave of the ISL, the rise in attendance is merely a ripple that isn't enough for the I-league to mount any sort of fightback to prominence.
Positive news is usually hard to come by in Indian football. Even more so in the context of the struggling I-league, which at least in theory remains the country's premier football league. So there is a desperate tendency to lap up the slightest hint of positivity, exaggerate it a little and put a spin on it. Recent reports stating that the I-league has seen a 40% rise in attendance midway through the season, serve as a classic example.
The numbers may be correct but certain assertions in the report are questionable. Firstly, the claim that this growth in attendance "belies fears that the Indian Super League (ISL) would undermine the importance of All India Football Federation's (AIFF's) flagship tournament" is a rather far-fetched one. Forty percent of a small number (5,909 — last year's overall average) is still a small number, which amounts to an increase of only 2,387 spectators. The empire strikes back? Hardly. The ISL, with an average attendance of 26,376 in season two, even when majority of its matches were played on weekdays, has shown that Indians can be drawn out to stadiums. And perhaps even in creating a habit, it has positively impacted its poorer cousin.
Besides, the average attendance of 8,296 halfway through this season isn't really a fair average to compare with that of the entire 2015 season. Of the four clubs with the highest attendances – Mohun Bagan, East Bengal, Bengaluru FC and Shillong Lajong in decreasing order – the first two have already played five out of their eight home games while the latter two have played four each. Which essentially means that, at the current rate, the league's overall average attendance is bound to drop significantly by the end of the season.
If you consider both organic and inorganic growth factors, a 2000-odd increase is too low a number for it to be deemed a success by the AIFF. Ahead of the 2016 campaign, the federation and the I-league clubs together had pooled in a two-crore kitty to market the league. According to the report, Sunando Dhar, CEO of the I-league, would "like to believe" that efforts like the launch ceremony, buying commercial space on regional channels and syndicated columns have helped in boosting attendances. But in attributing the rise in attendance primarily to AIFF's marketing efforts, Dhar is ignoring various natural factors which have contributed significantly, perhaps even more, towards it.
Two of the lowest-attended clubs from the 2015 season, Pune FC and Bharat FC, who shared the same stadium in Balewadi, pulled out of the league. They were replaced by debutants DSK Shivajians as the only club from Pune. Last season, all three Goan clubs played their home matches at the Fatorda Stadium, resulting in embarrassingly poor turnouts. Now, relegated Dempo isn't in the picture and Salgaocar has moved back to their spiritual home at Tilak Maidan, closer to their fan base in Vasco, leaving the Fatorda Stadium solely to host Sporting Clube de Goa matches.
To have a stadium to yourself makes a significant impact in a club's support base and it has been visible in the surge in numbers in Goa. Fans need a so-called place of worship, a fortress they can call home.It helps them in building an association with the club. Ever since Mumbai FC returned to their home, the Cooperage Stadium, they've seen a natural increase in numbers. This is their second season back at the Cooperage. Some sterling home performances along with building awareness on social media has seen the 'Yellow Brigade' average more than 80% of the stadium's capacity this season. Enthusiastic newcomers Aizawl FC, the first club from Mizoram in the I-league, too were expected to fill their stadiums owing to the popularity of the sport in the north-east. For a home match against Bengaluru, they sold 80% of their tickets in less than five hours.
Then there is the impact of a Kolkata club, Mohun Bagan, winning the I-league for the first time last season which has revitalised football in the 'City of Joy'. It has truly handed a new lease of life to an old rivalry with East Bengal, whose supporters are now desperate to win the league, and given birth to a new one as well, with fans of displaced champions Bengaluru FC desperate, as per a huge banner at the Sree Kanteerava Stadium, to take back what they claim is rightfully theirs. It's a marvellous narrative in the sense that it is a purely footballing one, without any fabrication, and one that fans easily relate to.
Finally, add to all this the fact that since the inception of the ISL, there has been plenty of spotlight shed on domestic football and significant progress has been made on the learning curve of how to engage with fans. Awareness of homegrown players and domestic clubs is at an all-time high, which has only added new fans alongside the fiercely loyal and rebellious set of supporters of I-league clubs.
When you consider all these factors in addition to the marketing initiatives taken by the AIFF and the clubs themselves, the spike in spectators is barely a satisfactory one. Against the all-conquering wave of the ISL, it is merely a ripple that isn't enough for the I-league to mount any sort of fightback to prominence. On the plus side, though, sustaining its fan base at least keeps the league relevant.That too is important for Indian football because stories of clubs like Aizawl FC, comprising almost entirely of local players and playing some fabulous football, can only be played out in the I-league.
Sports
Rangers midfielder Glen Kamara accused Kudela of racially abusing him during the teams' last-16 tie at Ibrox last month.
Sports
Pakistan football has been run by a FIFA-appointed committee since 2019, but members were evicted from their Lahore office last week by a group claiming to have held legitimate elections.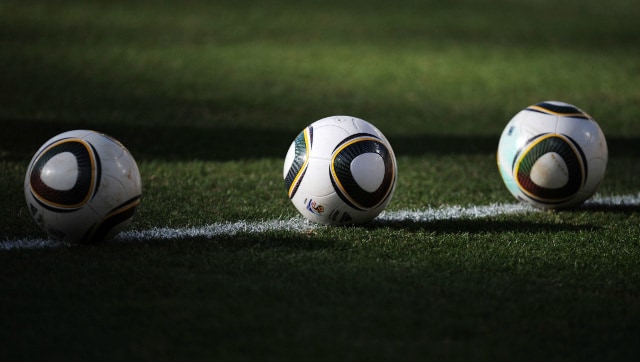 Sports
The positive cases were reported during BFC's training camp which began in Panaji on 5 April.