Hockey World League Semi-Final: India stifled Pakistan after slow start for biggest win against arch-rivals
In three matches, India have scored 14 goals, letting in only two. It's a good streak that they would love to continue against Holland.
Working their way slowly into the match against a much improved Pakistan side, India produced some vein-popping intensity to quell their opponents' initial aggression and then finally took over the territory to produce a stunning performance to destroy Pakistan 7-1.
India came into this match riding on the momentum of two wins. Pakistan, on the other hand, were haunted by two consecutive defeats — 0-4 against Holland and then the humiliating 0-6 against Canada. They had simple expectations — they needed to avoid a big defeat. When Ajaz Ahmad sprinted his way into the Indian striking circle in the second minute, missing a goal by the thinnest of margins, many would have thought that a contest was on.
For the next ten minutes, both sides produced moves that could have brought the opening goal. But once, Indian goalkeeper Vikas Dahiya kept out a stiff shot and then Ali Amjad, the Pakistan goalkeeper somehow managed to bring up his gloves to keep out a stinging Akashdeep Singh hit from the top of the circle. Pakistan weren't rolling over. They were playing up field and India realized that space was at a premium. Harmanpreet Singh had already missed a penalty corner.
In the 13th minute, India earned their second penalty corner and this time, Harmanpreet's flick either intentionally or by error rolled along the turf to beat Ali. India, to their palpable relief, had a 1-0 lead. Pakistan kept attacking and also earned a penalty corner, which the tall and lanky Muhammad Aleem Bilal shot over the cross piece. By the end of the first quarter, it was evident that Pakistan were trying to hold the ball and create penetration, which would give some opportunities to their forward line.
In their match against Canada, which they had lost 0-6, Pakistan, in fact, had more circle penetrations than even the Canadians. Positioning and finishing had been woeful that day. But against India, they had come prepared. They played both the flanks and made use of the crosses. The finishing let them down in the first two quarters, where they were equal to India.
Slowly, India started gaining supremacy. Ramandeep Singh kept breaking away with pace in the midfield and so was SV Sunil, who despite a death in the family played with courage and conviction. Team manager Jugraj Singh, after the match, said, "Sunil's brother-in-law passed away and that's why he was so emotional after the match."
One such breakaway move saw Ramandeep, Talwinder Singh and Sumit play in tandem. In the end, the ball was in the circle and Talwinder somehow managed to hook on to it and send it into goal. India led 2-0 and yet Pakistan came back strongly. In the 24th minute, Talwinder got his second goal of the match, guiding a high ball into the net, giving India a 3-0 lead.
Khawaja Junaid, the Pakistan coach, didn't waver. Standing beside the Pakistan bench, he urged Pakistan deep into Indian territory. One could fault him for not playing an overly defensive game but losing wasn't the issue at hand. Getting goals and finding that finishing touch was what Junaid was after. Later he said, "I knew we were down 0-3 but I could see that we were troubling the Indian defence. A few finishes could have given us a couple of goals." Pakistan did get another penalty corner in the second quarter but Bilal again flicked out.
After the break, something needed to give for either the match to become more competitive or for India to race away with more goals. Harmanpreet got his second goal — a picture perfect flick, rising ball, crashing into the net. India led 4-0. Pakistan were tottering.
Pakistan had back-to-back penalty corners. But the Indian goalkeeper Akash Chikte, who replaced Vikas Dahiya, saved consecutive attempts. If the Indian defence appeared slightly harried, the goalkeepers stepped in with good performances.
By now, the midfield had opened up. Space was there to be exploited. It was a matter of time before Pakistan lost their structure in defence. It was a Sardar Singh move that cleared the way for Akashdeep to hit in for the fifth goal in the 47th minute. And then two minutes later, Pardeep Mor, dashed down the right flank and without any Pakistan defender attempting to stop him, entered the striking circle and lashed a shot down the Pakistan goalkeeper's throat. It was 6-0 to India and they were dominating in every aspect.
With a six-goal cushion, Indian players showcased their skills. Akashdeep kept the ball on the stick, like it was glued and raced into the striking circle and then bounced it into the air before hitting a reverse hit that Ali barely saved. Harjeet Singh, on the right flank did the same, bouncing the ball on his stick to squeeze himself out of a sticky situation. Warm applause greeted both players from the fans.
Pakistan earned their fifth penalty corner off another attack through the middle. Surender Kumar saved on the goal-line and then cleared it. Three of the defenders decided to throw away their face masks and didn't see the ball come back into the Indian striking circle as Muhammad Umar Bhutta deflected it past Chikte. It was a defensive error; though Roelant Oltmans called it a "lucky goal".
By now the match had slipped into the final minutes where Akashdeep scored his second of the match to give India their biggest margin of victory against Pakistan. The earlier wins, 7-4 was in Amstelveen in the 2003 Champions Trophy and then yet again a 7-4 victory in the 2010 Commonwealth Games. Interestingly, the links to both these matches were also on the ground. Jugraj, who had scored two goals in Amstelveen, is the manager of the team and Sardar, part of the team in 2010, is still a member of the squad.
Pakistan coach Junaid was crestfallen. "It's not the score-line that worries me," he said. "We did play well in the first two quarters. We could have scored a couple. In the end we would have lost to a superior India but the margin wouldn't have been so wide."
Indian coach Oltmans was happy that a quarter-final berth had been sealed. He did admit that Pakistan did good work in the first two quarters but that India had quality to turn it around and stamp their superiority over the match. "I am already looking forward to the match against Holland," said Oltmans. "We need to prepare for that. This match is over and I am satisfied."
If penetrations were equal between India and Pakistan, the penalty corners were five for Pakistan and four for India. There is still work to be done in the Indian team if they hope to catch up with Holland and fight on equal terms with England and Argentina, if at all they meet them in the tournament.
If there was any aberration in the match, it was the first quarter where Pakistan dominated. That was the period when India looked ragged, unsure and disorganised. But once the nerves were quietened, Pakistan were slowly and steadily stifled.
With nine points and a match against the World No 4 Holland to be played on Tuesday, India have a chance of topping the group. The Dutch are stiff opponents but Harmanpreet was confident that India is ready. "Opponents will get tougher. We have to play a steady game and after a rest tomorrow (Monday) we would be ready for the Dutch. All I can tell you is that it would be a very competitive game," he said.
In three matches, India have scored 14 goals, letting in only two. It's a good streak that they would love to continue against the Dutch. India are playing in a vibrant mode, creating and scoring in those moments. If Sunday's India-Pakistan match had to be described in movie parlance, with the Indian cricket team playing the Champions Trophy final in the same city against the very same nation, it would simply be that hockey, a low-budget film, was a runaway hit.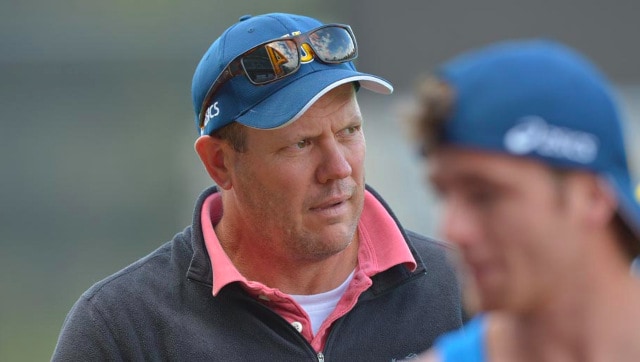 Sports
India will open their campaign against New Zealand on 24 July. Reid, in an interview to PTI, said the pandemic has helped his team discover the strength it previously wasn't aware of.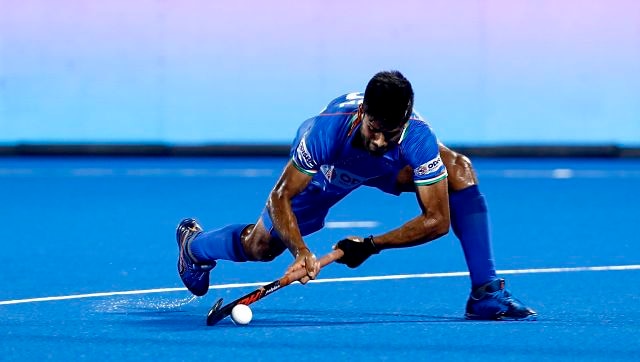 Sports
Hockey India, which had originally named 16-member men's and women's squads for the upcoming Games, have now added two players each in both the teams.
First Cricket News
Arch-rivals India and Pakistan were on Friday placed in the same group for the T20 World Cup as the ICC announced the pools for its flagship event, set to be played in the UAE and Oman from 17 October to 14 November.