Hockey World League Semi-Final 2017: Bruised India showed character in thumping win over Pakistan
India could have scored more against Pakistan but in a match like this where speed and pace decide goals, at least 4-5 chances do go begging.
After the quarter-final meltdown against Malaysia which blew up India's hopes of a podium finish at the Hockey World League Semi-final stage, Pakistan once again stood in the path of regaining some pride.
However, it is doubtful if the 6-1 score-line against Pakistan would heal the wounds that Malaysia inflicted; at least not in a hurry. Yet the six goals gave some cause for the Indian team to smile and a match against Canada where they would now have the motivation to finish 5th in the tournament.
It's not something that the Roelant Oltmans-coached side aspired for when they boarded the flight out of India for Europe. But the Dutchman better introspect after the team lands back at home. Podium finishes at a world level tournament are rare. Undoubtedly, India blew up an opportunity. It's easy to blame the players. But it's also time that coaches and support staff are held accountable.
Gone was the dry summer heat that enveloped the early part of the tournament. Scattered dark clouds and thin showers welcomed India and Pakistan. The shadow of the earlier 1-7 defeat to India still followed Pakistan onto the pitch. And India began as if they had a flight to catch. Both flanks worked at speed and balls were cut into the Pakistan striking circle with ease.
Harmanpreet Singh, Surender Kumar and Pardeep Mor played up, cutting the space between the Indian defence and midfield. Space was squeezed and Pakistan couldn't move through the middle. On the flanks, they were intercepted and India counter-attacked. The Men in Blue looked different from the side that lost to Malaysia. The finishing was better. But the truth behind the resurgence was that India was aggressive and willing to take that extra risk without losing control.
Ramandeep Singh is turning out to be quite a poacher. His positional sense and anticipation had already given him four goals in the tournament. And in the 8th minute, he got his fifth when he tapped in a Satbir Singh hit which he picked out from a melee in the Pakistan striking circle. Akashdeep had a wonderful opportunity when he was in a one-to-one situation with the Pakistan goalkeeper Amjad Ali. But he shot out. At the end of the first quarter, India had a slender one-goal lead, but Pakistan was not threatening. They came through the flanks but ran out of ideas either outside or on top of the Indian striking circle.
Meanwhile, India stifled a bit from the pressure created by Pakistan on the flanks, let Pardeep Mor would dictate play. The right half produced his best play of the tournament. Time and again, he went up, creating space for the forwards and his sprints into the Pakistan half unsettled the defence. In the 25th minute, his hit from outside the circle was deflected in by Talwinder Singh. With a 2-0 lead, India were a bit relaxed.
Two minutes later, under intense pressure, the Pakistan defence let Akashdeep have a run. The Indian forward flicked towards the far corner, with the ball hitting the post and going in. Within the blink of an eye, India had a fourth after Sunil, Mandeep and then Ramandeep tapped in for his second goal on the day and sixth in the tournament. With two minutes to go for the break, all that mattered was whether India could better the 7-1 scoreline that they scored against Pakistan in the Pool match. At the break, India led 4-0.
Oltmans, like he has done throughout the tournament, replaced Akash Chikte with Vikas Dahiya. Off a melee, India earned their 2nd penalty corner of the match. Harmanpreet Singh fired in giving India a 5-0 lead. As a contest, the match was over and it would take a defensive error for India to concede. In the 41st minute, Pakistan scored off a counter-attack. India was caught napping and Ajaz Ahmad put the ball past Dahiya.
India missed two opportunities immediately – one with Sunil and then when Ramandeep failed to make most of a cross. However, the attacks kept coming. Sumit saw his massive reverse hit go off Pakistan goalkeeper's pads. And then Ramandeep lost control right in front of the Pakistan goal.
In the last minute, Mandeep Singh juggled with a ball before slotting it home for his first goal of the tournament. He looked heavenwards and was immediately hugged by his mates. India led 6-1 and though they had a penalty corner in the end, India remained satisfied with half a dozen goals. At no stage did Pakistan threaten. India held control of the match throughout except for a few moments in each quarter. They could have scored more but in a match like this where speed and pace decide goals, at least 4-5 chances do go begging. India has scored 23 goals in the tournament with 13 of those goals coming against Pakistan.
Oltmans said he wasn't happy with the result because this is not what he had hoped to achieve. "In this tournament, we won't be happy anymore," he said. "I think we should have finished higher than we will. But after the match against Malaysia, I said that our aim is to finish in 5th position and make sure we have two good matches. The first part is done and now we have to do the second part."
Oltmans also felt it's a compliment to the team that they picked themselves up after the disappointing loss to Malaysia. "Not only did they cope with the disappointment of the earlier match but also were eager to put in a good performance and get a good result."
India will play Canada for 5th/6th position. In their match against China, the Canadians pumped in seven goals after China had taken the lead. Earlier, in the Pool match, India had beaten them 3-0. It would, however, be better to remember the 2-2 draw at the Rio Olympics. And work out the tactical strategy around it.
"To be honest, I have to look at them again," said Oltmans. "I think Canada is a good team and have had good results over the tournament. It will be a competitive and I am happy about it because you need competitive matches in tournaments like this. That is my biggest disappointment that we did not have more competitive matches, and we could have played Argentina or Holland one more time, because that is good for the development of young players."
Canada is a tough team defensively. They play compact and unless you beat them on the break or with set pieces, they have the power to hit back with counters. India needs to look at the stats that they conjure up in every match. Even against the Netherlands in the match that India lost 1-3, the Men in Blue entered their circle in the last quarter eight times but couldn't finish. In the match against Malaysia, India entered the striking circle 25 times but had only two goals to show for it. Oltmans may appear brash and unapologetic but it's time he harnessed that talent which Indian hockey often hints at. "We are working on it," he said. "Also when you play with a more consistent forward line, they will improve in the coming years. At the end, that is most important."
Sports
Marijne didn't mince words in criticising his players after India wasted several chances to suffer their third consecutive defeat in Pool A, which reduces their quarterfinal chances.
Sports
The 'FIH Hockey5s Lausanne 2021' event was initially planned to be held in September this year but now has been deferred to next year.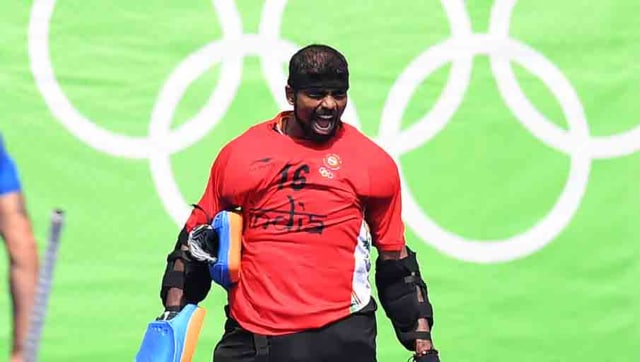 Sports
The veteran goalkeeper, who has been part of the senior team since 2006, will possibly make his final Olympic appearance at Tokyo 2020