Hockey World League Final 2017: Sardar Singh's sacking from India squad unfortunate; he's still world class
In the inner recesses of his mind, Sardar Singh must be looking for answers. He inhabits a universe where age is not just but definitely a number.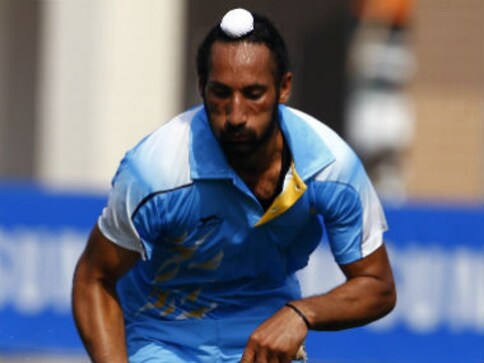 In the inner recesses of his mind, Sardar Singh must be looking for answers. He inhabits a universe where age is not just but definitely a number. It wouldn't be out of the ordinary that Sardar, arguably, one of the few world class players Indian hockey has produced in the last decade might be saying to himself – "Hey, Roger's 36, tendinitis-ridden Nadal 31, Gianluigi Buffon just retired at 39, Mo Farah's steaming away at 34, and Justin Gatlin at 35 is dreaming of 2020 Tokyo. So, what's wrong with me at 31?"
It's a valid question with very few answers. Just a year ago, when everybody felt Sardar's career would come to a grinding halt as he was played as an inside forward at the Rio Olympics, the Indian midfielder now being touted as a freeman picked up the man-of-the-match award in the 2016 Asian Champions Trophy final against Pakistan. Critics argue that Asian hockey has slid. But if it has then every player has an equal chance to excel in a team sport.
Age has never been a factor in modern hockey otherwise players like Holland's Teun de Nooijer, Australia's Jamie Dwyer or even Spain's Juan Escarre wouldn't have been performing past the age of 35. Escarre captained Spain at the 2005 Rabo Cup, an 8-nation tournament in Amsterdam and showed enough skill and control to have fans applauding his every move. In a press conference, he was asked about his retirement: "The opponents still see me," was his stinging reply. Spain under Escarre had won the Champions Trophy.
At the 2014 World Cup at The Hague, after Australia beat Holland 6-1 in the final, Ric Charlesworth in his last match as Aussie coach was asked about Dwyer still contributing despite losing some pace. His usual blunt reply was: "I look at the intelligence. You look at the pace."
It's not easy to be in Sardar's shoes today. When the team list for Hockey World League Final was put up at the Bengaluru's Sports Authority of India, not seeing his name in the squad would have been like a punch to the pit of the stomach. Unlike many players in the past, Sardar has never taken his spot for granted. Players, officials say he is the first on the pitch and the last to leave. If he is not in the room, he is in the gym. Even on a break if he has had to give time to a complaining family, he would be seen in a swimming pool at 9 PM or running in a darkened park in Chandigarh. Motivation has never been an issue for Sardar. And questions about him being 'dropped' or 'rested' wouldn't have come if the tournament was the Asia Cup, the Azlan Shah or an European tour.
To be out of the team in a Hockey World League Final raises its own set of queries – is he fit? Does his tremendous peripheral vision still exist? Are the passes still finding the forwards? Is he aggressive defensively? Is the control still there? In other words, is Sardar the player that he was? Of course, he isn't what he was when he made his debut in 2006 or when he played the World Cup in 2014. And to think that he would be at the peak of his powers is to betray one's lack of knowledge of what the sport has metamorphosed into.
Hockey has evolved and so has the player. Just after India won the Junior World Cup, Harjeet Singh was anointed as the man to walk into Sardar's shoes. For a few months Harjeet did play well, but then, lost his focus somewhere along the way. There is a certain amount of intense discipline, perseverance, patience, a longing to play for the flag that ensures a long innings. Sardar is the kind who would never show his disappointment. Not many even understand his emotions. Neither has he ever opened himself up for public scrutiny. "It's always disappointing to not be selected as playing for India is always what I seek," he said. "But I know I have to work hard now to get back and show that I am good enough." He does agree that juniors also need to be inducted. "Of course, they need a chance." Sardar refuses to talk about juniors being played at the Hockey World League Finals. "That is up to the coach and we all respect that as a team."
A few days back, Hockey India had a question on their twitter handle: "When did Sardar Singh make his senior India debut?" Few got the answer right. But the timing was suspect. Sardar believes 2018 is a big year in Indian hockey. "There are many tournaments and we have to do extremely well at the Commonwealth Games, Asian Games and the World Cup, apart from other tours and tournaments," he says. "And by the time the World Cup comes along, we should have the best team playing." Whether he sees himself playing the World Cup, Sardar's answer borders on the diplomatic: "It depends on my fitness and what the coach is thinking in terms of the team."
But there are former players who don't buy into the philosophy of not taking Sardar into the team for such a big tournament. "It's the Hockey World League Final," says Romeo James, the 1984 LA Olympic goalkeeper and assistant coach of the winning 2016 Junior World Cup team. "He is needed in the team in my opinion. He is world class. I saw all the matches in the Asia Cup and I don't think except for a few errors he did anything wrong on the field. You need a player with that kind of experience who has played all the top teams. Listen, if he wasn't fit, I would have said he doesn't deserve a place. But he is one of the fittest."
On the pace factor, Romeo says, "Which team plays full pelt through a match? He knows how to control the game. Now when the team is under pressure, let's hope the youngsters at the back can cope with the stress."
A lot has been said and written about the sexual harassment case against Sardar and how it has affected his play. Except for the fact that during the HWL Semi-Final where he was called in for questioning, his game hasn't seen too many ups and downs. He refuses to talk about the episode saying: "I don't need to explain anything. The law is equal for everybody."
There is no denying the disappointment. And it would be surprising if he doesn't burn up the turf or the rubber on the tread mill in an attempt to make a comeback. In a recent interview, his coach when India won the Asia Cup in 2007, Joaquim Carvalho said, "I think Sardar can go for another four years, he is super fit. He is terrific player, a world class player, and he is a complete player. He has got all the skills, strength, stamina, speed."
Former Indian captain, Ashok Kumar believes Sardar still has the potential to play in any situation. "He is such a player whether we play him in defence, half-line, there is no match to him. His feeding, his sense of passing is beyond imagination. A player cannot imagine what pass he will give. The team should try to utilize the game of Sardar Singh. I would say Sardar is a world class player, who has the potential to play in any situation."
Romeo's take on the team selection is slightly different. "I think India should have played its best team at HWL finals," he explains. "Since Sreejesh would have come back in January, India could have played with one goalkeeper and got in another player to strengthen the midfield or forward-line. You also have to look at the form of (SK) Uthappa who despite a lot of chances hasn't risen to that level. But it would be great if this selection plays well and India can make it to the semi-finals."
In modern hockey, creativity and maturity has a place and even in the past, when hockey wasn't all about sprinting with the ball, wonderful midfield players like Holland's Marc Dellisen, Germany's Christian Blunck, Australia's Warren Birmingham all had that amazing control where they could rotate and turn the pace of the game. Despite the intense scrutiny about ageing, Sardar's hustle on defence and his deft passing still hold. Confidence comes from experience and a resultant of that formula is patience. In the Super 4 match of the Asia Cup against Malaysia, Sardar overlapped while the ball was on the left flank. Sprinting, he made his way from the defence into the Malaysian striking circle and then had enough energy, strength to dive across and reverse slam the ball into the Malaysian goal to score India's sixth goal. Seven players piled onto Sardar in absolute glee and delight. They had seen the master score a wondrous goal.
Even if he doesn't say it, Sardar does believe that a successful Hockey World League Final campaign will probably leave him with less or no options of finding a way back into the national team. But the kind of person he is, that shouldn't bother him for too long. High performance director David John is clear that no doors have been closed. "It's impossible to keep the same 16-18 players for every tournament. We need to rotate." Maybe, somewhere in those lines there is a hint of a door left slightly ajar for Sardar to make that one big appearance; maybe his last.
In the season of 85', Boston Celtics blew out the LA Lakers by 34 points in their first game. Kareem Abdul Jabbar, 38, sprang back in the second game with 30 points, 22 in the second half with 17 rebounds, four of them offensive and eight assists that destroyed the Celtic defence. Jabbar helped Lakers to a 109-102 victory that tied the series at 1-1. Later, a reporter asked him, was it pride that made him play with such fire at the age of 38. Jabbar replied: '"Of course. If I didn't have professional pride, I wouldn't be here.'" At the Sports Authority of India centre in Bengaluru, Sardar would be thinking exactly that.
First Cricket News
Gautam Gambhir recalled the incident from 2011 World Cup and said that he preferred to win the World Cup to make the country happy.
First Cricket News
T20 World Cup squads: A look at the squads of all 16 competing nations at the tournament. The 2022 edition gets going on 16 October, with the final on 13 November.
First Cricket News
Fit-again pace spearhead Jasprit Bumrah and death overs specialist Harshal were back as the national selection committee didn't spring any surprise in the India squad