Hockey World Cup Memories: VR Raghunath looks back at surprise 2006 call-up and lessons learnt from 2014 edition
VR Raghunath played the 2006 and 2014 World Cups for India as a fullback. He shares his experience of playing at the event in this exclusive interaction with Firstpost.
VR Raghunath played the 2006 and 2014 World Cups for India as a fullback. He spoke to Shantanu Srivastava.
I played two World Cups, in 2006 and 2014. In 2006, I was very young, still in my teens, and I missed the 2010 edition to injury. I replaced Sandeep Singh in the squad, who missed it due to that unfortunate accident. Honestly, I was not mentally ready for the call-up in 2006. I was not among the World Cup probables, and was actually playing SAF Games when the call came. I was young, still learning. I had just made it to the national team, but I was quite nervous going into such a big event without having any time to think of it.
I think I did my best with whatever skills I had. We didn't really play well in 2006, but that experience helped me develop as a player. We finished 11th out of 12 teams, but we were not such a bad team. We had all the class players, but sometimes whatever you do is not enough. I think even if we had played our worst game, we could have won at least three-four games; we were that good. But we couldn't win even one match.
I felt we let ourselves down as a team. We could have finished somewhere between sixth to eighth. I still remember playing alongside Dilip Tirkey, who was the captain of our World Cup team in 2006. I got to learn a lot from him, I was looking up to him while I was making my way up in the team. I learned a lot about discipline from him, and how he used to take care of his fitness.
I think as a youngster I did my bit. It was a big learning curve for me. That 2006 failure taught me a lot. From 2008 onwards, we had a very good batch and we came back like a storm. From World No 13, we became World No 5. This final stretch, from No 5 to No 1 is the toughest, and that's what Manpreet and his team should aim for.
I had a shoulder injury in 2010 and missed the World Cup, and in 2011 I made a comeback to the team after helping Karnataka win the Nationals.
In 2014, we had Terry Walsh as the coach, who guided us really well. The target in 2014 World Cup was to test us for the Commonwealth Games and the Asian Games. We finished ninth, but it was a really tough process of progression in that World Cup. We were very realistic and relaxed because we knew we were not ready to win the World Cup yet. We were reasonably satisfied with our performance. We lost to Belgium, England, and Australia. We drew against Spain, and we beat Malaysia. That year, our biggest target was to get the Asian Games gold and qualify for the Rio Olympics, and we did it. At that World Cup, winning or losing hardly mattered to us. We knew we were going in the right direction.
In my life, 2014 was the best year in terms of playing good hockey. We did well in the Champions Trophy, Asian Champions Trophy, Commonwealth Games, and Asian Games. We had a really good run till Rio 2016, and I believe we could have finished in top four-five at the Olympics. We really had a good team.
It's hard to pick favourites for the World Cup. Any team can beat anyone on their day. There will be an element of surprise here and there, but India have a real chance of making it to the semis. It will be a tough road, but the team has come a really long way in the past few years.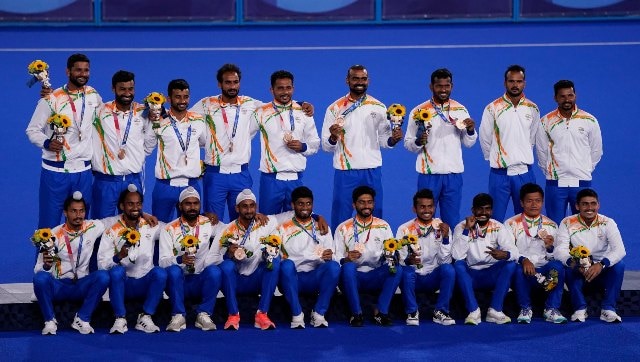 Sports
The Indian men's hockey team produced an inspiring performance at the Tokyo Games, where it edged out Germany 5-4 to claim a bronze medal, the country's first in the sport in 41 years.
Sports
Randhir also served as the Secretary General of the Indian Olympic Association (IOA) from 1987 to 2012 and was a full member of the International Olympic Committee from 2001 to 2014 before becoming its honorary member.
Sports
Wario, who served as the country's sports minister from 2013 to 2018, was one of six Kenyan officials charged with abuse of office and the misappropriation of 55 million shillings ($545,000) during the Rio Olympics.