Hockey World Cup Memories: Tahir Zaman remembers overcoming father's demise to help Pakistan lift trophy in 1994
Pakistan's Tahir Zaman revisits the World Cup win of 1994 as part of Firstpost's series, My World Cup Memories.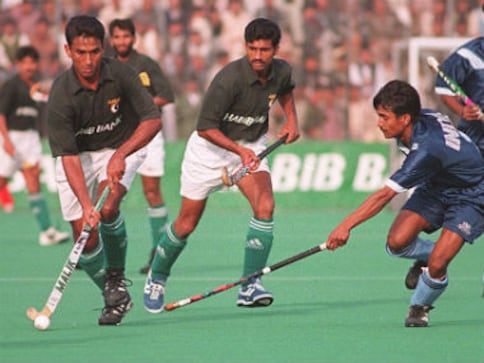 Tahir Zaman was part of the 1994 World Cup-winning Pakistan team. A former captain and national coach, Zaman is currently the head coach of Oman hockey team. He spoke to Shantanu Srivastava.
Winning the 1994 World Cup for Pakistan was a special achievement in my career. I still remember the comments and jibes from certain hockey experts in Pakistan. While leaving for the World Cup, we read in newspapers that we were not good enough to win a teacup, forget World Cup. Those comments triggered us. we were determined to prove our detractors wrong.

Honestly, we were not really a world-beating side when we landed in Sydney, but as we kept winning, the momentum developed. After we beat Argentina and Spain in our first two matches, we started believing. My father passed away before our first match, and I was given the offer to go home. But I remembered my father's words when I was leaving for the World Cup. He said, "You have been winning very small tournaments. It would be very nice if you return as a World Cup winner." Those words stayed with me. They kept ringing in my ears, and I decided that I won't go back without winning the World Cup. So that event has a very, very special place in my heart. By the grace of God, we won and I was happy to contribute towards the team's success.
Our manager, Rashid Jr, was like an elder brother to us, and he helped the team gel really well. We had a trainer from Holland, and he played a big role in ensuring we played disciplined hockey. Skill-wise, we were already there. Once the momentum was on our side, we really were tough to beat.
Both our semi-final (against Germany) and final (against The Netherlands) went to penalties. The turning point came in the shoot-out against Germany, when Shahbaz Ahmed took the penalty. He was reluctant to take the stroke, as he was not a regular at it. But since we had no one else to go for that shot, Shahbaz took the challenge. His stroke barely crossed the goal-line, and it was his deception that beat the German keeper. We were in the final, and that match was another thriller.
Holland were the favourites in the final, but we had a very good game, especially in the second half. We had better ball possession, more circle entries and a higher number of shots on the goal, but we were not lucky to finish the game in regulation time. Players like Floris Jan Bovelander and Jeroen Delmee do not miss penalties too often, but both missed in the final and we won the World Cup.
We had a wonderful team in 1994. Shahbaz, Wasim Feroz, and Mansoor Ahmed were all world-class players. There were fewer distractions in my playing days. These days, young players have internet, smartphones and all the technology to keep them busy. We, on the other hand, had nothing to take our attention away from hockey. There were too few mobile phones and television channels, so we slept on time and trained extra. It gave us an opportunity to master our skills and develop our game. These days, there is too much distraction and these gadgets do not allow our youth to focus. I guess if we were playing in this generation, we wouldn't have been too different either.
Back then, we played a lot of European leagues and also in Asian leagues in countries such as Bangladesh. Those were the early days of professional hockey, and playing abroad helped us develop our game immensely. I still remember Shahbaz was the highest paid foreign player in Europe. Personally, I picked a lot of things in Europe that helped me in my coaching career. It built my base as a coach.
The current Pakistan team is promising, but they have to take every match very seriously. We are in a very tough pool, and every match will be like a final. We failed to qualify in the 2014 World Cup, but this team has shown improvements, albeit in patches. The event has expanded to 16 teams this year, which actually helped us qualify.
Pakistan have brought in foreign coaches of late, and I think the officials thought maybe it's time to focus on disciplined hockey. I agree with that thought. Pakistan have always had skillful players, but they need to learn to play to a particular structure and formation. The players should know when and where to showcase their skills.
It's a time-consuming process, and I think we should be patient. Team management and officials need to be persisted with and not be removed after just a year or two. We had a foreign coach for two years in this Olympic cycle, and that certainly helped. We then switched back to a domestic coach before moving to Roelant Oltmans. There has to be some consistency with these appointments. We need to address a lot of areas, and consistency with coaches is the key. The subcontinent federations must treat subcontinent coaches the way they treat European coaches.
also read
Sports
The suspension was invoked on Ammad Butt after Malaysia's coach Roelant Oltmans lodged an official complaint with the tournament's Technical Delegate Christian Deckenbrock of Germany.
Sports
Rizwan said that whenever foreign coaches had been brought in they had tried to improve the system and structure of hockey in the team and performance of players had improved.
Sports
On Saturday, Bhubaneswar showed the heart to leave the past behind and cheered for Pakistan unanimously.