Hockey World Cup Memories: Ashok Kumar remembers the goal that sealed India's only title in 1975
Ashok Kumar, India's 1975 World Cup hero on the final, said: 'I would say had Aslam Sher Khan not played the final, we would have lost by 2-3 goals, and if Pakistan's Manzoor Junior had not played that match, we would have scored 3-4 more. It was that kind of game.'
Son of hockey wizard Dhyan Chand, Ashok Kumar became a legend in his own right with his supreme ball control and wristwork.  A three-time World Cup medallist (1971, '73, '75), an Olympics bronze medallist (1972), and a three-time Asian Games silver medallist (1970, '74, '78), Ashok scored the winning goal in the final of 1975 World Cup. He spoke to Shantanu Srivastava.
Whenever I talk about 1975, I first think of 1973 World Cup. We should have won that World Cup. Had we won it, hockey would have got government funding and sponsorships, and hockey would have really taken off in the country.
India lost that final to the Netherlands 4-2 on penalties after the regulation time score read 2-2. I still remember the ground in Amstelveen. If you ever see a grassy ground after horses have run over it, you will notice how patches of grass come out due to impact. That ground had the same impact with our Studds shoes! So it was tough. We lost the match in sudden death.
We retained the core of the team for 1975 World Cup. The preparations were excellent. We had a camp in the Punjab University grounds, right in front of the girls' hostel, of course we had to play well yaar... I still remember our manager Balbir Singh Senior used to sit in the ground to make sure we don't meet the girls...it was good fun.
Back then, there was not so much of coaching. We simply used to emulate our seniors; the way they played, the way they ran, what they ate, how they lived...we used to learn all that and coach ourselves. We had group sessions too, which was quite basic compared to what teams do now. We used to run laps, practice penalty corners, and play matches. There were no analysis. We used to watch out for our partners too; how my right out VJ Phillips is playing, or how my right half is attached with my movements. So we had excellent understanding among ourselves.
I still remember our match against West Germany in the 1975 World Cup. Our coach told us that Germany will play man-to-man. I knew at least 3-4 players will try to stop me, and I discussed the same with my right-half Varinder Singh. Then, I talked to my left-half Surjit Singh and decided that I will pass him a cross. It was fraught with risk, because if the Germans would have intercepted that cross, it was a sure-shot goal for them. But, we decided to go ahead with it.
I changed my position too. From my right-in position, I moved to right-half, and asked my right-half to make the charge. So, it worked in perfect symphony. Our coach knew nothing of our strategy; it was kept between just the three of us. We succeeded, and won by a 3-1 margin.
Our final was against Pakistan, and they took an early lead. Our goalkeeper Ashok Diwan was caught on the wrong foot, and Zahid Sheikh scored early. It was a high-pressure game. World Cup final against that Pakistan team, you can imagine the tension. Their line-up was full of classical players. But the combination between me and Govinda was really good in that match.
Both of us never stood still in that match. Whenever Pakistan had the ball, we used to fall back to support our defence. We took it as a responsibility. We realised that if we didn't have the ball, we must fall back.
So seven men in the ring to foil every attack, and to play that kind of game for full 70 minutes is not easy.
We got a long corner, and our left-out Harcharan Singh hit the ball to the top of circle. It was stopped by our captain Ajitpal Singh, and he passed it to me in the right-in position in the D. I dodged one or two defenders in a small move, and I had my right-out Philips on my right. I passed the ball to him. He went in a couple of metres and passed a parallel, grounded ball to me just 3-4 metres in front of the goalmouth. That was a wonderful, precise pass, and I flicked the ball in a swift motion — just a wristy jhatka — straight into the goal.
The ball went in, hit the triangle inside,and came out like a coin on a carrom board. Everything happened so fast that umpire Vijaynathan took 2-3 seconds to award us the goal. In that little time, Pakistan's Islahuddin Siddique, Akhtar Rasool, Manzoor Junior, Zahid Sheikh, and everyone else protested, but the goal stood.
We still had 15-16 minutes on the clock, and Pakistan went on all-out attack. We kept the away though, and Aslam Sher Khan had a wonderful match also. It was his only full match in the tournament (Aslam was introduced as a substitute late in the semi-final against Malaysia), and it was his classic full-back game.
I would say had Aslam not played the final, we would have lost by 2-3 goals, and if Pakistan's Manzoor Junior had not played that match, we would have scored 3-4 more. It was that kind of game.
For the full Hockey World Cup 2018 schedule, click here
For all the results from the Hockey World Cup 2018, click here
For the Hockey World Cup 2018 standings, click here
To read stories from our Hockey World Cup memories series, click here
To read legends' take on Indian hockey team's performances at the World Cup, click here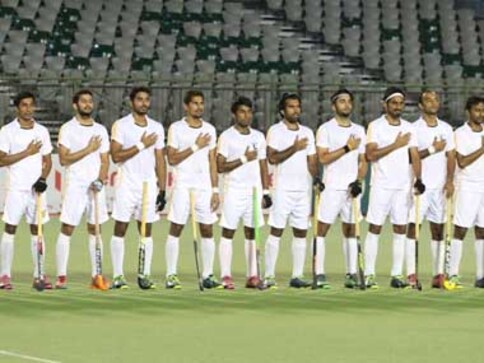 Sports
"I know the fans in Pakistan will be disappointed, but I would like to tell them not to lose hope," Pak hockey legend Islahuddin Siddique said.
Sports
Rehan Butt also took a dig at the chop-and-change approach to coaches, and admitted that such mindset makes him nervous as a coach.
Sports
VR Raghunath played the 2006 and 2014 World Cups for India as a fullback. He shares his experience of playing at the event in this exclusive interaction with Firstpost.