Hockey World Cup 2018: Pakistan captain Muhammad Rizwan says team is prepared to handle crowd pressure in Bhubaneswar
Pakistan have 'learnt' their lessons from the 2014 Champions Trophy controversy and are prepared to handle the crowd pressure in the hockey World Cup in India, said captain Muhammad Rizwan
Karachi: Pakistan have "learnt" their lessons from the 2014 Champions Trophy controversy and are prepared to handle the crowd pressure in the hockey World Cup in India, said captain Muhammad Rizwan Sr.
Four years ago, some Pakistani players had gone overboard with their celebrations after their semifinal win over India in the Champions Trophy, triggering a major controversy.
Two Pakistani players were banned by the International Hockey Federation (FIH) for their obscene gestures.
"It was not a pleasant experience, we have learnt from that," Pakistan skipper said.
"We have discussed that incident and it is behind us now. This time we know we need to be totally focused on our game and nothing else.
"If we can beat India in India great, but our main objective is doing well in the World Cup not about just one match."
The World Cup will begin in Bhubaneswar from 28 November and Rizwan said his team is well prepared to handle the pressures during the prestigious tournament.
"We have trained hard for this mega event and since it is in India we have been having talks and discussions and have mentally prepared ourselves to give our best under any pressure situation in India," Rizwan said on Monday.
He said his players can deal with the crowd pressures.
"Obviously we know the Indian crowds will generally not be supporting us in matches. In the end it is all about hockey and both teams will want to win and that should produce a good contest," he said.
"We hope the people who come to watch the World Cup in the end will just appreciate the team that plays well on a particular day."
Rizwan, an experienced professional, said the players had no worries about the security as that was something he knew the organizers and the team management would manage well.
Pakistan were unable to send their junior team to the youth World Cup held in India two years back because of visa issues.
But on Monday, the Indian High Commission completed the process of issuing visas to all players and officials of the Pakistan squad, which leaves this week for India.
Reports say that the team's departure could be delayed by a day or two as the Pakistan Hockey Federation strives to clear the outstanding daily allowances of the players before their departure.
PHF secretary, Shahbaz Ahmed said they had received a cheque from sponsors, Haier and the players dues would be cleared shortly.
"We have told them just focus on the matches. We will take care of the financial details.
Sports
The Hisar-born player is currently part of the 25-member senior women's core probable group for the national camp in SAI, Bengaluru.
Sports
Having fulfilled her late father's dream by featuring in the Indian women's team that scripted history in Tokyo, Lalremsiami is now aiming to win an Olympic medal.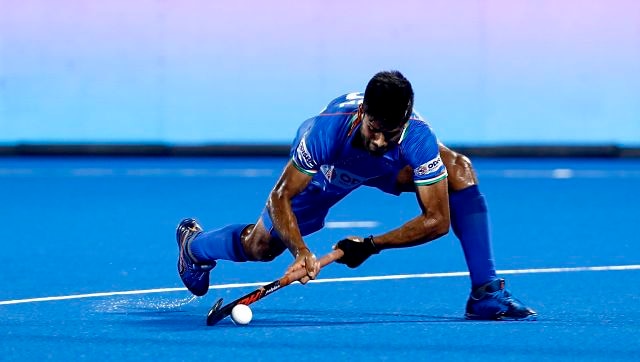 Sports
Varun further stated that skipper Manpreet Singh's one-on-one chat with him before the team left for Tokyo helped him a lot.