Hockey World Cup 2018: Hosts India hope to overcome limitations, end 43-year itch in showpiece event
India will be worried about their tendency to concede late goals, apart from poor short-corner conversions.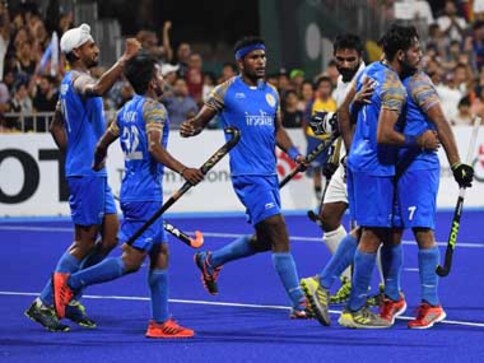 Quite simply, this is not the team that inspires awe or sports a world-beating aura. But there's an old-fashioned grit about Harendra Singh's India that makes them hard to ignore. It's as much the character of the coach — whose post World Cup future remains uncertain — as it is about the team itself. Hard calls have been made, retirements have been enforced, experience has been exchanged for youth, and quite naturally, the churn means that the most tangible emotion swirling over the Kalinga Stadium is hope for change. Change in fortunes, and change of history.
In Sardar Singh, India had among the best playmakers on the planet. In Rupinder Pal Singh, they had a world-class, albeit out of form, drag-flicker. In SV Sunil, they had a lightening forward capable to rattle the best defences on his day. They have been replaced by some less-fancied names, but as Harendra has repeatedly asserted, there's not much in a name, really.
The team is an interesting mix of industrious men who are raring to perform at the highest level, and some seasoned, wizened pros who have seen it all. Manpreet Singh, captain and primary linkman, will be tasked with creating moves in the centre. A skillful product of the famed Surjit Hockey Academy, Manpreet brings a degree of reassurance to a team brimming with youthful exuberance.
In Chinglensana Singh, Nilakanta Sharma, Hardik Singh, and Sumit, Manpreet has a reasonable pool to choose as his wingmen. The majority of touches though will emanate from the captain's stick, and it will be interesting to note India's reaction if Manpreet's threat is nullified by some intelligent marking.
The defence will primarily be shepherded by Harmanpreet Singh, Varun Kumar, and Amit Rohidas, who also form the drag-flick trio of the team. Birendra Lakra brings the much-needed experience in the backline, and Kothajit Singh and Surender Kumar complete the set-up. PR Sreejesh's indifferent form will be a worry, but come the big events, and India's star goalkeeper knows to step up.
Akashdeep Singh, perhaps the only player in the team capable of negotiating the bounce without dropping his speed, will have an important role to play too. As a centre-forward, he will be expected to do the bulk of scoring, and assisting him in the task will be Mandeep Singh, Dilpreet Singh, Lalit Kumar Upadhyay, and Simranjeet Singh.
India have practised at the Kalinga Stadium for three weeks now — the most by any participating team — so the questions about adapting to the newly-laid surface do not arise. The team though will be worried about their tendency to concede late goals, apart from poor short-corner conversions. Clearly, it will take a lot more than hope for change to precipitate. 28 November will hopefully hold some answers.
India squad: PR Sreejesh, Krishna Bahadur Pathak, Harmanpreet Singh, Birendra Lakra, Varun Kumar, Kothajit Singh Khadangbam, Surender Kumar, Amit Rohidas, Manpreet Singh (capt), Chinglensana Singh Kangujam (vice-capt), Nilakanta Sharma, Hardik Singh, Sumit, Akashdeep Singh, Mandeep Singh, Dilpreet Singh, Lalit Kumar Upadhyay, Simranjeet Singh
Head Coach: Harendra Singh
For the rest of the profiles of teams in the Hockey World Cup 2018, click here .
Hockey
From cultural and music shows to food festivals, Odisha and Bhubaneswar are offering more than just hockey at the 2023 World Cup.
Hockey
India played out a goalless draw against England in their second Pool D match but still remained in the hunt for a direct quarterfinal qualification.
Hockey
India remain second in the points table and have a fair chance of making to the quarter-finals as they play a weaker opponent in Wales in their last group contest.