Hockey World Cup 2018: England's poor recent form could derail bid to reach first final since 1986
England have good blend of experience and youth in their squad and if they can overcome their poor form heading into the competition, Kerry's troops have enough arsenal in the locker to dream big in Bhubaneswar
England have come close to the Hockey World Cup title in recent editions, but not close enough. Two fourth-placed finishes in the last two tournaments in 2010 and 2014 represent a creditable consistency, but it's time for the England national hockey team to take that next step and reach the World Cup final.
England's only appearance in the final of the quadrennial event came way back in 1986 when they hosted the event. A 1-2 loss at the hands of Australia in the final ended their dream of winning their first World Cup, a dream that till date remains unaccomplished.
At Bhubaneswar, England are placed in Pool B with Australia, China and neighbours Ireland. Based on their FIH ranking of 7, England should have little problems in negotiating the group stages, but toppling Australia in their group might prove to be a tough challenge for Danny Kerry's side.
England come into the World Cup on the back of a torrid run of results. Their final game before Bhubaneswar might have ended in victory but conceding 3 goals against France, who are the lowest-ranked team at the World Cup doesn't bode too well for England's chances.
In the four-nation hockey tournament in Valencia that included, Netherlands, Spain and Ireland, England finished fourth after losing all the games in the competition. While defeats against Spain and Netherlands were in sync with the FIH rankings, twin defeats to Ireland would hurt England's morale ahead of the big tournament.
However, England would like to draw some confidence from the 2018 Sultan Azlan Shah Cup where they finished as runners-up.
England have a good blend of experience and youth in their squad and if they can overcome their poor form heading into the competition, Kerry's troops have enough in the locker to dream big in Bhubaneswar. With players like Barry Middleton, Adam Dixon, Harry Martin and David Condon in their ranks, England will feel they can turn up the heat in a big tournament like the World Cup.
Squad: George Pinner, Harry Gibson, Adam Dixon, Liam Sanford, Mark Gleghorne, Jack Waller, Michael Hoare, Luke Taylor, Harry Martin, David Ames, Ian Sloan, Barry Middleton, Zach Wallace, James Gall, Phil Roper, David Condon, Will Calnan, Sam Ward
Coach: Danny Kerry
For the rest of the profiles of teams in the Hockey World Cup 2018, click here.
World
China had sharply criticised the trilateral pact, saying such a grouping would undermine regional stability
World
Australia's submarine upgrade was a response to China's takeover of the South China Sea, aggressive bullying of Australia and intimidation of Japan and Taiwan, said Peter Jennings.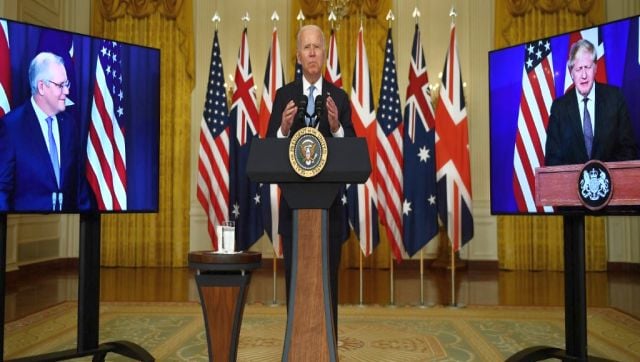 World
The US, UK and Australia announced the new pact as a response to China's growing influence in the region