Hockey World Cup 2018: Dangerous and in-form Canada capable of causing upsets in marquee event
Canada are coming off a successful tour of New Zealand where they beat the Blacksticks in a four-game test series. They are more than capable to cause a few upsets at the Hockey World Cup 2018.
At first glance, Canada's hockey team has little to ring alarm bells, but delve deeper, and one realises that the Red Caribous have enough arsenal to cause serious heartburn to fancier names. India, who are grouped with the 11th-ranked team along with Belgium and South Africa, would tread with some caution, if not trepidation, against Canada. After all, it was their 2-2 draw against the Scott Tupper-led side at the Rio Olympics in 2016 that ensured India met a superior Belgium team in the quarters, and despite a brave performance against the eventual silver medallists, India went down 1-3.
For players such as VR Raghunath and Sardar Singh, that loss still rankles, for India did have a team to go deep in the competition. But that's how it goes in sports, and India, still smarting from the Asian Games loss to lower-ranked Malaysia, would do well to not take Canada lightly. Even last year, Canada beat India at the Hockey World League Semi-Finals in the fifth-place playoff to secure their World Cup berth. Then, they rallied from a 1-2 deficit to score two goals in the second half to complete an unlikely win.
This year, the Paul Bundy-coached team finished eighth at the Commonwealth Games in Gold Coast, losing to New Zealand, Australia, South Africa, and Pakistan. Earlier, they played the 5-Nations tournament in Spain, where they finished third. They also hosted China and Pakistan 'A' over the summer and won eight of their 10 matches, losing just once. Now the team is coming off a successful final tour of New Zealand where they beat the Blacksticks in a four-game test series.
Having failed to qualify for the 2014 edition of World Cup, Canada will hope to leave a mark in their sixth appearance at the event. Their best finish so far has been the eighth-place result in 1998, and with the likes of Tupper, Mark Pearson and David Carter in their ranks, Canada have every reason to believe that they can match, if not better, that performance.
Canada open their World Cup campaign against World No 3 Belgium on 28 November, before locking horns with South Africa in what promises to be a grudge match, given the Commonwealth Games history. Their final group game will be against hosts India, and Tupper's team will step out on the Kalinga Hockey Stadium turf believing that they can upset a few applecarts.
Canada Squad: Balraj Panesar, Brandon Pereira, Gordon Johnston, Scott Tupper (captain), Keegan Pereira, Matthew Sarmento, Iain Smythe, James Kirkpatrick, Oliver Scholfield, Antoni Kindler, David Carter, Mark Pearson, Sukhi Panesarbc, Gabe Ho-Garcia, John Smythe, Richard Hildreth, Brednen Bissett, Jamie Wallace
Chief Coach: Paul Bundy
For the rest of the profiles of teams in the Hockey World Cup 2018, click here.
Sports
The other six SOMs are M M Somaya (hockey), Rohit Rajpal (tennis), Akhil Kumar (boxing), Suma Shirur (shooting), Aparna Popat (badminton), and Dola Banerjee (archery).
Sports
Yusra, 24, believes "The Swimmers", chronicling the perilous journey across Europe she and her elder sister Sarah undertook in 2015, has "an amazing message" that will give viewers "joy, hope, tears, sadness".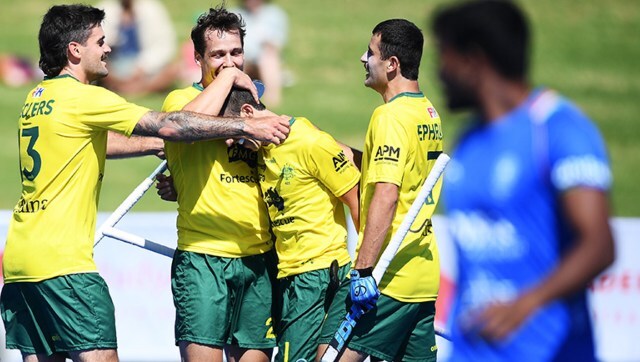 Hockey
Akashdeep Singh (10th, 27th, 59th) scored thrice but the Aussies prevailed in the end as Blake Govers (57th, 60th) found the back of the Indian net twice from penalty corners in the dying minutes of the game.