Hockey World Cup 2018: 1975 hero Ashok Kumar unimpressed with Akashdeep Singh's midfield switch
Ashok Kumar also warned that unlike their first match at this World Cup, India won't get any free spaces in the flanks, and Manpreet Singh's team ought to be prepared for a high-intensity match.
Bhubaneswar: On 28 November, not for the first time this year, coach Harendra Singh deployed Akashdeep Singh as an attacking midfielder. The 23-year-old performed his role of a linkman to perfection, scoring a goal and sending some crucial passes in the opposition D from the flanks. He even provided an assist to striker Lalit Upadhyay, who scored one of India's goal that night.
The role of Akashdeep, who earned his stripes as a creative centre-forward, is now redefined as a facilitator. Coach Harendra Singh believes Akashdeep's peripheral vision and lethal game sense could be put to a better use in his slightly withdrawn position, and with three defenders floating ahead, scoring opportunities can be optimised.
The move, though, has not impressed Ashok Kumar, one of country's hockey legends and a member of the 1975 World Cup-winning team.
In an exclusive interaction with Firstpost, Kumar singled out midfield attack and penalty-corner conversion as India's key problem areas, and said Akashdeep's new position will invariably hit India's scoring chances.
"The midfield attack needs to be worked on. I know India have withdrawn Akashdeep, but he is a fine scorer too. Pulling him back reduces our striking options. If we ask him to feed the strikers, his original game of creating space and scoring will suffer. This leaves us with only Lalit Upadhyay and Mandeep Singh to get goals.
"At times, I wonder if Sardar Singh was in the team, he would have played in Akashdeep's current position and we wouldn't have felt the need to drop him back. Of course, replacements have to happen, but it is more important to find a player of the same calibre," Kumar said.
Meanwhile, Akashdeep himself on Saturday claimed that he is enjoying his new role, and is capable of scoring from the wings.
"I am enjoying it (the linkman position) a lot. He (coach) stressed that I can play as a linkman because I have a good (peripheral) vision and understanding with the forwards," he said. Harendra backed his decision with characteristic confidence and a little nugget: "Since 2010, midfielders have actually scored more goals in international hockey than the traditional strikers."
India play Olympic silver-medallists Belgium on Sunday after a 5-0 thrashing of South Africa, but it was a result marred by perceptible lapses on the turf. Kumar reckoned India will have to take their chances in the crucial match, and play without fear.
"Against Belgium, it will be a neck-to-neck ladai. Even the game against Canada will not be easy. We will have to make full use of the penalty corners. We have three drag-flickers, and everyone should step up. Every player must have been assigned a duty. If your duty is to stop the ball and you end up deflecting it, you are not a player. If your duty is to pass the ball and you do it wrong in the World Cup, well... At this stage, we can't afford little errors. Your game should be 100 percent. By that I mean, there must be clockwork precision. India must play without fear."
Kumar, who scored the winner in the 1975 World Cup final against traditional rivals Pakistan, also impressed upon the need to make ball possession count.
"Though we dominated ball possession in the first game, we couldn't mount right attacks at the right time. The first quarter of the game, for instance. We had the ball, which means there should have been a goal, but it never happened. The mistake could be in trapping, and also in passing the ball, because sneaking balls through such narrow angles is not always easy.
"Passing requires a lot of skill. At times, by the time you realise that you might miss a ball, it's already too late. If it is a direct game — which means watching you and passing to you — the scenario is different. However, if you have to pass to the left or right, you have to cover the angle and speed. You also have to presume your partner's presence on the run. I don't see India doing these things a lot, perhaps because they think there's the risk of losing balls," he said.
Explaining the art of ball-passing in context of India's fluffed trappings in the first quarter, Kumar said, "While passing, it is also important to judge the position of the man marking your partner. Also, the person trapping the ball must be clear which way he has to move after getting the ball. This decision must be made before you receive the ball. The person trapping the ball must know how far his opponent is and what angles he is blocking. So, in cases of missed trappings, I will blame the person who is passing the ball, not the receiver."
Kumar also warned that unlike their first match at this World Cup, India won't get any free spaces in the flanks, and Manpreet Singh's team ought to be prepared for a high-intensity match.
"I can't imagine them getting any free space. You saw the game between Argentina and Spain...kya game tha, yaar...That's how they (European teams) will play. They won't give you any time to lift your head from the ball. Hence, you have to take your scoring opportunities," he concluded.
For the full Hockey World Cup 2018 schedule, click here
For all the results from the Hockey World Cup 2018, click here
For the Hockey World Cup 2018 standings, click here
To read stories from our Hockey World Cup memories series, click here
To read legends' take on Indian hockey team's performances at the World Cup, click here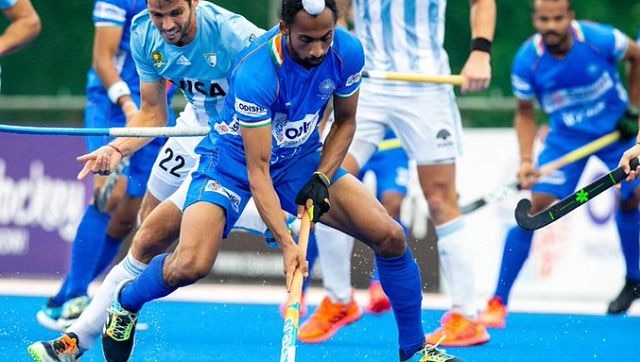 Sports
The 22-year-old from Jalandhar attributed their success at the recent tours of Argentina and Europe to the high-intensity training at the camp.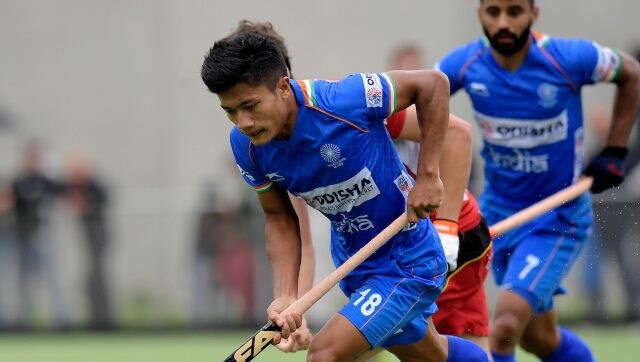 Sports
"The Argentina tour was an important experience for all of us. We were yearning for proper match practice while building up towards the Olympics," Nilakanta said in a Hockey India release.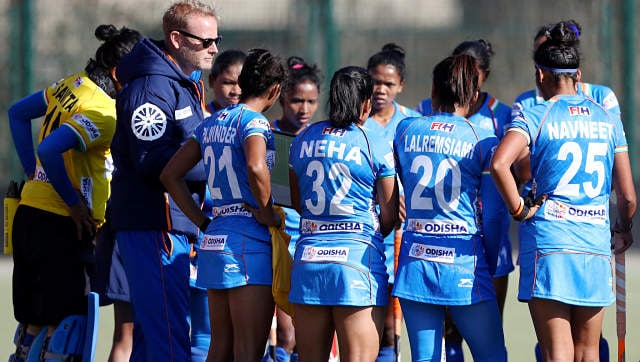 Sports
The Indian women's hockey core group had returned to the national camp in Bengaluru on Sunday last to restart the preparations for the Tokyo Olympics after a 10-day break.