Hockey Junior World Cup 2016, Highlights: India beat Belgium 2-1 in final
LIVE NEWS and UPDATES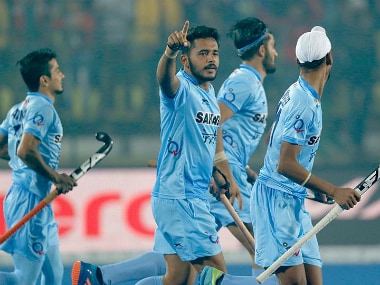 19:30 (IST)

Thanks for following our live coverage of the Junior Hockey World Cup final!

19:27 (IST)

The players and the crowd are visibly overjoyed. This is a huge win for the young stars.

19:24 (IST)

India are now the first host nation to win the Junior Hockey World Cup.

19:22 (IST)

Belgium score from the penalty corner! However, it doesn't matter because the clock had already expired so a comeback was impossible. India win 2-1!

19:22 (IST)

The clock has expired but Belgium get another penalty corner.

19:20 (IST)

India are cruising toward the Junior World Cup trophy here.

19:19 (IST)

India are on the verge of finally breaking their 15 year jinx.

19:18 (IST)

Belgium are in search of a goal here. They have pulled off their goalkeeper.

19:15 (IST)

The Dhyan Chand stadium anxiously awaits India's win with 5 minutes left.

19:15 (IST)

Harmanpreet diffuses yet another situation for India. He's been a real leader in this match.

19:13 (IST)

With 8 minutes to go, India will be looking to pull themselves over the line.

19:13 (IST)

Overall, India's penalty corners have been nothing like their general attacking performance so far. Improvement is required.

19:12 (IST)

The penalty corner is well taken but Varun's shot is saved by the Belgian keeper.

19:12 (IST)

Umpire points for yet another penalty corner. This is India's fifth.

19:11 (IST)

India win their fourth penalty corner.

19:11 (IST)

Gurjant shows fantastic strength to create a golden opportunity for India's third, but Van Dooren produces a brilliant save to deny him.

19:08 (IST)

Harmanpreet looks imperious at the back for India. With 13 minutes to go, Belgium are desperately looking for an opening.

19:05 (IST)

India are looking to defend in numbers. Only Mandeep stays up front. With 15 minutes to go, is it perhaps too early to shut up shop?

19:03 (IST)

Belgium come close, but Dahiya saves.

19:02 (IST)

India are not looking nervous, and are staying defensively solid. Time is running out for Belgium.

19:00 (IST)

India are doggedly chasing a third goal to kill this game off.

19:00 (IST)

India manage to take the penalty corner well and come close. Both Harjeet and Nilakanta miss their shots. Belgium are hanging in here.

18:58 (IST)

Simranjeet wins India's third penalty corner after getting shoulder charged by a Belgian player.

18:56 (IST)

The Belgians are finding it difficult as the Indians are closing down gaps well.

18:55 (IST)

One can expect Belgium to throw men up front in a bid to make their 1st Junior World Cup final a memorable one.

18:52 (IST)

In a promising attacking move, Pandey holds the ball for too long and ends up wasting a chance.

18:51 (IST)

30 minutes left in the match. Still a long way to go for both teams, and anything can still happen.

18:50 (IST)

Harendra Singh will urge his team to keep their structure in this tense second half.

18:48 (IST)

Although being down 2-0 may seem like a mountain to Belgium, they have shown in this tournament that they certainly have the skills to climb it.

18:47 (IST)

The second half commences. India are into the attack.

18:45 (IST)

One can expect an exciting second half as Belgium will look to rebuild. India needs another goal or two to give them a good cushion and effectively kill the match. Their coach will undoubtedly be telling them to not give away possession cheaply.

18:44 (IST)

Harendra Singh relied on his forwards to score, and they came through for him. Gurjant and Simranjeet's brilliant reverse hits were worthy to put India in the lead.

18:42 (IST)

Belgium were shocked by the pace with which India started the game. It was a great tactical move by India's coach, Harendra Singh.

18:41 (IST)

India cannot afford to sleep at the back in the second half.

18:40 (IST)

At half-time, India are leading 2-0. The hosts will look to see their advantage through.

18:33 (IST)

India seem on course for a victory, and doing so will make them the only team besides Germany to win the Junior Hockey World Cup more than once.

18:32 (IST)

Belgium come very close after a well taken penalty corner, where the resulting shot misses by a small margin.

18:31 (IST)

Belgium get their first penalty corner of the match.

18:30 (IST)

India are holding the ball well and starving Belgium of possession.

18:29 (IST)

Simranjeet Singh has been impressive both in the semis and so far in the final.

18:27 (IST)

The Belgian coach Jeroen Baart looks worried. His defence has been shaky tonight. If Belgium concede one more, it's probably the end of their dream run.

18:26 (IST)

Until now, Belgium had only conceded 3 goals in the entire tournament. However, in this first half they are already 2-0 down courtesy some stunning attacking play by India.

18:24 (IST)

It was a great reverse by Simranjeet Singh at the end of a superb move where India broke the Belgians.

18:23 (IST)

Goal! Simranjeet scores to make it 2-0 for India after a fluid attacking move.

18:20 (IST)

Despite a great attacking move by Belgium, India stay strong and are able to crush the threat.

18:20 (IST)

After a blistering start by India, the game has grown more even. Both teams are being cautious in midfield.

18:18 (IST)

Belgium are regrouping now, building slowly and steadily. India need to stay defensively strong to deny them an opportunity to get back into the game.

18:16 (IST)

Belgium are now putting men behind the ball, which is making it hard for India to break through.

18:14 (IST)

On the other hand, India needs to hold the ball and show intensity in order to capitalise while Belgium are on the ropes.

18:13 (IST)

Belgium will try and slow the pace in order to regroup and get back into the match.
Preview: A win away from rewriting history after a long gap of 15 years, Indian colts would look to showcase their best and leave nothing to chance when they take on Belgium in the summit showdown of the men's Junior Hockey World Cup on Sunday.
The wintry Sunday could turn out to be the biggest day for these Under-21 Indian hockey players as they chase a dream of winning the mega event for the second time. India had earlier won the trophy way back in 2001 in Hobart, Australia.
This is India's third entry into the final of the Junior World Cup after having finished runners-up in 1997.
Assured of the silver medal, the Indians would now eye nothing less than the yellow metal.
India's head coach Harendra Singh had told his players that it is now in their hands to decide the colour of the medal in what is seen as the "biggest game" of their career.
"December 18 match is the biggest game for these boys. I would fold my hands and request them to show their character on that day. They need to decide which colour medal they want to see hanging in their necks," Harendra said after the semifinal win over Australia in a tough shootout yesterday.
Indian men's senior team chief coach Roelant Oltmans, who is the manager of the junior side here and is also an integral part of the coaching set-up, called on the Harjeet Singh-led side to show their "perfect" hockey.
"Now it's time for the perfect game and that we are going to show on Sunday. Our players will bring their best hockey in the most important match of the competition," Oltmans said.
Besides the momentum, the Indians would also rely on the crowd support. The city knows its hockey and 15,000 odd fans never gave up hope and kept on cheering when India trailed in the last two games against Spain and Australia.
After a lacklustre performance against Spain in the quarterfinals, Indian colts dished out their best hockey of the tournament so far against Australia but come tomorrow the hosts would aim to raise the bar further.
India's forwardline was impressive yesterday with Gurjant Singh and Mandeep Singh scoring two fantastic reverse hit goals, while the midfield was under the control of skipper Harjeet Singh.
India's defence has been erratic at times but Dipsan Tirkey and Harmanpreet Singh have managed to weather the storm when it mattered in the company of goalkeeper Vikas Dahiya, who was the hero of the win over Australia.
With tips from senior team captain and one of the finest goalkeepers of the world, PR Sreejesh, Dahiya showed he is a big match player and rose to the occasion in the semifinal, making a number of saves in the regulation time and then denying Matthew Bird and Lachlan Sharp in the shootout.
The only area of concern for India's coaching staff is the penalty corner conversion rate of dragflickers Harmanpreet and Varun Kumar.
All said and done, the Indians can't afford to take first-time finalists Belgium lightly. The European side has been making rapid progress in both the senior and junior levels over a period of time.
In fact, Belgium are the only side against whom the Indian colts had lost 2-4 in the four-nation tournament in Valencia, leading up to the ongoing tournament.
India head coach Harendra said they will have to utilise their opportunities against Belgium.
"Belgium are strong there is no doubt it. But at the same time against every opponent you get your opportunities. And also against Belgium we will get our opportunities," Harendra said.
"Belgium is a tough team and they have shown it by beating top sides like Holland, Germany, Argentina. It's a very strong side but we are also a very strong side."
Belgium too have made a little bit of history of their own after having lost in the quarterfinals in the last edition of the tournament.
Coach Jeroen Baart knows the importance of the game for his wards.
"It's been a dream for the boys. They have been working towards it for two-and-a-half years. They have sacrificed a lot, drove a lot of miles to get into training and so on," Baart said.
"We still remember the disappointment of the last junior World Cup when we lost to France in the quarterfinals. We wrote a little bit of history in the sense that we are first time from the country to play in the semi-final of the Junior World Cup. That was something very special.
"Now the boys are really eager to get very far on the pitch in this tournament as in life and as a hockey player," he added.
Meanwhile, on the final day of competition, six-time champions Germany will take on Australia in the bronze medal clash.
With inputs from PTI
Updated Date: Dec 18, 2016 19:34:29 IST