Hockey Asia Cup 2017: India coach Sjoerd Marijne needs to shake things up to remove element of predictability
India's thirst for a World Cup podium and an Olympic medal is becoming critical for the very survival of the sport in the country. It's under that pressure Marijne will operate.
The word 'hope' has a beautiful, lovely ring to it. Put some muscle on it and you get: 'ambition', 'desire', 'drive' and 'energy'. Push the envelope further and some coaches use the line – 'fire in your belly' and 'do you have the thirst for it?'
India's third Dutch coach, Sjoerd Marijne, at the moment, with the national hockey team in Dhaka for the 2017 Asia Cup, would probably be asking the same of his players and himself too. Anybody in world hockey worth his salt would understand by now how Hockey India rotates coaches like luggage on a carousel. In fact, for every two steps forward, it's usually two steps backward.
But Marijne, unlike Roelant Oltmans before him, has 'fire in his 43-year-old belly'. At least, his age should define him by that very standard. Oltmans took it hard when his age was questioned. He was a coach who had won probably everything before coming to India.
So when Marijne said, "It took me all of five minutes to say yes to the offer to become India's national coach", it wasn't just about primping his professional CV, but to also ensure that he did a job most couldn't before him. Or were not given the time to accomplish much – from Oltmans' four years to a few months for Paul Van Ass.
It would be good if Marijne doesn't mark his tenure by days but by tournament wins and that too the big ones. It's just his rotten luck that the reason to remove Oltmans could become Marijne's biggest pressure point.
Under Oltmans as high performance director, India won the 2014 Asian Games gold and then under him as coach won the Asian Champions Trophy, and the Champions Trophy silver, not to forget the bronze at the Hockey World League Finals. Impressive, but the thirst for a World Cup podium and an Olympic medal is becoming critical for the very survival of the sport in India. It's under that pressure Marijne will operate.
In a way, it's good that Marijne begins with the Asia Cup and not the Hockey World League Finals in December at Bhubaneshwar. Yet, the strain, anxiety and stress will show when you coach the Indian national hockey team. The Dutchman will take over a team that is being labelled a balancing act between juniors and seniors. In fact, it's far from that. The youngsters who haven't played a top level senior tournament are Varun Kumar and Dipsan Tirkey in defence, Suraj Karkera as the second-choice goalkeeper and forward Gurjant Singh. The rest are hardened professionals and arriving in Dhaka with only one thing in mind – win the Asia Cup.
Anything less will be considered a failure. Especially when teams like South Korea and Pakistan have been struggling off late. It's only Malaysia, who have beaten India twice in the recent past, at the 2017 Sultan Azlan Shah Cup and the Hockey World League Semi-finals, which might once again pose a challenge. Malaysia have qualified for the 2018 World Cup, so their intensity might dip. But for South Korea, winning the Asia Cup is imperative as the winner go to the 2018 World Cup. India has already qualified as the hosts.
South Korea are the reigning champions and the most successful team in the history of the Asia Cup with four titles, which they won in 1993, 1999, 2009 and 2013. In the last edition, they beat India 4-3 in the final in Ipoh, Malaysia.
Off late, they resemble an ageing sprinter, struggling to cope with speed and finishing; sixth place at the 2016 Champions Trophy being their best result. However, the ninth place finish at the Hockey World League Semi-finals in London has shaken up the South Korean management and an overhaul will be seen in the team's composition.
The South Korea team manager, Kim Yoon Dong, has said: "The team has been going through a transition and now after mixing youth and experience, we are confident of doing well." Winning a hat-trick of titles is not impossible for a South Korean team that plays on speed, counter-attacks and a fitness regimen that has constantly made it a top-six team for almost a decade, and silver-medallist at the 2000 Sydney Olympics.
Then there is Pakistan. Rule them out at your own peril. They have had a wretched run of late but with a change in coach, the Pakistan Hockey Federation is hoping that fortunes might change too. Khwaja Junaid didn't do much wrong expect lose to India twice at the Hockey World League in London by margins of 1-7 and 1-6. That was enough to send him off and bring in Farhat Khan, a 1992 Barcelona Olympics bronze medallist.
"I don't like defeat; we had a glorious past in hockey and I witnessed a great era. I do believe in winning every match and I am hopeful that by adopting a policy of aggressive game, we can produce good results," said Khan after being appointed. Even though Pakistan have qualified for the World Cup, a good result in Dhaka would ensure that the sport starts to grow again, with the fans dreaming of the days of magic recreated rather than wringing their hands in frustration.
Even though Farhat has replaced Junaid as the coach, he will be well served to see the matches Pakistan played against India in the 2016 Asian Champions Trophy in Kuantan. India beat Pakistan in the group stage and then in the final, but both were close games. "We will need to make improvement in all areas of our game if we want to achieve our goal this time. We failed to qualify for the last World Cup, and then the 2016 Olympic Games. Therefore we want to deliver our best starting from the Hero Asia Cup 2017," said Farhat.
India are still without their talismanic captain PR Sreejesh, out till early next year with a ligament injury. And in defence, they won't have Rupinder Pal Singh, their most successful penalty corner specialist in recent times. Yet, India can rely on the consistent Surender Kumar and Harmanpreet Singh.
Penalty corners might be an issue as Varun Kumar hasn't played with the senior team in an Asia Cup. Marijne will have to rely on Harmanpreet for conversions and if Varun comes good, India can think of a secure future defensively. It has been 10 years since India won the Asia Cup. But more than that, the team will try and forget the bad run they have had recently. Turbulence also came in the form of Oltmans being sacked and a win in the tournament will silence critics and give the players some stability before playing the year-end Hockey World League Finals.
"The last time we won the tournament was in 2007, but this time we have the chance to play as the number one team in Asia. Our aim is to take the tournament match-by-match and give our 100 per cent in order to win against every opponent," says captain Manpreet Singh. "Winning the Hero Asia Cup 2017 will be a stepping stone for us in achieving our main objective of being a top-three ranked country in the world." If India couldn't make it to the 2017 Sultan Azlan Shah Cup final or the last-four of the Hockey World League Semi-final in London, the number of misses and the shots at goal would be a pointer for Marijne to move forward.
Historically, the pain has been in the opposition striking circle. Many times, Indian forwards have been chasing ghosts; most of it of their own making. SV Sunil, Ramandeep Singh, Akashdeep Singh, Lalit Kumar, Gurjant Singh and Satbir Singh have the opportunity to play some brilliant hockey and invoke the greats of the past like Mohammed Naeem who scored 12 goals in the 1985 edition of the Asia Cup, right here in Dhaka. And then Prabhjot Singh who scored 15 goals in the 2007 Asia Cup in Chennai that India won.
India's foremost hockey statistician, BG Joshi, points out that in nine Asia Cups, India have played 49 matches, winning 37, losing eight and drawing four. They have scored 246 goals and conceded 53. Marijne can only add to these numbers. There is no doubt that there will be a change in style, approach, competitiveness and intensity. And for that, the Indian coach would look to the midfield to control and maintain a structure that would strangle most teams, giving India the territorial advantage, but also the goals that are so required to win matches.
Sardar Singh and Manpreet Singh are the pivots around whom SK Uthappa and Chinglensana Singh would revolve. But eyes would be on Sardar, who after picking up the Rajiv Khel Ratna, would be looking to impress and extend his career till the 2018 World Cup. A strong and influential midfielder is required to turn around fortunes and both Manpreet and Sardar fit the role. It's up to Marijne on how he uses both in terms of talent and skills. It was surprising to see Pardeep Mor not make it to the Asia Cup team after some good hockey over the past one year. Maybe the management wants to give a few opportunities to Sumit, whose talent and skill level can turn around a match.
It's good to have mantras – "player-driven, coach-assisted process" – but in the end, only results matter. It's the patterns that decide whether your play is predictable or has elements to shock and awe opponents. In the last year or so, it's the predictability that has at times let down India. Marijne will do well to instil some novelty into this team.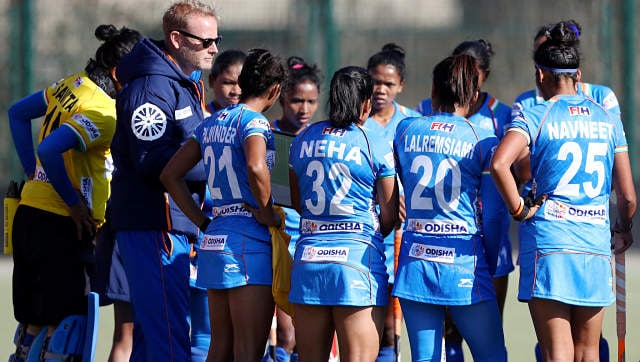 Sports
The Indian women's hockey core group had returned to the national camp in Bengaluru on Sunday last to restart the preparations for the Tokyo Olympics after a 10-day break.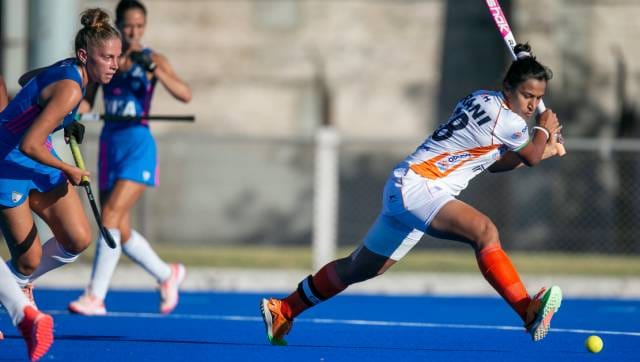 Sports
The six other India players are Savita Punia, Sharmila Devi, Rajani, Navjot Kaur, Navneet Kaur and Sushila while the two support staff are video analyst Amrutaprakash and scientific advisor Wayne Lombard.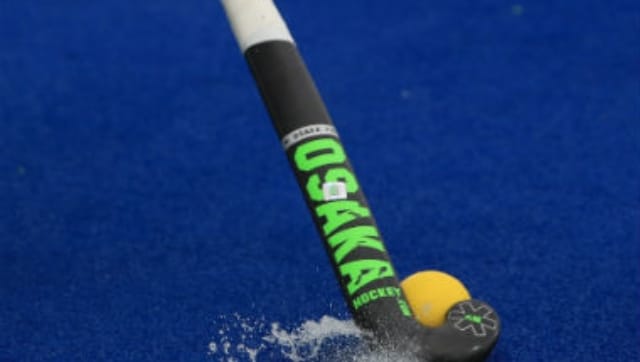 Sports
Kaushik, a member of the 1980 Moscow Olympics gold-medal winning Indian team, had tested positive for COVID-19 on 17 April and was admitted to a nursing home in New Delhi.