Hobbling Shubhankar Sharma plays through blistered ankle to keep himself in race for Rookie of the Year title
Despite the pain, Shubhankar Sharma shot a superb five-under par 67, virtually making sure he was not shooting himself out of the race to win the coveted Rookie of the Year title on the European Tour.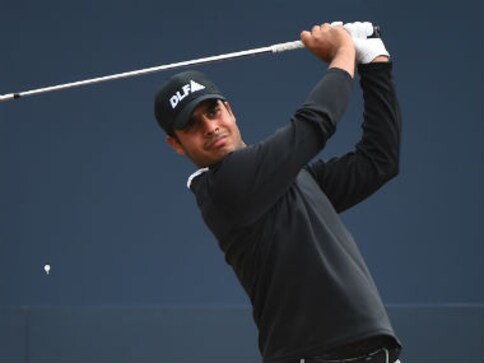 At the elite level, physical pain can sometimes prove to be a strong motivator. It also somehow helps athletes to concentrate even harder on the task at hand.
Sunil Gavaskar's double century in Port of Spain in 1971 became part of legend as he shrugged off a constant toothache during the entire duration of that Test match. The 2008 US Open win of Tiger Woods will not be looked back upon as his last Major championship victory, but rather as an impossible triumph over odds as he virtually played that week's 90 holes (including 18 holes in a playoff) on one foot because of his knee injury.
A mere blister on his left ankle may not be considered a serious injury by many, but given how golfers transfer their weight on that foot with the shoe scraping the affected area again and again, and how they have to walk nearly eight kilometers during a round, it was something more than just a minor irritant for Shubhankar Sharma as he played the second round of the DP World Tour Championship in Dubai on Friday.
Despite the pain, the 22-year-old from Chandigarh shot a superb five-under par 67, virtually making sure he was not shooting himself out of the race to win the coveted Rookie of the Year title on the European Tour.
The equation is simple for Sharma this week. He has to play well enough to stay ahead of England's Sam Horsfield and Australia's Lucas Herbert. And with Horsfield also shooting a 67, it was a job well done under duress.
At four-under par 140, he was tied for the 20th place. If he maintains his position until Sunday evening, both Horsfield and Herbert will have the arduous task of finishing inside the top-two to deny Sharma from becoming the first Indian to win the Rookie honour on the European Tour and join the likes of Jon Rahm and Sergio Garcia before him.
The blistered ankle has done funny things to Sharma on the first two days. In Thursday's opening round, he started with three birdies in the first five holes, and it was while playing the seventh hole that it burst. He spend a few agonising minutes trying to tape himself up, and was never the same player after that. He kept hitting the ball well, but somehow lost his focus on the greens.
That was not the case on Friday, even though he was visibly limping throughout the round. The wound was bandaged and well-cushioned against the scraping by his shoe, but Sharma had refused to take any pain-killers to numb it. He just did not want any of his senses to be dulled because of the drug.
Sharma started with two birdies and could have shot much better than his eventual 67 if not for an unwarranted double bogey on the par-5 14th hole. He hit his second shot from thick rough into the water and then three-putted from nearly 12 feet after hitting a fabulous approach shot.
"To be honest, the foot was not bothering me too much while hitting my shots. There was a lot of pain for about 20 minutes when I got it taped and wore my shoes after that. But once that phase passed, it was all right. I felt some discomfort while walking, but the pain was bearable," said the army brat.
"I am not sure if the pain helped me focus better, but I did hit the ball well throughout the day, and except for that three-putt on the 14th hole, I putted very well too."
Sharma was confident that the injury would heal in time for next week's Hong Kong Open, which is assuming far greater significance in his career this year than the biggest tournament on the European Tour in Dubai this week.
"Obviously, Rookie of the Year is a great honour and I want to win it, but my eyes are more on the tournament, and the Race to Dubai title. I can't win the Race to Dubai and become the European No 1, so I will try that much harder to become the Asian No 1," said Sharma, who currently leads the Habitat for Humanity Standings on the Asian Tour.
"Hong Kong is going to be a big week towards that. It has a big purse, but more importantly, it is on a golf course that I absolutely love. I finished inside the top-10 there last year, and I definitely want to do better than that this year."
Sharma was playing his third round in Dubai on Saturday with England's Lee Westwood, winner of last week's Nedbank Challenge and a former World No 1.
Sports
US players who have signed up to LIV Golf have been indefinitely suspended from the PGA Tour, meaning they are no longer eligible to play in the Ryder Cup.
Sports
This week's tournament has an extra dimension given that it is taking place at former US President Trump's Trump National course at Bedminster, New Jersey.