Highlights, World Badminton Championships 2018: Ashwini-Satwiksairaj, HS Prannoy, Sameer Verma enter second round
LIVE NEWS and UPDATES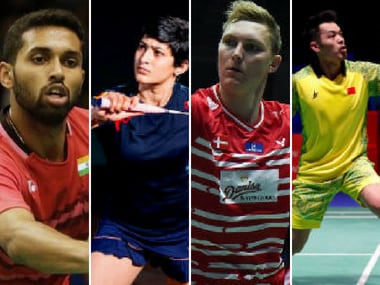 17:03 (IST)

That's all for today folks! See you tomorrow for Day 2 of the BWF World Championships!

14:47 (IST)

17-10! Corvee trails by seven points, but his smashes are doing the work for him. However, is it a case of too little too late? Sameer is four points from clinching the game and match

14:42 (IST)

11-7! Sameer Verma in the lead but Lucas Corvee looks to be in better form in the 2nd game. His smashes are making the necessary impact but Sameer's netplay is destabilising the Frenchman. Will Corvee be able to enforce a decider?

14:35 (IST)

5-1! Sameer wastes no time in the 2nd game and races to a healthy four-point lead. It is his defence that has kept him in good stead.

14:28 (IST)

On Court 1, the mixed doubles pair of Ashwini Ponnappa and Satwiksairaj Rankireddy are up against the Danish pair of Niclas Nohr and Sara Thygesen

14:24 (IST)

16-8! Sameer's been dictating the rallies and his defensive style of play has well-suited this match against Lucas Corvee.

14:18 (IST)

10-5! Sameer Verma and Lucas Corvee are continuously engaged in hard-fought technically strong rallies that are a treat to watch. Sameer's tenacity has given him the 5-point lead in the opening game.

14:16 (IST)

Meanwhile, on Court 3, the Indian mixed doubles pair of Saurabh Sharma and Anoushka Parikh are up against Nigeria's Enejoh Abah and Peace Orji

14:13 (IST)

5-3! A couple of unforced errors from Sameer has allowed Corvee to take the lead in the opening game

14:06 (IST)

It is time for yet another singles match as India's Sameer Verma takes on French shuttler Lucas Corvee on Court 2.

13:17 (IST)

Meanwhile, on Court 3, the Indian mixed doubles pair of Pranaav Jerry Chopra and Sikki Reddy notched up a convincing 21-17, 21-15 win over the Czech Republic pair of Jakub Bitman and Alzbeta Basova

13:02 (IST)

Earlier today, on Court 2, Hong Kong's World No 22 Wong Wing ki Vincent was trailing 20-22, 21-19, 4-11 in his match against Brazil's Ygor Coelho when he retired in the third game. Coelho will now face HS Prannoy in the second round

12:58 (IST)

Now, the men's doubles match is underway on Court 1

12:46 (IST)

11-7! The roller coaster continues as Chen Long and Hsu Jen Hao as both shuttlers trade points with each other on their serves. But Long seems to bring his big match experience into the equation. This is a very similar story to the opening game

12:02 (IST)

Whoa! A 69-shot rally there! And Chen Long wins that point to draw the scores level at 2-2!

11:57 (IST)

It is time for the next singles match of the day. Former World No 1 and Olympic gold medallist Chen Long will take on Chinese Taipei's Jen Hao Hsu

11:56 (IST)

India's HS Prannoy wins his opening match 21-12, 21-11 in 28 minutes. A comprehensive performance by the Indian shuttler who will now face Brazilian Ygor Coelho in the 2nd round

11:47 (IST)

16-10! Prannoy has upped his game considerably to maintain the lead over Abhinav. The Indian shuttler's netplay has been impressive.

11:44 (IST)

Prannoy manages to maintain the five-point lead at the mid-game interval as the Indian ace leads 11-6!

11:40 (IST)

6-3! Prannoy looks supremely confident on the court. He raced to a 5-0 lead and has since been trading points with Abhinav.

11:38 (IST)

HS Prannoy wins the opening game 21-14! He seems to be in such good touch. Abhinav Manota looked all over the place in the opening game. Will he be able to get himself together and force a decider?

11:31 (IST)

14-6! Prannoy has been brilliant in the opening game so far. Excellent court coverage by the Indian shuttler

11:27 (IST)

11-4! An excellent start for Prannoy as he goes into the mid-game break with a comfortable seven-point advantage.

11:22 (IST)

2-1! Prannoy picks up the first point of the match after Abhinav hits it wide. But, the New Zealand shuttler makes amends almost immediately as he jumps into the lead

11:20 (IST)

Pullela Gopichand is looking on from the sidelines as Prannoy gets ready for his first match at the World Championships 2018

11:17 (IST)

It is time for another singles match of the day. World No 11 HS Prannoy takes on India-born New Zealand shuttler Abhinav Manota. This is the first meeting between these players

11:16 (IST)

It was a dominant performance by the Chinese World No 9 Lin Dan who notched up a comprehensive 21-14, 21-14 win over Mark Caljouw of the Netherlands

11:09 (IST)

15-13! After letting Lin Dan open up a lead, Caljouw has brought things back to a place where he can push for a decider. The Netherlands shuttler is just two points behind the five-time champion.

11:03 (IST)

Lin Dan leads 11-9! at the mid-game interval of the 2nd game

11-9! WHAT A RALLY to go into the mid-game interval. Lin Dan holds on to a slender lead as Caljouw has been in impressive form in the 2nd game.
Will we see a decider?#TOTALBWFWC2018

LIVE: https://t.co/3HBF2I8N1J

— FirstpostSports (@FirstpostSports) July 30, 2018

10:56 (IST)

6-4! A much improved 2nd game from Mark Caljouw. Though Lin Dan is in the lead, Caljouw can push this game into the decider if he works on his court coverage

10:50 (IST)

2-1! Excellent rally there that was finally won by Mark Caljouw after a cross-court smash goes unreturned by Lin Dan. Caljouw is in the lead in the 2nd game.

10:46 (IST)

Lin Dan proves why he is one of the best as the Chinese shuttler wins the opening game 21-14! He thwarted the comeback of sorts mounted by the Netherlands shuttler to comfortably claim the opening game

10:40 (IST)

14-12! Caljouw has been brilliant after the break pushing Lin to his limits and the World No 31 from Netherlands has reduced the deficit to just 2 points now

10:33 (IST)

11-4! The scoreline doesn't define how competitive Mark has been in the opening game. However, it is Lin Dan who goes into the mid game break with a healthy seven-point lead

10:28 (IST)

Lin Dan leads 5-2!

Playing in front of his home crowd, Lin Dan has opened up an early 5-2! lead.
The World No 9 Chinese shuttler looks to be in ominous touch#TOTALBWFWC2018

LIVE: https://t.co/3HBF2I8N1J

— FirstpostSports (@FirstpostSports) July 30, 2018

10:23 (IST)

1-0! Lin Dan starts off with his trademark smash as the crowd rallies behind the legendary shuttler.

10:18 (IST)

The World No 9 Lin Dan is up against the World No 31 Mark Caljouw. Lin, the five-time World Champion was also the runner-up in the last edition.

10:13 (IST)

It is time for singles action on Court 1. The legendary Chinese shuttler Lin Dan takes on Netherlands' Mark Caljouw

10:08 (IST)

Meanwhile, on Court 2, Wong Wing Ki Vincent is up against Brazil's Ygor Coelho.
Preview: Olympic silver medallist PV Sindhu will look to break the jinx of losing major finals and better the colour of her medal when she spearheads the Indian challenge at the prestigious World Championship, starting on Monday.
With two bronze medals in 2013 and 2014 and a silver last year, Sindhu has an impressive record at the World Championship.
Her epic final against Japan's Nozomi Okuhara at Glasgow last year went down as one of the greatest matches of all time, clocking 110 minutes. The Indian will hope her love affair continues at Nanjing.
The 23-year-old from Hyderabad has been very consistent with six final appearances last year, out of which she won India Open, Korea Open and Syed Modi International but she lost the finals at Worlds, Dubai Super Series and Hong Kong.
This season too Sindhu entered summit clashes at India Open, Commonwealth Games and the Thailand Open but a title has eluded her and she would like to improve her win-loss statistic in major finals.
The Indian is likely to meet Korea's Sung Ji Hyun in the third round, crossing which will probably put her face-to-face with defending champion and familiar foe Nozomi Okuhara in the quarterfinals.
"I really want to do well in the World Championship. I have been preparing well. It is going to be a tough draw in the world championship, so I can't relax," said Sindhu, who will play Fitriani in her first game.
"I know everyone is talking about Nozomi and my match but before that there is Sung Ji Hyun, who is not an easy player. So that round would be equally important."
Two-time Commonwealth Games champion Saina Nehwal also bagged a silver and a bronze in 2015 and 2017 respectively and she would hope to shrug off her indifferent recent form and go full throttle, looking for a medal.
The 28-year-old, who opens her campaign against either Swiss Sabrina Jaquet or Turkish Aliye Demirbag, will have to battle past 2013 champion Ratchanok Intanon of Thailand and Olympic champion Carolina Marin in likely third round and quarter-final matches respectively.
In the men's singles, Kidambi Srikanth, who clinched four titles last season and a silver at the Commonwealth Games this year, will too look to realise his long-term dream of winning a medal when he opens against Ireland's Nhat Nguyen. He is likely to meet Indonesia's Jonatan Christie, 13th seed, in round 3.
With three-time Olympic silver medallist Lee Chong Wei of Malaysia pulling out due to poor health, Srikanth will fancy his chances of going further deep in the draw and win a medal.
HS Prannoy, who had a topsy-turvy season plagued by multiple injuries, will begin his campaign with a clash against Australia's Abhinav Manota and two tricky opponents in Hong Kong's Wong Wing Ki Vincent and Chinese Taipei's Chou Tien Chen might stand in his way to the quarterfinals, where he is expected to meet the All England champion Shi Yuqi.
"I think I have a good draw. In an event like the World Championships you can't expect things to be easy. So I have to be on my toes right from the start," he said.
Among others, B Sai Praneeth has been in poor form this season but the Indian has been given a walkover even before stepping on the court after formidable Korean Son Wan Ho pulled out. He will now face Spain's Luis Enrique Penalver in his first match.
Sameer Verma too will have to bring his 'A' game to the fore when he opens his campaign against France's Lucas Corvee in the opening round.
In the men's doubles, CWG silver medallists Satwiksairaj Rankireddy and Chirag Shetty face Olympic bronze medallists Marcus Ellis and Chris Langridge of England.
CWG bronze medallists Ashwini Ponnappa and N Sikki Reddy will square off against Chinese Taipei's Chiang Kai Hsin and Hung Shih Han in women's doubles.
Ashwini and Sikki will also pair up with Satwik and Pranaav Jerry Chopra for the mixed doubles event.
Among other Indians in action are National champions men's doubles pair of Manu Attri and B Sumeeth Reddy, Russian Open runners-ups Rohan Kapoor and Kuhoo Garg, and Saurabh Sharma and Anoushka Parikh.
The young pair of Arjun MR and Ramchandran Shlok, and Tarun Kona and Saurabh Sharma will also compete in the men's doubles competition.
Also in action will be Kuhoo Garg and Ningshi Block Hazarika, Jakkampudi Meghana and S Ram Poorvisha, and Sanyogita Ghorpade and Prajakta Sawant in the women's doubles.
With inputs from PTI 
The Great Diwali Discount!
Unlock 75% more savings this festive season. Get Moneycontrol Pro for a year for Rs 289 only.
Coupon code: DIWALI. Offer valid till 10th November, 2019 .
Updated Date: Jul 30, 2018 18:05:17 IST