Highlights, Intercontinental Cup, India vs Chinese Taipei: Sunil Chhetri nets hattrick as Blue Tigers win 5-0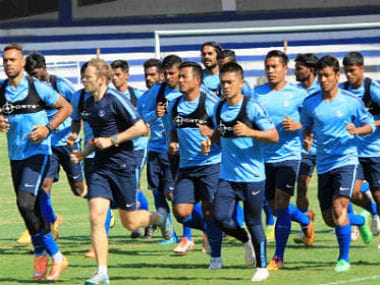 22:02 (IST)

That's it from us here. Thank you for joining us tonight. Goodnight!

22:02 (IST)

IND 5-0 TPE

Hattrick hero Sunil Chhetri picks up the Man of the Match award. Thoroughly deserved.

FT! IND 5-0 TPE

Game done and dusted! Nightmare over for Chinese Taipei but they would that this is just a learning experience. For India, it's job well done! Five goals, three from captain Chhetri. They'll now face the Kenyans and the Kiwis with momentum on their side.

21:55 (IST)

90+2` IND 5-0 TPE

Sunil Chhetri comes off to a standing ovation as he is replaced by Alen Deory for the final couple of minutes.

21:54 (IST)

90` IND 5-0 TPE

Gurpreet finally gets to make a save and it is a good one. A TPE forward manages to get past the Indian defence but Gurpreet goes down quickly and palms the ball off the attacker's feet. Crucial save.

21:52 (IST)

86` IND 5-0 TPE

India's intensity has dropped off in the final minutes of the match. Stephen Constantine will be happy with his team's performance tonight.

21:46 (IST)

80` IND 5-0 TPE

Wooh! Sublime finish by Pronoy Haldar. He took the ball on the left side, went further up and smashed it into top right corner of the goal. We don't see such goals from Indian players.

21:45 (IST)

79` IND 5-0 TPE

Stephen Constantine makes his third and final change as he replaces Pritam Kotal with Lalruatthara.

21:42 (IST)

76` GOAL! PRONOY HALDER WITH A SCREAMER!

You knew India were going to score but never did you expect such a stunning goal. Halder wrestles the ball back from the TPE player on the left. He strides forward before bending it into the top corner from the left of the box! Simply magnificent!

71` IND 4-0 TPE

Well, Chhetri stays and Stephen Constantine has sent Salam Ranjan and Rowllin Borges into the field. Now that the win is certain, India should know that the victory has come against a very inexperienced Chinese Taipei side. They'll face better opponents in Kenya and New Zealand.

21:34 (IST)

69` IND 4-0 TPE

Aashique goes down on the left from a bad tackle from a TPE defender who is rightly booked for his challenge. Rowlin stands blasts the ball and catches the defender in the two-man wall square on the chest. That must have hurt! India play kick the ball out to allow the player to get some medical attention.

21:31 (IST)

67` IND 4-0 TPE

Double change for India as the impressive Anirudh Thapa comes off to a round of applause from the Indian fans. In comes Rowlin Borges. Also coming off is Anas Edathodika who is replaced by Salam Ranjan Singh.

21:28 (IST)

65` IND 4-0 TPE

Aashique Kuruniyan nearly scores on his debut only for a TPE defender to slide in and put in a vital block just as the Mallapuram-born player was about to pull the trigger.

21:27 (IST)

64` IND 4-0 TPE


Sandesh Jhingan has done some damage to his left shoulder after landing awkwardly on it going for a header. But the Blasters man brushes the knock away and is up and running.

60` GOAL! Sunil Chhetri gets his hattrick!

It took some time but Sunil Chhetri finally gets his hat-trick. The crowd is chanting Chhetri's name deserves every bit of plaudits. Chinese Taipei players have given up on the match. Now Constantine has to take a decision whether to keep Chhetri in the game or substitute him.

21:22 (IST)

57` IND 3-0 TPE

Brilliant play from Thapa to set up Sunil Chhetri to have a go at goal. The Chennaiyin man does well to put in a cross from a tight angle near the goalline. Chhetri though is off-balance as he shoots and the chance goes begging.

21:19 (IST)

55` IND 3-0 TPE

Will Donkin goes down with cramps and Anas rushes over quickly to help the youngster stretch his calf.

21:17 (IST)

52` IND 3-0 TPE

Udanta nearly gets his brace after being sent clear by Jeje. The TPE defence does well to hold him off.

47` GOAL! Udanta Singh triples India's lead!

Udanta Singh with a deserving goal to make it 3-0 to India. He showed a bit of his trickery before smashing the ball past the goalkeeper. And now Halicharan Narzary makes way for talented Ashique Kuruniyan.

21:10 (IST)

46` IND 2-0 TPE

TPE get us underway in the second half.

HT. IND 2-0 TPE

A good half for India. 2-0 up all thanks to Chhetri, but also solid display from Jeje and Thapa. Indian defence were hardly troubled by the Taiwanese team. The hosts will surely look to add few more goals before full-time.

20:49 (IST)

44` IND 2-0 TPE

Two minutes soon to be added on as we near the end of the first forty-five. It has been all India so far.

41` IND 2-0 TPE

The Chinese Taipei defence has gone missing in Mumbai. Chances are that we won't find it anytime soon. Chhetri could've had a hat-trick but the goalkeeper Wen-Chieh Pan with another good save. Manager Gary White is visibly very frustrated at the sidelines.

20:43 (IST)

39` IND 2-0 TPE

What a save to deny Sunil Chhetri his hattrick! Chhetri looks to chip Wen-Chieh Pan but the TPE gloveman stands tall and gets a hand on the ball!

34` GOAL! Sunil Chhetri gets his second of the night!

Sunil Chhetri just can't stop scoring! Once again a beautiful ball from Jeje and Chhetri with a solid finish. It's Anirudh Thapa again who was instrumental in creating the goal. Top stuff!

20:35 (IST)

30` IND 1-0 TPE

TPE go close to getting an equaliser but a deflection off Sandesh sees India maintain their lead. Chao-An Chen somehow manages to find space to shoot but fortunately for India, his shot gets a heavy deflection off Jhingan and rolls behind for a corner.

28` IND 1-0 TPE

Two solid saves by the Taiwanese goalkeeper to deny India. Taiwan defence is struggling to pick those long balls from India and their attack is not doing enough. A word of praise for youngster Anirudh Thapa, who has been impressive in the midfield.

20:29 (IST)

26` IND 1-0 TPE

Shubhashish Bose looks to have broken his nose after colliding with a TPE player. He's off the field as TPE take the free kick. Cleared comfortably by the Indian defence.

20:27 (IST)

22` IND 1-0 TPE

Bright start from India and a deserved lead. Who else though. @chetrisunil11 showing great strength and composure.

— Nevin Thomas (@nevinthomas) June 1, 2018

20:25 (IST)

19` IND 1-0 TPE

Chhetri with almost a second one! Thapa does extremely well to win the ball in the midfield and send Sunil on the attack. Jeje gets a touch on the ball in the box but it is Sunil who shoots with his weaker foot. Goalkeeper Pan does well to save with his foot as the ball goes behind for a corner.

17` IND 1-0 TPE

India are one up and who else but captain, leader, legend Sunil Chhetri, who puts India in the lead. The hosts were constantly targetting from the right side using Udanta Singh's pace. This time it worked with Jeje providing a good ball to the centre and Chhetri made no mistake in converting the chance.

20:20 (IST)

14` GOAL! Sunil Chhetri gives India the lead!

Moments after going close, Chhetri gives India the lead! Jeje spots Sunil's run and slips in a delightful pass. Chhetri does well to hold off the Taipei defender before slotting the ball into the bottom corner.

20:16 (IST)

11` IND 0-0 TPE

Sunil Chhetri is brought down just at the edge of the TPE box just as he looked to get at the end of a longball. The ref books Chen for his foul. Perfect position for Chhetri to shoot but his shot flies wide.

20:14 (IST)

8` IND 0-0 TPE

The match has settled down into a rhythm here. India looking to attack from the right through Udanta Singh. The Indian defence hasn't been put under pressure yet thanks to the midfield duo of Thapa and Halder who are closing down on the Chinese Taipei attackers quickly.

4` IND 0-0 TPE

Lovely counter by the Indians. Chhetri should've put India ahead. His miss even rattled the press box.

20:07 (IST)

3` IND 0-0 TPE

How did Sunil Chhetri miss that?! Udanta sprints down the right and cuts the ball back to the Indian skipper who is unmarked at the far post. But his first-time shot rolls past the wrong side of the post.

20:02 (IST)

1` Ind 0-0 Tpe

And we're underway at the Mumbai Football Arena with Balwant Singh getting us started.

India vs Chinses Taipei

It's almost kick-off time at the Andheri Sports Complex. India in the familiar blue colour and the Taiwanese team in the whites. India are playing with Anirudh Thapa and Pronoy Haldar in the middle. Thapa is an exciting prospect so let's see what kind of game he has.

19:51 (IST)

India vs Chinese Taipei

As we get closer to kick off, read Anish Anand's preview where he writes how Chinese Taipei present India with the perfect opportunity to prepare for the Asian Cup.

India vs Chinese Taipei

It's little slow here. Not much crowd at the stadium, but there's still time.

India vs Chinese Taipei

The first team to come out for practice is India. Pretty intense practice session.

The team sheet is out!

The team sheet is out. Surprisingly for India, Rowllin Borges starts on the bench. Chennaiyin FC youngster Anirudh Thapa will start today. Narayan Das is also benched and in his place, Subhasish Bose will play in the left-back role.

19:30 (IST)

Hello and welcome to Firstpost's live blog of the Intercontinental Cup match between India and Chinese Taipei!
Preview: A fairly impressive AFC Asian Cup qualifying campaign being the confidence-booster, the Indian football team begins its preparations for the continental showpiece by taking on Chinese Taipei in the lung-opener of the Intercontinental Cup here tomorrow.
The four-nation tournament, with teams from three separate continents -- Chinese Taipei, Kenya and New Zealand -- apart from the hosts, was conceptualised to test the Indian team ahead of the Asian Cup to be held in the four cities of the UAE from January 5 and February 1.
The Stephen Constantine-coached side has come into this tournament after a 13-match unbeaten streak from June 2016 to March this year. The team booked a berth for the Asian Cup in October 2017 with two matches left to be played.
A 1-2 loss to Kyrgyzstan in the last match of the Asian Cup qualifying campaign in Bishkek in March snapped the 13-match streak but that match has been rendered inconsequential by then.
India will enter tomorrow's match with a psychological advantage as they are the highest ranked side at 97th, besides also having an impressive head-to-head record against the East Asians. India have beaten Chinese Taipei thrice while drawing once in the past decade.
Tomorrow's match at Mumbai Football Arena at Andheri will also see star striker Sunil Chhetri inch towards the milestone of 100 matches for the country. He will be playing his 99th international match in India jersey.
A winning start in the tournament would be important in terms of reaching the final to be held on June 10. But Constantine has said that no team in this tournament will be an easy opponent.
"I am not one for records as teams and players change all the time and they (Chinese Taipei) will be coming to try and beat us. Under Gray White, they have improved and will be very organised. We will show them the respect they deserve, but of course winning the game is our aim," he said.
Chhetri said the "desire to win among the players is 100 percent".
"I am fully fit and we are ready for the tournament. It was a mixed bag when we first arrived for the camp. There were players some of whom had not played for almost a month while there were some who joined the camp straight from an AFC Cup match. I love playing for India and will give my best what I can," he said.
Chhetri, who has been in roaring form for some time now, will have the likes of Balwant Singh and Jeje Lalpekhlua for company upfront.
The likes of Halicharan Narzary, Udanta Singh, Bikash Jairu and Mohammed Rafique will be vying for spots in the midfield.
And, the experienced Sandesh Jhinghan, Pritam Kotal, Souvik Chakrabarti and Anas Edathodika will be among the key men in the defence while Gurpreet Singh Sandhu is expected to man the Indian goal.
With inputs from PTI
Firstpost is now on WhatsApp. For the latest analysis, commentary and news updates, sign up for our WhatsApp services. Just go to Firstpost.com/Whatsapp and hit the Subscribe button.
Updated Date: Jun 01, 2018 22:03:16 IST