Highlights, Denmark Open 2018 results: Saina Nehwal beats Gregoria Tunjung to enter final; Kidambi Srikanth ousted
LIVE NEWS and UPDATES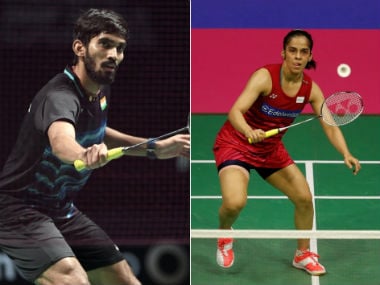 18:48 (IST)

Saina Nehwal through to final!

The former champion took just 30 minutes to brush Gregoria Tunjung aside. A 21-11, 21-12 win speaks a lot about Saina's overall performance in the semi-final. Her shot selection, movements and strokes from the net allowed her to play her natural game.

She faces World No 1 Tai Tzu Ying in the final tomorrow.

18:36 (IST)

18-11! Both players targeted the angles in that rally but Saina's defensive stroke was enough to trouble Tunjung.

18:34 (IST)

15-9! Saina has hit unplayable winners as she inches towards a straight-games win. Tunjung has been out of position after the break.

18:29 (IST)

6-7! Three consecutive points for Tunjung this time as she closes the gap on Saina's lead in the second game.

18:27 (IST)

7-3! A four-point lead for Saina. She hits an overhead shot to earn a point. Tunjung didn't really see that coming.

18:25 (IST)

4-1! Worrying signs for Tunjung as she stutters at the net. Meanwhile, Saina has been standing firm on the baseline. An ideal start for the Indian shuttler

18:24 (IST)

Saina wins first game: 21-11

The former champion gets the better of Gregoria Tunjung with a variety of strokes and full use of her range. She had an attacking approach right from the start of the game and barely allowed her opponent to find an opening.

18:18 (IST)

19-8! One-way traffic in the first game. Saina extends her lead

That was a good challenge by the Indian shuttler as the linesman judged it wrongly. The shuttle had landed just inside the backline.

18:17 (IST)

15-7! Saina has adjusted well to the drift inside the arena. The shuttle is travelling faster than usual at the moment. Great shot selection from Saina.

18:13 (IST)

9-3! Good returns from Saina has taken Tunjung by surprise. She has been unable to read Saina's range of strokes.

18:11 (IST)

7-3! Tunjung has a lot of defending to do as Saina has jammed her opponent with half-smashes. The Indian has the control of the rallies so far.

18:09 (IST)

4-1! Saina attacks from the mid-court to test her opponent. She wins three consecutive points to open up a three-point lead over Tunjung.

18:07 (IST)

Nehwal vs Gregoria

This is the very first meeting between the two. Saina Nehwal has been on a roll after beating Akane Yamaguchi and Nozomi Okuhara en route to the semi-finals. Meanwhile, Gregoria Tunjung, the junior world champion has defeated fellow unseeded to reach the last four.

18:03 (IST)

Tai Tzu Ying in final

The World No 1 outclasses He Bingjiao 21-14, 21-12 in just 30 minutes. The Chinese shuttler couldn't read the deception and was stretched near her tramlines.

17:25 (IST)

Kento Momota enters final

That was utter domination from the Japanese ace to outmuscle the attacking Srikanth in straight games 21-16, 21-12. The Indian shuttler could have been a tough nut to crack had he avoided those silly errors at the net. Despite Srikanth's burst of attacking strokes, Momota didn't feel the pressure and continued slaying his opponent.

17:17 (IST)

18-11! Incredible. Momota's steely defence has stood out in the second game. Srikanth tweaked his strategy a little yet he couldn't get the better of Momota.

17:14 (IST)

15-10! Momota survives a barrage of attacking strokes from Srikanth and troubles the Indian shuttler in return with delicate net shots. He is just too good.

17:10 (IST)

13-9! Momota is making full use of the drift to control the rallies. His Taufik Hidayat-like backhand drives look extremely effortless.

17:08 (IST)

Sri-can't or Sri can?

11-7! A four-point advantage for Momota at the mid-game break of the second game

Srikanth is simply making too many mistakes from the backcourt. Can he turn this match around?

LIVE: https://t.co/g0QcIplUqc#DenmarkOpenSuper750

— Firstpost Sports (@FirstpostSports) October 20, 2018

17:06 (IST)

9-5! A nicely-placed body smash to maintain his four-point lead. Momota looks more aggressive from the mid-court area in the second game. Srikanth needs to avoid making mistakes from the backcourt as he has been stretched oftentimes.

17:04 (IST)

7-4! A fantastic crosscourt followed by a neat flat smash helps Momota extend the lead over Srikanth, who has become a tad defensive as we approach the mid-game interval of the second game.

17:02 (IST)

3-3! The second game starts with a bang. Both Srikanth and Momota have mixed their shots to take an early lead. Srikanth is looking desperate to race to a healthy lead.

17:00 (IST)

Momota draws first blood

The World No 1 takes the opening game 21-16. He's is just too good. From deception to court coverage, he's been exceptionally brilliant. Srikanth made a lot of errors at the net.

16:55 (IST)

19-13! Momota is just too good! A 29-shot rally ends with a brilliant crosscourt smash from the World No 1.

16:54 (IST)

17-13! Srikanth hits the shuttle wide yet again. He tries to attack and push Momota towards the backcourt but applies too much power to his strokes.

16:51 (IST)

13-15! The rallies have stopped as Srikanth and Momota are looking to hit quick winners. A lot of crosscourt drives from both.

16:50 (IST)

14-10! Four consecutive points for Momota. His push-clears have been neat enough to unsettle Srikanth. Meanwhile, the Indian is targeting Momota's backhand corner

16:44 (IST)

9-6! Srikanth puts Momota under pressure with a series of attacking strokes from the mid-court. Not only has Srikanth been attacking, but his variation from the net is also troubling the Japanese ace.

16:41 (IST)

5-5!

A 28-shot rally turns in the favour of the Indian shuttler. There is no doubt about Srikanth's accurate net game. It can cause a lot of problems for the left-handed Momota.

16:38 (IST)

4-2! Momota races to a two-point lead as he effortlessly pushes Srikanth towards the backcourt.

16:36 (IST)

Time for the men's singles clash!

Both Srikanth and Momota have entered the court. Can the Indian shuttler stop the World No 1?

15:50 (IST)

Srikanth vs Momota:

Srikanth trails Momota 3-8 in 11 career meetings, and has lost their last five clashes, the most recent one being a heavy 9-21, 11-21 thrashing at the China Open last month. The Indian would need to be far quicker on his feet than he was in China, and perform even better than he did when he lost a close three-gamer at the Indonesia Open in July this year.

15:34 (IST)

Hello and welcome to Firstpost's live coverage of the Denmark Open 2018.

India's two former World No 1 shuttlers Kidambi Srikanth and Saina Nehwal will be in action today as they eye a place in the final of the World Tour event. Srikanth faces World No 1 Kento Momota, while Saina squares up against junior world champion Gregoria Tunjung of Indonesia.

There are a host of other interesting matches too. Stay tuned!
India's Saina Nehwal and Kidmabi Srikanth stormed into the semifinals of the Denmark Open with hard-fought victories over Nozomi Okuhara and Sameer Verma respectively.
Saina, ranked 10th, recovered after the losing the first game to beat familiar foe and world number seven Okuhara of Japan 17-21, 21-16, 21-12 in the quarterfinal lasting 58 minutes on Friday night.
The final point of the match was a long rally which ended with the Japanese finding the net. It was a morale-boosting for the Indian star, having lost her previous three meetings to Okuhara including the most recent one in Korea last month.
Saina had also lost to the 2017 World Champion during the team event at the Asian Games in August.
Overall, their head-to-head record stands at 7-4 in the Indian's favour. Saina next faces world number 19 Gregoria Mariska Tunjung of Indonesia.
Fellow Indian Srikanth too had to dig deep against countryman Verma with little separating the two in an intense men's singles quarter-final.
In the end, world number six Srikanth prevailed over the 23-ranked Indian in an epic battle lasting an hour and 18 minutes with the final scoreline reading 22-20, 19-21, 23-21.
The two Indians had not played each prior the quarterfinal and their first meeting turned out to be a slugfest. Verma was leading for the major part of the third and deciding game where he even had a 17-13 lead before Srikanth scripted a remarkable fightback to scrape through.
Srikanth plays second seed and world number one Kento Momota of Japan in the semi-final to be held later on Saturday. The formidable Japanese enjoys an 8-3 career record over Srikanth and has not lost to the Indian in their last five meetings.
Updated Date: Oct 20, 2018 20:02:22 IST