Professional and hard-working: Despite uncertain future, Bengaluru FC manager Ashley Westwood's legacy is safe
Westwood, despite his Manchester United roots, is a fan of the 'noisy neighbours' City. He speaks excitedly about the impending arrival of one Mr Pep Guardiola for next season. But what of Westwood's own plans next year?
Success stories in Indian football are a rarity.
Indian football is locked in an uphill battle against the might of Premier League and La Liga to gain fans' attention. The two-month long Indian Super League is attempting to fix that but it's less than a band-aid for a third degree burn. In case you missed the memo, Indian football is in need of a much stronger, robust domestic structure — where clubs are run more professionally, are self-sustaining, play through the calendar year and most importantly, bring fans to the stadium.
Amid this fairly sombre backdrop, one club has got a lot of it right: I-League's Bengaluru FC. Formed in 2013 by the JSW Group, the club has quickly garnered a reputation for being the model that other teams should follow, especially off the field.
And a lot of the credit should go their manager, Ashley Westwood. A former graduate of Manchester United Academy, Westwood came to India in 2013 as a 37-year-old, looking to make it as a football manager far away from the British Isles. A league title in the first season, runners-up in the second and a firm challenge under way in his third year with the club, Westwood has had a breezy start to his career in India.
"When the club was set up, we had a 3-5 year plan. Winning the title in very first year accelerated things a bit. We backed it up in the second year by winning the Federation Cup and getting to the last-16 in AFC, finishing last 13 games in the league undefeated," Westwood told Firstpost in an exclusive interaction.
In just over two years, Westwood has adapted fairly well to a country unknown to him and not known for a strong football culture. How have things changed for him over this time?
"I have tried to remain the same. I came to the country three years back, hungry to contribute and mentally strong. End of the day, players are players, whether it is England or India. It makes no difference in that respect," Westwood said.
"There were initial issues over logistics but we have tried to keep everything organised, meticulous and as close to a Premier League club as possible. Be it having an army of support staff, chefs, ball-boys, technical staff. Our budget does not come anywhere close to an EPL club but we tried to put as many people in place as possible."
That's the buzzword of his management style at the club: Premier League-like. Thoi Singh, one of Bengaluru FC's star Indian players, agreed.
"I've played at the top level in India for a while but I got to learn a lot playing under Ashley Westwood at Bengaluru FC. He focuses on our diet, what to eat what not to eat. We didn't know about these things earlier," Thoi told Firstpost. "He challenges us to play at our highest level. Even at training, he uses methods that are practiced at a Premier League club. He expects the same level of professionalism and fitness."
That "professionalism" that Westwood has brought is largely why Bengaluru FC stand out in an otherwise struggling league from which three teams — Bharat FC, Pune FC and Royal Wahingdoh — have pulled out of the current season.
That BFC have weathered the storm is down to Westwood's commitment: "I am the manager of this team. I decide when we train, how we train, how we fly, where we stay, how we eat, when we eat, what kit we wear, because I see all those as my responsibilities," he said.
This involvement is evident when you learn that work kept Westwood from being there when his baby was born, earlier this season.
He goes to work at 6 am and doesn't get back till late in the evening, even at which point he sits and watches videos. He is, for the lack of the better word, consumed completely by work. Does he switch off at all?
"I never switch off. Even when I get out of the office, I am still thinking about the next game. What systems we need to use, what videos need to watch, presentations. I am constantly thinking. That's how I have been brought up."
"I don't want to be one of those coaches who ventures abroad and returns with the tail firmly between his legs. That's why I work as hard as I can. Doesn't matter where I am, I want to be successful," Westwood added.
Westwood's boys are currently joint top of the I-League table, albeit an indifferent start to the season with three defeats in eight games. The club's aim, he says, is to go one better than last year — win the I-League, reach the last eight of AFC Cup, retain the Federation Cup. For a club with lofty ambitions, defeats are hard to digest.
Handling defeats is the biggest challenge for any manager.
"Nobody likes to lose but if we lose for the right reasons, I try and be as constructive as possible after a game. If we lose for the wrong reasons, something we could have controlled, I am a little bit more emotional. For me, it's always a quick 3-5 minute chat after a match."
When it comes to dealing with players, he prefers the 'Horses for Courses' policy.
"Sir Alex is known for being vocal but that's not the only way he dealt with players. He had every single (man management) skill in the book. It is about using the right skill at the right time."
As a player himself, Westwood — a 'proper English' central defender — played over 500 games, was involved in all four tiers of the professional leagues in England, has won promotion four times, and played for close to 17 years, starting with Crewe Alexandra in 1995 to Portsmouth in 2012. As a vocal central defender, Westwood ended up with the armbands at most of his clubs, a reiteration of his leadership qualities. His time as assistant manager with clubs like Portsmouth, Blackpool and Blackburn, where he was tasked with studying opposition, involved hours of watching video tape and analysing strengths and weaknesses of the opposition.
"I couldn't afford to go wrong," he recalled.
All of which also helped him with his role as a pundit for ISL broadcast — a job which he excelled at, thanks to an extensive knowledge of Indian football.
"The style of football he's got Bengaluru FC playing is super refreshing," says Amreen Bhujwala, a 25-year-old social media manager based in Bangalore and a self-confessed die-hard BFC fan.
"He's got the boys playing a technical style of football. He's quick to substitute a player who's not having a great game, and then it doesn't matter if that player is Sunil Chhetri.
Getting a chance to work with Chhetri, arguably India's best footballer, is something that Westwood relishes too.
"(Chhetri) applies himself properly. He is a leader. He has still has got 3-5 good years left in him if he keeps improving. He takes all my information on board, and he's improved a lot — be it body shape, fitness, work-rate — from the day I have seen him to what he is today. But he doesn't get any special treatment," adds Westwood.
Despite Indian players getting more and more exposure to high standards of coaching, be it Westwood in the I-League or a plethora of stars in the ISL, the Indian national team has not really progressed a great deal over the past few years, in terms of winning international tournaments.
"To be honest, I don't look at the national team," Westwood is quick to reply. "I am only concerned with my team and the oppositions I play against. As long as my team is improving, I don't really care what's happening anywhere else. My job is to manage my team, coach them and recruit players to come into my team to improve us. And to win games."
Even then, Bengaluru FC is the team that supplies a bulk of the players to the national team. Westwood, however, has clear cut ideas on what needs to be done to improve the footballing talent in the country — catch them young, make them play hundreds of games.
"There is not enough football for kids, not enough teams, not enough quality places to train. In England, for example, by the time you are 14-15, you are playing 90-minute matches every other weekend. It's the old 10,000-hour rule, you can't master a trade without spending that much time on it," Westwood says.
"We try as much to help grassroots, but like any club in India, we struggle for availability of fields. We are currently in the process of buying land, developing our own training facility. Hardly any Indian club owns a ground, hardly anyone own a training facility. We cannot change it on our own, but we are trying," he adds.
Westwood is also part of a current generation of young English managers who are making a name for themselves around the footballing world. In the Premier League alone, there is Eddie Howe (AFC Bournemouth, 38 yrs), Alex Neill (Norwich City, 34), Garry Monk (Ex-Swansea, 36). Westwood, at 39, is very much a part of this new wave.
"The game's changed. It has become a lot more scientific, a lot more athletic. The young managers, in my opinion, have made a point of learning the new techniques and methods, the science behind things," he says.
It is perhaps that youthful exuberance of the manager that the fans relate to. Within three years of existence, BFC fans have already established themselves as one of the best set in the country.
This connect is not happenstance. Westwood oversees the media department that puts a lot of time and effort into social media — Facebook, Twitter, Instagram. The club screen away matches too. West Block Blues, the club's fan group, even travelled in big numbers to Goa for the season-opener against Salgaocar FC.
Westwood, despite his Manchester United roots, is a fan of the 'noisy neighbours' City. He speaks excitedly about the impending arrival of one Mr Pep Guardiola for next season. But what of Westwood's own plan next year?
"I am uncertain, that's the truth," Westwood concedes. "My contract runs out at the end of May, there has been no sign of it being renewed. I couldn't answer that question truthfully because I don't know what's coming. It is uncertain time for coaches; it is uncertain times for Indian football, because this is a transition period — that's the word on everyone's lips."
He was tight-lipped on taking up a gig with the ISL, saying it'd be disrespectful to BFC to talk about other jobs.
Surely, the club wouldn't want to let go of someone who has done so well for them in a short span but it might not entirely be in the club's hands given the uncertain future of I-League. That's just the nature of the beast we are dealing with in India.
This season, having already lost three of the eight games, things are shakier than usual at the club, where Westwood admits disappointments have been rare.
Unni Paravannur, the man behind the popular Football News India (@fni) twitter handle rates Westwood very highly, but says Westwood has been struggling this year. "I think he is frustrated with the squad, the players he has brought in have not clicked well. Late player arrivals, injury to Robin Singh have not helped either."
"But he did wonders in the first season with a bunch of unknown players, was very good in the second season as well," Unni added.
Thoi Singh, who played under Marco Materazzi for Chennaiyin FC in ISL, has only good things to say about Westwood's management.
"Westwood has really good relations with the players and has brought a winning habit to the side. He always tells us in training that we must play to win and he pushes us to play hard and do the same. He gives specific directions to players at each position for a game," Thoi Singh told Firstpost.
"After working with him, he has completely changed how I play football in Bengaluru FC. According to me, he's the no 1 coach in India," added Thoi.
Arsene Wenger, after he stepped foot in England as an unknown entity, is often credited with professionalisation of English top-tier, especially off-the-field. With his new diet regimes, pre-match yoga routines, innovative training methods, Wenger set about a revolution of sorts. It seems Westwood shares more than just the initials with the Arsenal manager and it won't be a stretch to say he is trying to bring about a similar approach in Indian football. Whether he succeeds in the long term remains to be seen.
Dedicated, professional, hard-working, stubborn, competitive and a natural leader: Ashley Westwood has made sure irrespective of whether he stays on or not, whether he wins titles again this year with BFC or not, his legacy in India is secured.
-------
With inputs from Manas Mitul
Find latest and upcoming tech gadgets online on Tech2 Gadgets. Get technology news, gadgets reviews & ratings. Popular gadgets including laptop, tablet and mobile specifications, features, prices, comparison.
Sports
Having already fallen short in two semi-finals this term — losing to Manchester City in the League Cup and Chelsea in the FA Cup — Ole Gunnar Solskjaer wants United to go the whole way.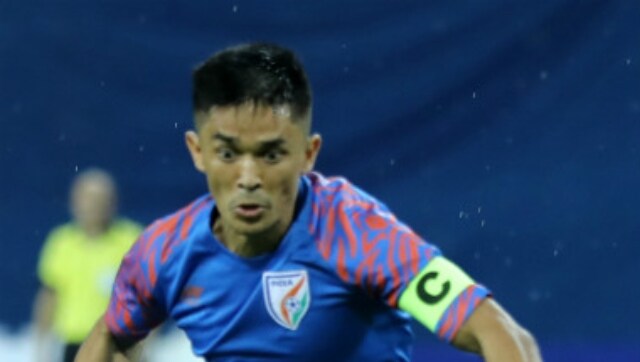 Sports
Sunil Chhetri scored twice during the group stage of the Asian Cup in the beginning of last year. Both goals came in their 4-1 drubbing of Thailand in the opening match.
Sports
Alexis Sanchez has been on loan with Inter Milan since August last year after he struggled for playing time at Manchester United.