Have to still force food down my throat: Genie Bouchard reveals eating disorder
Paris: Tennis golden girl Eugenie Bouchard admitted on Tuesday that she has battled an eating disorder which caused alarming weight loss as she attempted to put her high-flying career back on track.
The 22-year-old Canadian became one of the WTA's most bankable assets in 2014 when she stormed to the Wimbledon final as well as the semi-finals of the Australian and French Opens.
But the confident, charismatic blonde then saw her career dive into a tailspin in 2015.
First round exits in Paris and Wimbledon were followed by a freak fall in the showers at the US Open which saw her play just one more match in the season until the start of 2016.
"I felt a lot of pressure and kind of this expectation if you win a match it's normal and if you lose it's a disaster," said Bouchard at Roland Garros on Tuesday.
"Before matches I was very nervous and definitely had trouble eating. I just felt like it would come right back up.
"It's a difficulty I went through. And not just before matches, it happened to me at other meals as well."
Bouchard denied that she had been trying to lose weight on purpose as a way of sharpening and toning her body image.
Even these days, she still faces the prospect of having to force herself to eat.
It's all a long way from the dizzy days of 2014 when she ended the year at seven in the world.
"I was just so stressed I was burning calories even more than I normally would, so it was hard to kind of intake enough to keep my weight up or even gain weight, which was the goal, to become stronger.
"I feel like I learned from it. I know now that even if I feel sick I have to force food down my throat.
"Yeah, I feel like I've come out stronger and able to deal with a problem if it ever comes back to me again."
Bouchard, now at 47 in the world, made the Roland Garros second round on Tuesday with a 6-2, 6-2 win over Germany's Laura Siegemund.
She will face Timea Bacsinszky, the eighth-seeded Swiss who made the semi-finals in 2015, for a place in the last 32.
Bouchard admits that being reunited with former coach Nick Saviano, the man who guided her to her successes of 2014, has helped reboot her confidence on the court.
"He knows me so well. He understands when I'm going through difficulties. It's like he's inside my head," she said.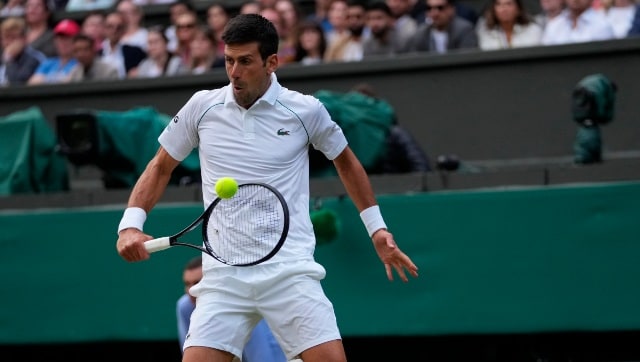 Sports
History beckons for the Serb after victories at the Australian Open, Roland Garros and Wimbledon, with Djokovic seeking to emulate Steffi Graf's unrivalled achievement from 1988 when she swept all four majors and took gold in the women's singles in Seoul.
Sports
Minutes after Djokovic's win, Federer sent a congratulatory tweet saying: "Congrats Novak on your 20th major. I'm proud to have the opportunity to play in a special era of tennis champions. Wonderful performance, well done!"
Sports
Barty, who won the title for the first time, increased her lead at the top of the rankings and is now nearly 2,300 points ahead of the Japanese Naomi Osaki who skipped the London tournament.