Haryana Assembly passes Sports Council Bill, CM Manohar Lal Khattar will head the body
The Haryana Assembly on Monday passed the Haryana Sports Council Bill, 2016 to constitute statutory sports councils at state, district, block and municipal levels.
Chandigarh: The Haryana Assembly on Monday passed the Haryana Sports Council Bill, 2016 to constitute statutory sports councils at state, district, block and municipal levels.
It was moved by state Sports and Youth Affairs Minister Anil Vij and the House was adjourned by the Speaker for 20 minutes after Leader of Opposition and INLD leader Abhay Singh Chautala sought time to go through the bill.
After the House re-assembled, Vij, who had drawn flak from various quarters for allegedly wasting a huge sum of money by leading a delegation to the Rio Olympics recently, said he had prepared a 80-page report on his visit which would be submitted to Chief Minister Manohar Lal Khattar soon.
He said the report would contain all the things he learnt during the visit which would help improve sports in Haryana further.
On a query from Chautala, Vij told the House that the Sports Council will neither select sportspersons nor send teams for competitions.
He said a sports injury centre would be set up shortly in the state.
Regarding the bill, the Sports Minister said councils would be constituted under the Haryana Sports and Physical Fitness Policy, 2015 for promotion of sports, games, yoga, physical fitness, the 'Sports for All concept and to augment athletic efficiency, adding that they would also be responsible for coaching, competitions and other sports-related activities.
The State Sports Council would be headed by the Chief Minister and would have the Sports and Youth Affairs Minister as its Vice President, he said.
The other members would include the Finance Minister, the Education Minister, the Development and Panchayat Minister, the Health Minister, the Chief Secretary, the Principal Secretary to the Chief Minister, Administrative Secretaries of Home, Finance, Higher Education, School Education, Development and Panchayats, Town and Country Planning, Urban Local Bodies, Sports and Youth Affairs and Health and the Director General of Police.
It would also have nominated members, including an Executive Vice President with a sports background, two members from the MLAs, two members from the Vice-Chancellors of the universities in the state, the President or Secretary, Haryana Olympic Association, two presidents or secretaries from recognised state sports organisations or associations, two members from NGOs working for promotion of sports in the state, two members from sports experts or awardees or medal winners in international events and one of them shall be a woman, one member from the field of sports journalism among others, said Vij.
There would also be a standing committee for the State Sports Council, he added.
Vij said the State Sports Council would organise, coordinate and promote sports, establish sports information centres, stadia, pavilions, playgrounds, parks, children's parks, sports training centres, sports hostels, sports institutes, construct buildings, swimming pools, gymnasia etc.
It would acquire properties for carrying out all or any of its activities, if need be.
It would introduce insurance and accident coverage for sportspersons, coaches and referees, besides granting assistance by way of loans or otherwise to sportspersons, educational institutions, sports organisations, clubs or associations, he added.
The state government shall, by notification, constitute district sports councils in every district for a term of three years, said the Haryana Sports Minister.
India
It has been decided by the Haryana government to reduce the VAT rates on air turbine fuel from 20 percent to 1 percent, an official statement said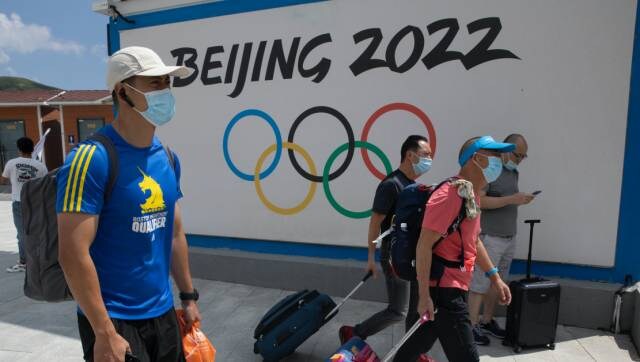 Sports
Only fully vaccinated participants, including media and venue staff, can enter the "closed-loop management" bubble without a 21-day quarantine.
Sports
Tirop was found dead at her home in Iten in western Kenya, a town renowned as a training base for distance runners. Kenyan media reported she was found with stab wounds in her abdomen.