Gulf money attracts top players but makes French viewers pay to watch football
Al Jazeera were able to pay 61 million euros a year for four of the five available football packages over the next three years, driving the Champions League off free-to-air TV.
Paris: While French fans have welcomed Gulf money attracting top players such as Argentine Javier Pastore to Ligue 1, the finances of Qatari-owned Al Jazeera have been blamed for driving Champions League soccer off the television screens for many French fans, a move which could spread across Europe.
Heads were turned when state-run Qatar Sports Investments (QSI) acquired a 70 percent stake in Paris St Germain and Pastore, a 42-million-euro French-record purchase, headlined a number of eye-catching signings.
The move followed a similar deal with Spanish side Malaga and Barcelona's record shirt sponsorship with the Qatar Foundation, all done to boost the image of the tiny, natural-gas-rich, Gulf emirate ahead of their hosting of the 2022 World Cup.
Those deals led to positive headlines for Qatar but Al Jazeera upset many after they followed up the purchase of the rights for a few Ligue 1 games by buying four of the five Champions League packages last week, forcing Europe's premier club competition on to a subscription channel.
Until this year, TF1 paid 25 million euros ($32.49 million) a year to broadcast 13 Champions League games on a free-to-air network and Canal Plus paid 31 million per year for 133 matches.
With Al Jazeera's strong financial position, they were able to pay 61 million euros a year for four of the five available packages over the next three years with Canal Plus paying some 50 million for 13 games, but with first choice of which game they would like to show across the rounds.
That means no room for TF1 and an end to the Champions League on free-to-air television so many fans in France will not see any of the action in the tournament until the final.
Canal Plus President Bertrand Meheut was not happy with the introduction of Al Jazeera into the market.
"From an economical point of view, (Al Jazeera) act unreasonably," Meheut told a media seminar this week.
"The fact is that their priority is Qatar's influence in the world."
TF1 communications director Frederic Ivernel was struggling to understand the surge in prices for Champions League rights in France.
"The Champions League audience has been going down and barely makes it past the four-million viewers barrier," Ivernel told Reuters.
"Weak audience means minor event. Canal Plus paid 60 million euros for 13 games. It's more than what they had paid to have 133 games this year and yet they claim it's a good opportunity."
PRIZE MONEY
Sports economist Wladimir Andreff, the honorary president of the International Association of Sports Economists, told Reuters that television viewers were paying the price of UEFA's battle to stop a breakaway private European League.
Media Partners held talks with leading clubs including AC Milan and Manchester United in 1998 as they sought to build support for a new league but UEFA killed the plan by expanding the Champions League, offering clubs a greater slice of television and sponsorship revenue, and upping prize money.
"This money, you have to find it somewhere," Andreff told Reuters.
"So UEFA turned to television because they are the ones with the money. And the consequence is that I can't watch a Champions League game on TV for free in France.
"The more you pay for the TV rights, the more the viewers will have to pay."
Andreff said he expected the influence from the Gulf to grow.
"Dubai, Abu Dhabi are also there. But they're only getting started, which means the bubble is not quite ready to burst yet," Andreff said.
"Obviously the trend is likely to spread in Europe."
A source with direct knowledge of the matter said: "UEFA's choice to grant the rights to pay TV is questionable. It seems like it's a short-term choice."
UEFA begged to differ. "Television is not what it used to be 20 years ago, it has evolved," UEFA communications director Alexandre Fourtoy told Reuters.
"The line between free-to-air TV and pay TV is much thinner. In France, for instance, some 10 million people have access to Canal Plus/CanalSat (a branch of Canal Plus) because ADSL TV is something very common."
Fourtoy denied that money was the only criterion to granting TV rights.
"The first choice is the financial situation, but then we also take into account the exposure, the editorial quality and fan access (to the broadcaster)," he said.
Fans would be able to access Al Jazzera Sport, the channel's president, Charles Bietry, said.
"It should be available to some 16 million people and it will much cheaper than 35 euros per month (the price of a Canal Plus monthly subscription)," Bietry told French radio RTL this week.
Reuters
Find latest and upcoming tech gadgets online on Tech2 Gadgets. Get technology news, gadgets reviews & ratings. Popular gadgets including laptop, tablet and mobile specifications, features, prices, comparison.
Sports
CONCACAF said in a statement the games would now take place next March, saying the decision had been taken in conjunction with world governing body FIFA.
World
The Afghan defence ministry claimed the airstrikes killed 30 Taliban fighters, but added an investigation was being held into claims that civilians were among the dead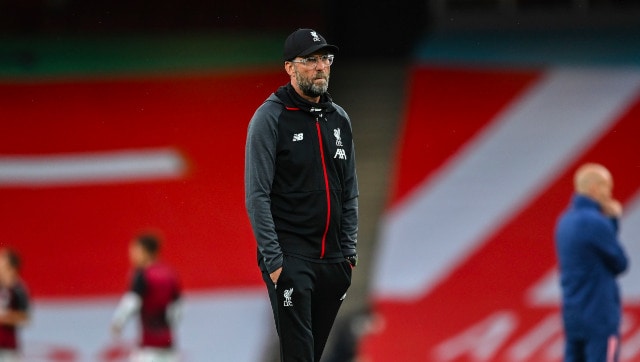 Sports
The 29-year-old becomes Liverpool's first major signing for two years, in which time they have won the Champions League and a first English league title for 30 years.