Germany win race to host 2024 European Championship; UEFA rejects Turkish bid due to concerns over human rights
The German Football Association have won their bid to host the 2024 European Championships ahead of Turkey, with UEFA considering Turkey's poor human rights record.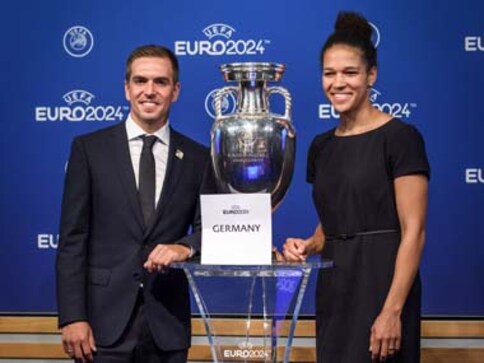 Nyon: Germany won the race to host the 2024 European Championship as UEFA backed a bid seen as safer than the rival Turkish proposal.
UEFA President Aleksander Ceferin announced the winner following a campaign that saw politics and concerns over human rights in Turkey play a central role.
"I'd like to thank the UEFA Executive for their incredible confidence and I feel the responsibility — we will do our utmost to live up to expectations," said German Football Association (DFB) president Reinhard Grindel after the announcement.
"We want to put on a huge football festival and show the world how hospitable we are," said ex-Germany captain Philipp Lahm, who will head the organising committee. UEFA considered that the German bid already had everything in place to host a successful event — from stadiums to infrastructure and hotels.
European football's governing body has also said it wants to make as much money as possible from the 2024 tournament and Germany was considered the better financial bet. The win also offers a boost to German football after a disastrous 2018 World Cup, when the country failed to qualify for the last 16 — after winning the tournament in 2014.
German foreign minister Heiko Maas said the 2024 tournament "will be an opportunity to show what we stand for in Germany: openness to the world and tolerance, freedom and respect."
"Together, we have to make the European Championship a tournament for all Europeans," he added in a statement.
Turkey meanwhile had been desperate to host its first ever major sporting event but its bid was weakened by concerns over its faltering economy, lacking transport network and, perhaps most importantly, human rights. Turkish President Recep Tayyip Erdogan loomed large over the campaign and Thursday's defeat may be seen in part as a personal rebuke.
His government's unprecedented crackdown, including thousands of arrests, following a failed 2016 coup has raised worldwide concern. That unease was shared by UEFA, which noted in its evaluation report that the Turkish bid's "lack of action plan in the area of human rights is a matter of concern."
Football
The Germans still need to win their last group match to have a chance of advancing to the knockout stage. The four-time champions were eliminated in the group stage four years ago in Russia.
Football
Spain vs Germany, FIFA World Cup 2022 Highlights: Full time and it ends all level between Spain and Germany, two of the heavyweights in global football. Germany earn their first point of this World Cup, but remain bottom of Group E, while Spain maintain top spot with four points.
Football
Ironically, both the Japan goal scorers, Ritsu Doan and Takuma Asano, play for Bundesliga clubs in Germany.