German Grand Prix: Sebastian Vettel blames himslef for crashing out in home race as Lewis Hamilton wins
With 25 laps to go, Vettel lost control of his car at Turn 13 in the Stadium Section of the track and rammed his Ferrari into the barriers.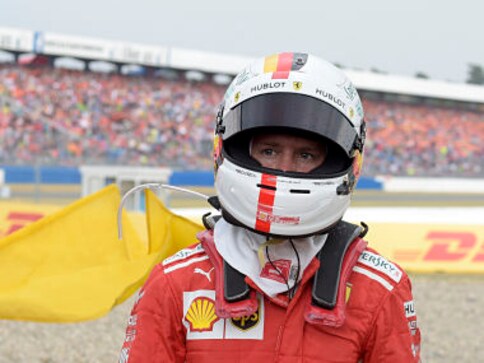 Hockenheim: Sebastian Vettel has accepted all the blame for crashing out of Sunday's German Grand Prix but said he will not lose any sleep over his mistake.
The four-time world champion was leading in his Ferrari until rain began to fall, more heavily in some parts of the circuit than others.
With 25 laps to go, he lost control of his car at Turn 13 in the Stadium Section of the track and rammed his Ferrari into the barriers in front of massed ranks of fans in the big grandstands.
"I don't think it was a huge mistake," he said. "Yes, a huge impact on the race, because we retired there, but it's not like tonight I'll have difficulties to fall asleep because of what I've done wrong.
"I think it's disappointing because up until that point everything was sweet, but as I said before, we didn't need the rain.
"We had a strong car, so I think we can be as confident (looking forward). It was a very positive weekend and it was just one of those moments.
"It's my mistake — apologies to the team. They did everything right. I had it in my hands — small mistakes, big disappointment."
It was Vettel's first retirement of the season and cost him his much-sought first win at his home Hockenheimring circuit closest to his birthplace and family home in Heppenheim.
Lewis Hamilton's victory for Mercedes from 14th on the grid, following a hydraulics failure in qualifying on Saturday, lifted him 17 points clear of Vettel at the top of the title race standings.
Sports
The Las Vegas race is subject to "homologation", or official approval of the circuit by FIA, the motor sports governing body.
Sports
Leclerc posted a time of 1:42.795, 0.208sec behind teammate Sainz while Verstappen, who celebrated his 25th birthday at the Marina Bay Circuit, got off to a disappointing start in Formula 1's return to Asia after three years.
Sports
Lewis Hamilton had kept his nose stud in at the Monaco GP in May at the governing body exempted the drivers wearing jewelry till the end of June. He seemed to have worn the stud again during the Singapore GP which he had previously removed.