Geneva Grand Prix: P Harikrishna faltered at key moments against Li Chao to get knocked out of title race
Not only has Harikrishna's chance of winning the title disappeared now, he has also been almost knocked out of contention for a place at the Candidates tournament, which decides the challenger for the world championship.
Who could have predicted that things would go so badly wrong for Pentala Harikrishna at the Geneva Grand Prix? The Indian ace had shown tremendous form in this tournament and had an undefeated run until round eight. In fact, he was even jointly leading the tournament after rounds one and seven. But the penultimate round turned out to be a disaster for the Indian number two. In round eight, he suffered his first loss against the Chinese Grand Master Li Chao. And with this loss, not only has his chance of winning the title disappeared, he has also been almost knocked out of contention for the two places at the Candidates tournament, which decides the challenger for the world championship.
The game began with the Ragozin variation of the Queen's Gambit in which Harikrishna had black pieces. Out of the opening, Harikrishna seemed to have a balanced position. Queens were also traded quite early – on the 11th move, to be accurate. Harikrishna then played a pawn sacrifice and seemed to have sufficient counterplay for it. But on the very next move, he went on to move his knight instead of his light-squared bishop which was still on its home square. Going by general principles of chess, one should proceed energetically after sacrificing material. Of course, there are exceptions to this. But Harikrishna's position in this game probably wasn't one of those exceptions. After the game, Li said it was after he played his reply to Harikrishna's seemingly dubious knight move that the Indian offered him a draw. Perhaps Harikrishna realised he had erred and had bouts of discomfort. The Chinese Grand Master declined the offer, however, and Harikrishna's discomfort with his position became even more pronounced after his 22nd move which damaged his position further.
Another critical moment came in the endgame when Li, on his 39th turn, made an inaccuracy and gave the Indian some hopes of survival. But within just two moves, Harikrishna returned the favour by making an inaccuracy himself and damaged his position beyond repair. The next 15 moves were simply a mopping up operation for the Chinese who executed it with precision.
This loss demolished all chances of Harikrishna winning the tournament. More importantly, it also means that Harikrishna's qualification for the Candidates tournament via the Grand Prix series – which is highly unlikely now – will be dependent upon the results of other players. That is, if he wins the next leg of the series in Palma de Mallorca.
Harikrishna hadn't had the best start in this series. Finishing with a tie for 10th-12th place in Moscow, he had only been able to gather 20 Grand Prix points. In this Geneva leg, it was essential for him to finish very high on the leaderboard in order to keep his chances alive. And he did deliver to a huge extent. In a field that comprised the crème-de-la-crème of the chess world, he had managed to remain unbeaten for eight successive games, but just one slip has almost shattered everything for him. This just goes on to show how cut-throat the competition is in this tournament.
Birthday boy, Ian Nepomniachtchi got the best birthday present he could have hoped for in his game against Levon Aronian. The Armenian superstar essayed the same line of the English Opening with which he had lost to Harikrishna in round six. One major difference being that this time, he was on the black side of the position. Desperate for a win in order to keep up his chances to finish among the tournament toppers, Aronian threw everything but the kitchen sink at his Russian opponent. Sacrificing a pawn right out of the opening, Aronian went on to offer an entire piece on the 18th turn. "The position was objectively equal. But from a human perspective, black's (Aronian's) initiative was very dangerous," remarked Nepomniachtchi after the game. However, Aronian played a bit too ambitiously in his quest for a win and ended up making mistakes. He had to resign after 36 moves of play.
With his win on Saturday, Nepomniachtchi has climbed up to joint second on the leaderboard. More important is the fact that he will be playing the tournament leader Teimour Radjabov in the final round with white pieces. If he manages to win, he might just run away with the title.
In the other games of the round, Radjabov went for a quick 22-move draw against Alexander Riazantsev and kept his lead in the tournament. After making several quick draws, English number one, Michael Adams, finally lashed out with a win against Richard Rapport. Meanwhile, playing on the black side of a Sicilian Paulsen, Anish Giri also won his first game of the tournament against Hou Yifan.
With just one round to go, Radjabov is looking strong to be the winner of the Geneva Grand Prix having scored 5.5/8. Just half-a-point behind him are Nepomniachtchi and Alexander Grischuk with a score of 5.0/8. Harikrishna, after his loss on Saturday has slipped down to the third spot along with Giri, Li Chao, Shakhriyar Mamedyarov, Adams and Riazantsev. All of them have scored 4.5/8. Peter Svidler, Pavel Eljanov, Boris Gelfand and Dmitry Jakovenko share the fourth place with 4.0/8 each.
Aditya Pai is an Editor at ChessBase India.
Find latest and upcoming tech gadgets online on Tech2 Gadgets. Get technology news, gadgets reviews & ratings. Popular gadgets including laptop, tablet and mobile specifications, features, prices, comparison.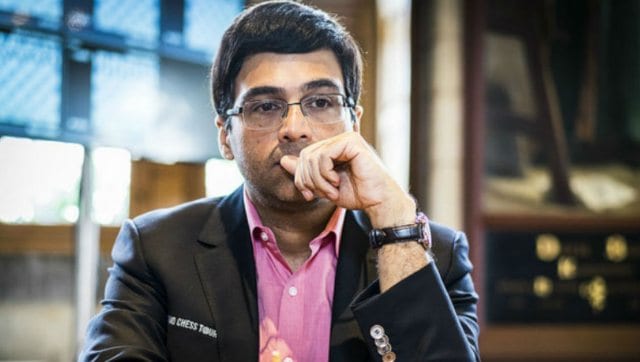 Sports
Viswanathan Anand lies last in the Legends of Chess table with six points with Ding Liren and Peter Leko.
Sports
In best-of-four contest former World Champion Viswanathan Anand lost 1.5-2.5 to reigning World No 1 Magnus Carlsen
Sports
Harikrishna, playing with black pieces, put it across the Polish player in a 50-move game to reduce the lead to three points with two rounds to go.