From the Euro 2016 stadium: Versatile audience, half-hearted French fandom, David Guetta's tunes
Those emotions during the match were telling – the blue shirt still matters, and, with possibly a deep run into Euro 2016, France fans may warm to that idea, just like in 1998.
A football match shouldn't be antiseptic and anti-climatic, but, as opening matches often are, France vs Romania was both. At times tedious and tepid, mostly disjointed and low on quality; at best, light entertainment with plenty of tension. Strikingly, for much of the 90 minutes, Les Bleus and their fans were soul-searching.
They were all there at the Stade De France, a landmark stadium on the northern outskirts of Paris – schmoozing politicians, president Francois Hollande with his blue scarf, prawn-and-sandwich-gorging VIPs, middle class fans and football-obsessed workers with a category four ticket. In short, the whole spectrum of society was united under the stadium's 13,000-ton elliptical roof, which supposedly symbolizes the universality of sports in France.
But the French are not endeared by football. Little in Paris suggested a European Championship, a month long celebration of high-quality and diverse football, was about to start. But fans milled about Eiffel Tower  in expectation, as they seemed defiant to enjoy the tournament in spite of the security concerns. Little of the projected doom scenarios materialized: strikes and protests disrupted a mere fraction of the French capital.
The French fans came draped and dressed in tricolor flags, scarfs and other paraphernalia, but, inside the ground artificial, collective flag-waving was their best attempt at fandom. The Romanians, a sea of yellow in their corner of the stadium, reveled, more so than their French counterparts, in hearing David Guetta, the organizer's preferred DJ, play his kitschy hits. The French may host Euro 2016, but France's relationship with football remains fractious, if not outright troubled.
The French don't perceive football to be the beautiful game in a way much of Europe does. The game thrives by evoking profound emotions, but football doesn't have a spot at the heart of French society. That phenomenon has a simple historical explanation: in the majority of European countries the urban working classes endorsed football as their sport and their pastime, but France never became truly industrialized.
In the provinces, the working class remained small and clubs scarcely united the local communities. Lens, in the north, Marseille and Saint-Etienne, both in the south, turned into hubs for the game, because of their proletarian demography. Workers wanted to support the local clubs. They wanted to belong. They needed to belong somewhere.
Then, in 1998, came France's seminal football moment – Zinedine Zidane delivered the World Cup on home soil, with two inch-perfect headers against Brazil. His image was projected on the iconic Arc de Triomphe that night as hundreds of thousands fans partied on the Champs-Élysées, delirious on football XTC.
Les Bleus' victory united a nation, so often fragmented across racial and religious lines. The multiracial team projected a new France, one of integration and at ease with its bloody colonial past. But the joyride was short-lived. The French had a penchant for scandals: the revolt Knysna in the Western Cape and Laurent Blanc's quota conversation are but a few that stand out.
The general public reacted the way French do often – with aloofness. That isolated sentiment turned into disenfranchisement. Undercurrent opinions were always quick to politicize the problems: Muslim and Black people are not fit to play for the French team; they are also not compatible with French nationhood and identity, went the line.
France was indeed a forerunner in strongly formulating and enacting the idea of nationhood, in particularly in the nascent days of the Republic, but, in a post-colonial world, France is grappling with its new identity, of, the lack thereof.
'Le Sextape' exemplifies France's struggle. Didier Deschamps and the French Football Federation omitted Real Madrid striker Karim Benzema from the French squad after a court charged him with conspiracy to blackmail over an alleged attempt to extort funds from France team mate Mathieu Valbuena using a sex tape.
The French public backed French Deschamps for snubbing the player from their Euro 2016 squad - 82 percent of respondents in a poll by daily Le Parisien believed 'DD' had taken the correct decision. In turn, Benzema accused Deschamps of giving in to pressure from racists. Les Bleus are always enmeshed in existential debate about the brittle state of France.
On the night, one of ideas without execution, Dimitri Payet delivered salvation with a magnanimous late strike. As Deschamps subbed the match-winner Payet, he couldn't contain himself. He broke down in tears. Those emotions were telling – the blue shirt still matters, and, with possibly a deep run into July, the fans may warm to that idea, just like in 1998.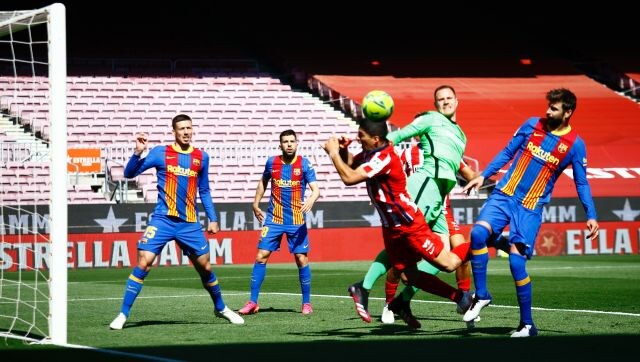 Sports
The title race continues to be alive and kicking in LaLiga after Barcelona vs Atletico Madrid ended in a stalemate and Real Madrid, Sevilla played out a 2-2 draw in controversial circumstances.
Sports
Zidane hinted on Saturday he could leave, saying he believes "there comes a time when it's the moment to change".
Sports
According to media, Zidane, who has a contract until 2022, informed his squad a week ago that he was going to leave when the season ends next week.