The Olympian rower who was afraid of water! Ten things to know about Dattu Bhokanal
News broke on Monday of yet another Indian booking a place at 2016 Rio de Janerio Olympics. For a change, it wasn't a boxer or a wrestler, but a rower instead in the shape of Dattu Bhokanal who bagged silver medal at the FISA Asian and Oceania Olympic Qualification Regatta at Chung-ju in South Korea
Monday saw yet another Indian book his place on the plane to Rio de Janerio. And it won't be a boxer or a wrestler, but rather a rower. Dattu Bhokanal from a tiny village in Maharashtra has bagged a silver medal at the FISA Asian and Oceania Olympic Qualification Regatta at Chung-ju in South Korea. Doing so, a man who just began rowing four years ago will now do so on the biggest stage of all: The Olympic Games.
Bhokanal, 25, clocked 7:7:63 in the 2-km course to finish second, but was on course for a gold medal finish, as he was leading the five-man field till the 1,500-metre mark. But Korean Dongyong Kim (07 mins 05.13 secs) overtook him at the final stretch.
However, that didn't stop him from becoming the only Indian rower who will compete in Rio, when the Olympic games kick off in August. As the nation celebrates Bhokanal's entry into the 2016 Olympics, we dwell deeper into the what the rower is all about. Here are ten things to know about India's latest Olympian.
He hails from Talegaon village near Nashik
Dattu Bhokanal was born in Nashik, and hails from Talegaon village in the Chandhvad taluka near the city in the state of Maharashtra. The village has a little over 800 families, and faces extreme water scarcity. Recently, a farmer named Namdev Gite committed suicide after he was unable to pay off his loans.
Dattu Bhokanal joined the army in 2012
After Bhokanal's father passed away in 2011 due knee cancer, he decided to join the army and solve his family's financial problems. Bhokanal got selected through an open selection drive of the Indian Army. Following his selection in the Indian Army, Bhokanal moved to Pune.
Physical attributes brought Bhokanal to rowing
Measuring six feet four inches in height, Dattu Bhokanal was introduced to rowing while training at the Bombay Engineer Group and Centre in Khadki. The 25-year-old feels it was his height that prompted the officials to introduce him to the sport. He now trains at the Army Rowing Node in Pune.
Dattu Bhokanal was afraid of water as a kid
Quite ironic that a man who has qualified for the Olympics as a rower was once afraid of water. He never completely overcame the fear until he actually started training. Bhokanal told the Indian Express that it took three topples of his boat for him to be no longer afraid of water.
Mother's ailment rocked Bhokanal's Qualifiers preparations
Bhokanal was selected to be a part of the FISA Asian and Oceania Olympic Qualification Regatta at Chung-ju in South Korea in place of the experienced Swarn Singh, who was nursing a back injury. However, before the event, Bhokanal's mother met with an accident in Pune and sustained a brain injury. She is still recovering from the injury, and Bhokanal is hopeful that good news regarding his Olympic qualification will speed up the recovery process.
Ismail Baig's tutelage transformed Bhokanal
After spending a year training at the Army Rowing Node, Bhokanal was sent to the national camp where he was coached by Ismail Baig. It was under his tutelage that Bhokanal took huge leaps as a rower. He qualified for the 2014 Asian Games and finished fifth, before claiming a silver medal in the Asian Championships a year later.
Local accolades before international fame
Bhokanal's success on the international stage didn't materialise overnight though. His Asian Championship medal and Asian Games qualification were secured after he won two gold medals at the 2014 National Rowing Championship.
Ninth rower to represent India at the Olympics
Bhokanal will be the ninth rower to represent India in the Olympics, after Kasam Khan and Inderpal Singh (Sydney 2000; men's coxless pairs), Paulose Pandari Kunnel (Athens 2004; men's singles sculls), Bajrang Takhar (Beijing 2008; men's singles sculls), Manjit Singh and Devender Khandwal (Beijing 2008; men's lightweight double sculls) and Sawarn Singh (London 2012; men's singles sculls) and Manjit Singh and Sandeep Kumar (London 2012; men's lightweight double sculls).
Bhokanal had to drop out of school after Class X
Due to his family's poor economic situation and his father's untimely demise, Dattu Bhokanal had to drop out of school after Class X. People around the Rio-bound rower have revealed that Bhokanal was a "curious" person and would have excelled in academics.
Water at the Rowing Node petrified Bhokanal
The Nashik-born rower was so unused to seeing such large water bodies that he was petrified to take up rowing. He has admitted that his first thought was to take back as much water as possible from the node to his village, where villagers were parched.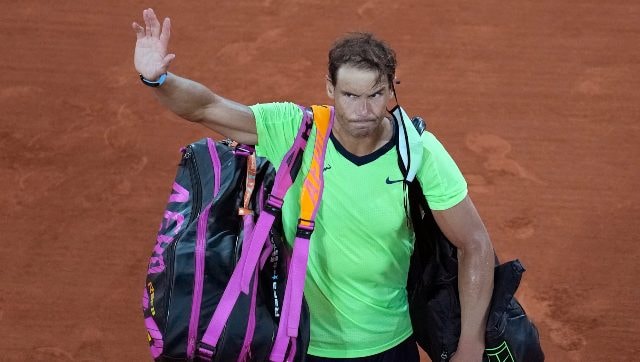 Sports
Rafael Nadal has announced he will not be playing at Wimbledon, which starts 28 June, and Tokyo Olympics, which get underway on 23 July.
Sports
Dutee Chand, who is the first high-profile athlete from India to open up about being in a same-sex relationship, said she often gets asked intrusive questions like 'tumhaara pyaar kitna door tak gaya?' or 'tum future main shaadi karogi?'
Sports
Manyonga, world champion in 2017, finished second at the Rio Olympics in 2016, but will now likely miss the rescheduled Tokyo Games later this year.