French Open Superseries: India's shuttlers reassert dominance on opening day even as Parupalli Kashyap falls
It is clear that a clutch of talented and hardworking players from India is becoming a more serious threat to the established stars who would have brushed them aside without a second thought barely a year ago.
It is clear that the gap between the fancied players and the rest of the field is becoming increasingly narrow with every successive tournament on the international badminton circuit. It is equally clear that a clutch of talented and hardworking players from India is becoming a more serious threat to the established stars who would have brushed them aside without a second thought barely a year ago.
On Wednesday, the opening day of the French Open Superseries tournament at the Pierre de Coubertin Stadium in Paris, a handful of seeded players made an unceremonious exit, while several others were extended to the limit, and had to stretch every thew and sinew just to clear their lung-openers in the $3,25,000 prize money event.
Malaysian veteran Lee Chong Wei, who had won the competition in 2011 and 2015, was dumped out by 23-year-old qualifier Kenta Nishimoto by a straightforward 21-14, 21-15 scoreline in a mere 37 minutes—the 35-year-old's first defeat at the hands of the 40th ranked Japanese player in three career meetings. Lee, who still holds the record for being World No 1 for the maximum number of weeks, is fading, and fading fast.
South Korea's Son Wan Ho, who held the World No 1 position in the Badminton World Federation (BWF) rankings continuously for nearly four months between June and September this year, and was seeded No 2 in this tournament, found Denmark's wily Hans-Kristian Solberg Vittinghus a hard nut to crack, and capitulated at 21-16, 21-19 in 42 minutes.
Fifth-seeded Chou Tien Chen of Chinese Taipei came a cropper against Korean Jeon Hyeok Jin, having just eight and 12 points against his name in the two games they played during the 38 minutes that they spent on court.
Top-seeded world champion Viktor Axelsen of Denmark pulled out from the tournament at the last minute, and had his berth in the main draw filled by Thailand's Suppanyu Avihingsanon (promoted from the qualifying tournament), who caused a sensation by beating his temperamental left-handed fellow-countryman, Tanongsak Saensomboonsuk, after a disastrous first game, at 8-21, 21-14, 21-14.
Defending champion Shi Yuqi of China had his hands full while overcoming the challenge of Japan's 27-year-old Kazumasa Sakai, the finalist against India's Kidambi Srikanth at the Indonesia Open Superseries Premier in June this year, at 21-19, 21-19. Nevertheless, it was the 21-year-old Chinese player's third victory over Sakai in four career meetings.
The 2016 women's singles winner, He Bingjiao of China, seeded seventh this year, was dragged over the full distance by American Zhang Beiwen, who was born to Chinese immigrants to the US, at 18-21, 21-16, 21-15, in five minutes under the hour mark.
Taiwanese World No 1, Tai Tzu Ying, who had seemed well-nigh invincible in the first half of the ongoing year, sprayed the sidelines with her strokes in an untidy 63-minute performance, and was decidedly lucky to escape with a 21-9, 19-21, 21-16 win over China's Chen Xiaoxin.
Others on the threshold of being seeded, like Wong Wing Ki Vincent, whom Srikanth had eased out in the semi-finals of the Denmark Open, outlasted Indonesian Jonatan Christie at 14-21, 21-13, 21-16 after 57 minutes; and qualified to meet the eighth-seeded Indian in the second round on Thursday.
Srikanth did not have to break sweat as his first-round rival, Fabian Roth of Germany, retired injured after playing just three points.
In fact, it was an excellent day for Indians as all, barring 31-year-old Parupalli Kashyap and the men's doubles combination of Manu Attri and Sumeet B Reddy, cleared their opening hurdles with varying degrees of comfort.
Kashyap wrested the opening game from the grasp of Anthony Sinisuka Ginting at 23-21, but found himself unable to match the speed and fitness of the young Indonesian, fully a decade his junior, and lost the next two games at 21-18, 21-17 after 74 minutes, to make yet another early exit from a Superseries event.
Attri and Reddy proved no match for the 2016 All England champions, Vladimir Ivanov and Ivan Sozonov of Russia, and were hustled off the court by a 21-11, 21-13 scoreline in a mere 25 minutes of one-sided action. The power of the towering Ivanov and the net skills of his Russian partner proved too much for the Indians to handle.
Otherwise, Wednesday in Paris was an Indian show of strength, their procession into the second round beginning early in the morning with HS Prannoy gaining the full measure of Denmark Open Superseries Premier runner-up, Lee Hyun Il of South Korea, at 21-15, 21-17 in a matter of 42 minutes, without having to exert himself unduly.
Even though the Korean veteran was not anywhere near as stiff and sore as he had been in the final at Odense Park last Sunday, it was clear that his 37-year-old body had not fully recovered from his marathon 92-minute semi-final against his compatriot Son Wan Ho. Lee's defensive skills failed to match up to the all-round play of the Indian, who interspersed clears of perfect length and depth with telling smashes and half-smashes to the flanks.
Prannoy next meets the first-round conqueror of second-seeded Son Wan Ho, Hans-Kristian Vittinghus, whom he has never played before. He will really need to be on his guard, for the rangy 31-year-old Dane is fast and fit, and playing probably the best badminton of his 12-year long international career.
B Sai Praneeth appeared to be coasting to victory when he led Thailand's unheralded Khosit Phetpradab by an easy 21-13 first game, and had a 16-9 advantage in the second. The former Indian national champion displayed a prodigal streak to commit errors galore, lose that game at 21-23, and then had to pull out all stops to take the decider at 21-19.
The 16th ranked Praneeth next clashes with Kenta Nishimoto, who would be bubbling with confidence after his easy first-round triumph over Lee Chong Wei. The Indian has beaten the 40th ranked Japanese player on the only occasion the two have met—at the 2017 India Open Superseries, but it was by a wafer-thin margin, and the same narrow third-game score as he sported on Wednesday against Phetpradab.
Of the two celebrated Indians in the women's singles, Saina Nehwal had no business to drop the second game against Line Hojmark Kjaersfeldt at 11-21 after waltzing through the first at 21-14. However, she had sufficient fuel left in the tank to eke out a 21-10 win in the decider, and book her second-round spot against Denmark Open finalist, Akane Yamaguchi of Japan, seeded fifth in Paris.
It will be their second meeting inside a week, after their quarter-final clash in Odense last week, which the diminutive but strongly built Japanese won easily at 21-10, 21-13. The overall career picture has the 20-year-old Yamaguchi leading 2-1, with two successive recent wins this year in the Malaysia Open and Denmark Open.
However, Nehwal will have a chance of showing that her loss in Odense was due to insufficient rest and poor scheduling of their last-eight encounter, when a lighting failure at the stadium had caused her second-round match to be completed after midnight, and for her to get to bed at nearly 3 am.
As for second-seeded PV Sindhu, who had a forgettable outing against China's Chen Yufei in her opening match in Odense last week, the lanky Hyderabadi was distinctly unimpressive in her joust with Spaniard Beatriz Corrales, Carolina Marin's Uber Cup teammate, and squeaked home at 21-19, 21-18.
The 22-year-old Sindhu will have to do much better on Thursday against the dangerous Japanese left-hander, Sayaka Takahashi, whom she trails 1-2 in career head-to-heads. The two players have not clashed in the course of the last two years, but their last encounter, in the Korea Open in September 2015, had ended in a routine straight-games triumph for the 25-year-old Japanese southpaw.
This report of Wednesday's proceedings at the Stade Pierre de Coubertin should not be said to be complete without a mention of the facile 21-12, 21-12 victory notched by the women's doubles combination of Ashwini Ponnappa and N Sikki Reddy over the lowly English combination of Jenny Moore and Victoria Williams.
Now if only they can produce the goods on the morrow against the formidable top-seeded Japanese duo of Ayaka Takahashi and Misaki Matsutomo, ranked No 1 on the BWF computer! The two teams have never met before, but the Indian combination has several close recent finishes against other pairs ranked in the top five, and has the intrinsic ability to register an upset.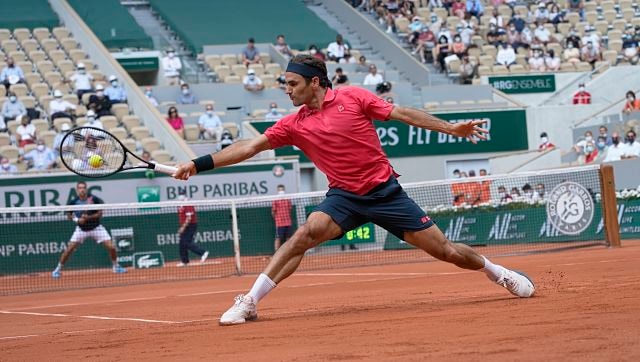 Sports
Federer, the oldest man in the draw at 39, lost his cool and the set before recovering to defeat former world number three Cilic.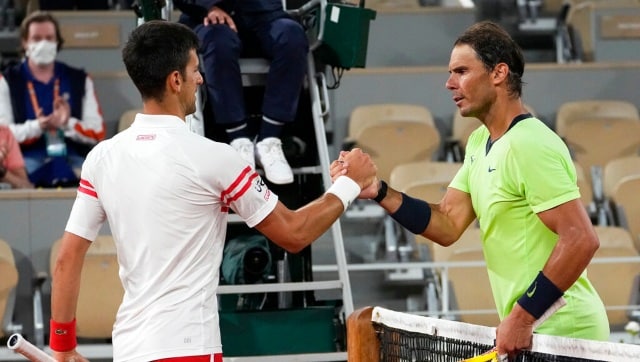 Sports
Here's how Twitter reacted to Novak Djokovic's landmark win over long-time rival Rafael Nadal in the French Open 2021 semi-finals!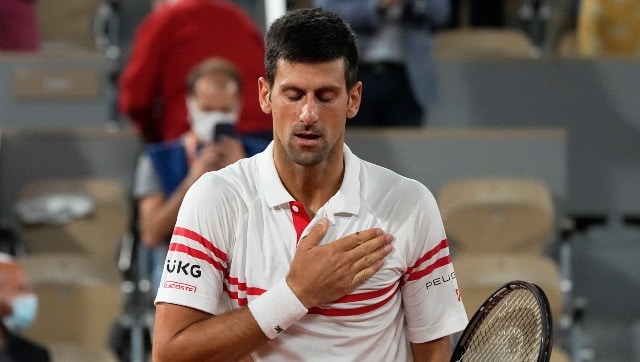 Sports
In their 58th career clash, Djokovic triumphed 3-6, 6-3, 7-6 (7/4), 6-2 and stays on course to capture a 19th major and become the first man in over 50 years to win all four Slams twice.