French Open champion Garbiñe Muguruza is finally letting her tennis do the talking
Two year ago, she ignited a spark with her famous upset. On Saturday, Garbiñe Muguruza lit the entire Stade de Roland Garros with her performance.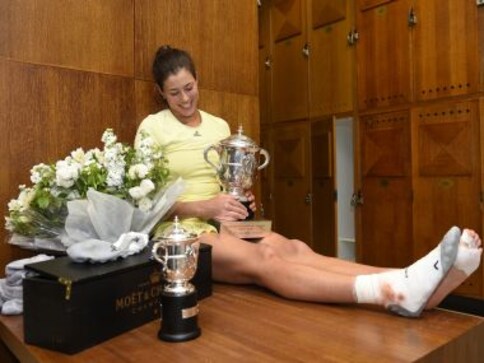 Until the second set of French Open 2016, Garbiñe Muguruza had had a puzzling year. After her breakthrough in 2015, which she ended on a career-high ranking of number three, the Spaniard had failed to make it past the quarter-finals at any tournament this season. It was only in Rome – right before the clay court slam – that she managed to reach the last four.
In her opening round, she dropped the first set to Anna Karolina Schmiedlova, who had lost her last 11 tour matches. But something clicked in the second set and she found her groove, not losing a single set in the tournament thereafter.
"Sometimes you don't play your best tennis, but you find a way to win, which is very important," Muguruza said after the match – words that you often hear from the best players in the sport.
On Saturday, in the final against the World No one Serena Williams, Muguruza channeled some of her best tennis, especially on the big points. The 22-year-old won 7-5, 6-4, vindicating her potential to rise to the top of the women's game.
It was at this very tournament that the 6-foot tall Spaniard made the world take notice of her. Two years ago, ranked at 35 and unseeded, she had shocked Serena in the second round, with a lopsided 6-2, 6-2 win.
With her powerful strokes and a booming serve, Muguruza showed that she had the skills to beat the best in the world. She was touted as the next big thing, with experts and peers predicting many Grand Slam titles to her name. But long after that astonishing upset, inconsistency had continued to plague her game and erratic results had resulted in only two WTA titles before Saturday.
Muguruza did reach the Wimbledon final in 2015 but her inexperience and lack of mental resilience meant she ended up with the runners-up plate as Serena triumphed 6-4, 6-4. After her first slam final, Muguruza slumped to two straight losses before bowing out in the second round of the US Open. In September 2015, Muguruza decided to shake things up. She hired Sam Sumyk – the man who helped Victoria Azarenka win two Australian Open titles and reach the No one ranking – as her coach.
Under the Sumyk's guidance, she won the China Open and reached the semi-finals of the year-ending WTA Finals in Singapore. The game had always been there, Sumyk instilled some much-need composure to it. Muguruza — charming and full of smiles when she's winning, and frazzled and distraught when she's not — has always displayed her emotions on the court. But now, she has finally figured a way out to control those emotions and let her tennis do the talking.
And 11 months after the Wimbledon final, this was the biggest difference that helped her cross the line and win a major trophy. Muguruza did not win a point on Serena's serve till the seventh point of the match, but she kept her nerves under check. She dazzled in the final with her array of shots, painting the lines with her groundstrokes, creating beautiful angles to push her opponent behind, rallying and constructing points till she could pull the trigger. In the final, Muguruza matched Serena for pace and power, but her strongest weapon was her ability to change the direction of the ball at will. Smacking forehands down-the-line and pummeling inside-out backhands, she had Serena on the run.
Despite hitting nine double faults, Muguruza's serve helped her escape on multiple occasions. Serving for the first set at 6-5, Muguruza saved two break points with two clutch serves – an ace down the tee and a service winner. In the second set, she displayed nerves of steel to hold serve for four consecutive games after being broken early – no easy task against the best returner on the women's side. She refused to succumb to her emotions or the constant pressure from across the net.
An hour and 43 minutes later, after a perfectly-struck top spin lob, she emerged the winner. Muguruza became the first Spanish woman to lift a slam trophy since Arantxa Sánchez Vicario in 1998 and only the second woman to defeat Serena in a clay court final. Serena finished with more winners and fewer unforced errors (23 and 22 to Muguruza's 18 and 25), but the Spaniard performed better on the most important points, converting four of 10 break point opportunities.
"Just to control the emotions. I think that's the key sometimes, especially in a Grand Slam where you're very nervous and excited," Muguruza said after the final.
"You just have to find a way to think of what I have to do, what is under my control," she added. "How am I going to play this next point? Ok, this is how I'm going to play. Don't think that it's 4-3, I have a break point, this is a final of a Grand Slam. All this kind of stuff is just going to make you play worse. It's not going to help you to concentrate on what you really want to do. That's a little bit how I try and control it even though sometimes your arm is shaking because you're nervous."
Two year ago, she ignited a spark with her famous upset. On Saturday, she lit the entire Stade de Roland Garros with her performance. One of the most beautiful aspects of sports is to watch inherent potential come to fruition, and Garbiñe Muguruza's accession to a Grand Slam champion has been a joy to witness. With buckets of confidence and her first Major under her belt, the sky is the limit for the Spaniard.
also read
Tennis
Swiatek's path to the French Open final was made easier earlier Saturday by the withdrawal of Wimbledon champion Elena Rybakina, a possible last-four opponent, due to illness.
Tennis
Germany's Daniel Altmaier defeated Italian eighth seed Jannik Sinner in a battle that lasted five hours and 26 minutes while Andreeva became just the seventh player under the age of 17 to make the third round in Paris.
Tennis
All four days of the 2023 French Open have witnessed men's singles matches played in the night session.