French Open 2018: Rafael Nadal's tour de force against Dominic Thiem paves way for historic 11th Roland Garros title
Even though Thiem was trying desperately to blast his way out of the (single-handed) backhand corner, and going toe-to-toe with Nadal, he was falling behind. You don't enter a dog-fight against Nadal and emerge victorious.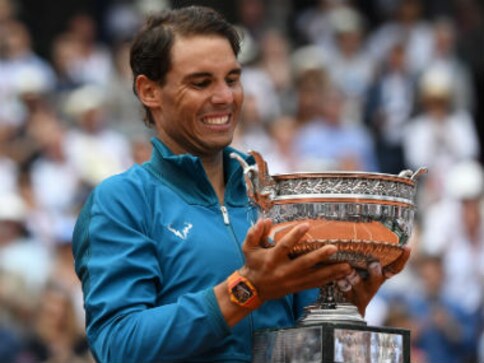 What could be better than a perfect 10? An incredible 11.
Rafael Nadal, who has been rewriting history books since his first triumph at the 2005 French Open, won his eleventh title at Roland Garros on Sunday to add another record to his name. He became only the second player since Margaret Court (Australian Open) to pick up 11 titles at a major.
Going into this year's French Open, or even the clay season, it seemed fated to end with another Nadal victory. But as inevitable as the history-making seems, it never ceases to amaze. As his fallen rival, Dominic Thiem, pointed out during the trophy ceremony on Sunday that he was only 11 years old when a long-haired, baby-faced Nadal won his 2005 title. In the 13 years and 10 titles since his intensity hasn't dropped. If possible, it burns even brighter on the red dirt now.
The Spaniard, who turned 32 during his Roland Garros fortnight, was once again at his grinding, unflinching, un-giving best as he downed Thiem 6-4, 6-3, 6-2 in Sunday's final. This victory takes his total Grand Slam tally to 17, three behind Roger Federer's.
The 24-year-old Austrian has been the closest to a clay-court 'rival' for Nadal this season, but even he was far out of Nadal's league. For the past two years, Thiem has been threatening to encroach on Nadal's territory. He caused a sensation in Rome last year by handing the Spaniard the first defeat of his clay season.
This year, in Madrid where the courts are faster and the flies through the air because of the altitude, Thiem launched a heavy-handed attack against Nadal and emerged a 7-5, 6-3 winner. The Austrian promised he had a game plan against Nadal for the final. Earlier in the week Robin Soderling, who handed Nadal his first French Open loss in the fourth round in 2009, said the only workable strategy against the Spaniard was to be "really aggressive."
But the best laid plans have been ground to earth by Nadal. And so it was on Sunday.
The match had begun on a bright note. The two players were going for heavy, lung-busting shots. Thiem was not easily cowed down by the Nadal forehand, nor the Popeye-bicep it finished off on. One of the hardest hitters of the tennis ball, Thiem, playing his maiden Slam final, more than held his ground. As the players engaged in intense, long-drawn rallies, and only six games of the opening set were over after 40 minutes, there was a feeling that something had to give.
In the intense Heat
of battle, with Nadal seemingly occupying every metre of the tennis court, Thiem was the first to crack. Serving to stay in the set at 4-5, the Austrian had Nadal scampering with a massive forehand down the line, but with the entire expanse of the court to play with, he dumped a resultant backhand volley into the net. Scarred by that mistake, Thiem, who was also struggling to keep his first serves in, fizzled out to hand Nadal the first set.
As he walked back to his chair, he was overheard saying, "Curse that volley."
Even though the Austrian was trying desperately to blast his way out of the (single-handed) backhand corner, and going toe-to-toe with Nadal, he was falling behind. You don't enter a dog-fight against Nadal and emerge victorious.
Soderling's advice of being "really aggressive" and taking the game away from Nadal may be sound, but it is almost impossible to put into practice. A massive part of Nadal's legend on clay is that he makes players, however good, however aggressive, play on his terms. The Philippe Chatrier is his court, he decides the pace and the tempo. He crowds you, stifles you. It is rare – in fact only twice in his 88 matches has it happened—that the opponent is not swept away by the heady, swirling ride he takes them on.
There were two tricks up Nadal's sleeve in Paris this year. He now does some part of his on-court interviews in French and has developed a flat forehand inside-out winner to sharpen the attacking edge further.
Once he was a set up, Nadal continued the pummel Thiem with his heavy groundstrokes. The Austrian's single-handed backhand, like those of Roger Federer and Stan Wawrinka before him, cracked under the strain. The Spaniard got early breaks in the second and third set, to keep a battling, but baffled, Thiem at bay.
Playing Nadal at the French Open is possibly the biggest challenge in the game now, and if Thiem had to win at it he had to be flawless. Like Nadal so often is. But the Austrian had too many chinks in his game – not enough first serves (57%), 42 errors to 34 winners – to test Nadal for better part of the match. In his two matches against Nadal at the French Open, Thiem has not been able to win even a set.
Having been there, done that so often, Nadal, meanwhile, followed the usual script to perfection. Drawing on his endless reserves of energy, he made the physical battle, especially in the beginning, against Thiem look like a light day at work. In the fourth game of the third set, he had the physio attend to his left hand because a finger cramp was making it difficult for him to grip the racquet.
But Nadal showed no signs of slowing down his march to history.
The only hiccup was Thiem, his challenge on last legs, fighting off the first four championship points on Nadal's serve in the eighth game. But a well-constructed rally by Nadal and a backhand return error from Thiem saw the Spaniard claim La Undecima. And the sun is far from setting on his clay empire.
Sports
The Spaniard limped to a third-round loss to Denis Shapovalov at the Italian Open, but practised in front of thousands of fans at Roland Garros on Wednesday without any obvious discomfort.
Sports
Rafael Nadal's defeat casts doubt over his prospects at the upcoming French Open.
Sports
Rafael Nadal eased into the last 16 of the Italian Open on Wednesday with a straightforward 6-3, 6-1 win over John Isner, while Iga Swiatek is on course for a fifth straight WTA triumph.