French Open 2018: Novak Djokovic asks fans to not obsess over his injury concerns after reaching third round
Djokovic was far from his best on Wednesday against Munar, the World No 155 who has trained at the Rafael Nadal Academy in Spain.
Paris: Novak Djokovic pleaded with fans and media not to obsess about his injury problems which have sparked a 12-year low in his ranking, hitting back that "people are starving to death...so let's keep things in perspective".
Former World No 1 Djokovic won the last of his 12 majors at the 2016 French Open when he became just the eighth man to claim a career Grand Slam.
But he is currently down at 22 in the world, his lowest ranking since 2006 when he was just 19 and was still two and half years from his first major at the 2008 Australian Open.
An elbow injury forced him out of Wimbledon last year and sidelined him for the rest of 2017.
Since his return in January, he has undergone surgery but is still to see a renaissance in his game.
"It's all a personal perspective. It can be really tough and it can be really easy," said the 31-year-old after a 7-6 (1), 6-4, 6-4 win over Spanish qualifier Jaume Munar on Wednesday which gave him a spot in the Roland Garros third round for the 13th time.
"To sit here and talk about how tough it is and you have people starving to death, there is no point in talking about that.
"As an athlete, I have to face these challenges, I will call them, and if I overcome them or not, it's just a matter of work, luck at times, and circumstances that I'm in.
"I don't like to talk any more about what is tough, what is not tough. I mean, life is great."
Djokovic was far from his best on Wednesday against Munar, the World No 155 who has trained at the Rafael Nadal Academy in Spain.
The Serb fired 39 winners but 33 unforced errors and was broken three times before setting up a clash with Spain's 13th seed Roberto Bautista Agut.
But despite his comments about the world's less fortunate which brought comparisons to Boris Becker's famous 'I lost a tennis match. Nobody died' reaction to losing at Wimbledon in 1987, Djokovic just cannot shake off the doubters.
He was a last-16 loser at the Australian Open where he is a six-time champion and was then beaten first up at Indian Wells and Miami.
On clay, he fell in the second round in Barcelona and Madrid, reached the third round at Monte Carlo before a confidence-boosting charge to the Rome semi-finals where it took Nadal to stop him.
That, however, came too late to boost his seeding in Paris where he is number 20, his lowest since the 2006 US Open.
But Djokovic, who was the first player to break the $100 million prize money barrier, said he was happy to keep adapting to the changes in his life — both on and off the court.
"I don't want to be the same person and player that I was two, three, four years ago. I have a different life.
"I'm a father of two children, and it's a lot of different things that I prioritize in life. It's not only about tennis, which has been the case before."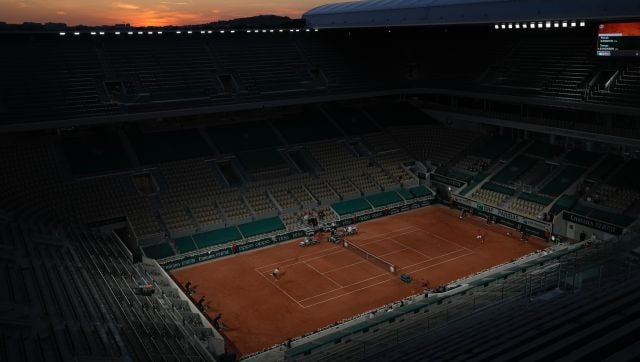 Sports
The official night program includes just one match in the main stadium each day; so far Serena Williams, Novak Djokovic and Daniil Medvedev have joined Nadal in being placed in that slot.
Sports
Djokovic condemned Nadal to only his third loss in 16 years and 108 matches at Roland Garros to reach his sixth Paris final after a classic showdown which even beat the country's Covid-19 curfew.
Sports
Nadal could usurp Roger Federer at the top of the all-time men's list with a 21st Grand Slam singles title in Paris.