French Open 2018: New mum Serena Williams, rocking a black catsuit, wins on her return to Grand Slam tennis
Serena Williams made a winning return to Grand Slam tennis which was as memorable as her body-hugging black catsuit when she reached the Roland Garros second round on Tuesday.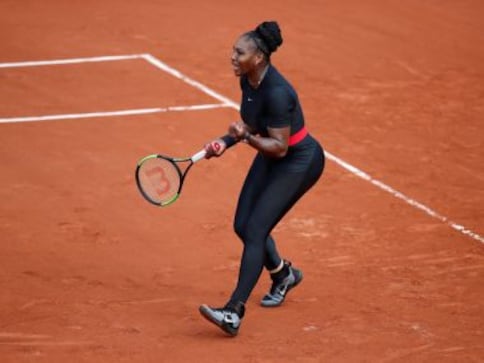 Paris: For all that has changed in the 16 months since Serena Williams last played in a Grand Slam tournament — she is now married and a mother — so much was familiar about her at the French Open on Tuesday.
The fashion statement, this time in the form of a black bodysuit with a red waistband. The cries of "Come on!" The big serves that provided 13 aces. The return game that produced three consecutive breaks of serve.
And, yes, the victory. Competing as a mom for the first time at a Major, and only about nine months since giving birth to her daughter, Williams beat 70th-ranked Kristyna Pliskova of the Czech Republic 7-6(4), 6-4 at Roland Garros.
"I missed Roland Garros so much, I missed the battle," Williams, the 2002, 2013 and 2015 champion in Paris, said after playing her first clay court match since finishing runner-up to Garbine Muguruza in the 2016 final on the same Philippe Chatrier Court.
"I couldn't play last year. I had a baby but I am so happy to be back.
"It's been two years since I played here. It wasn't easy but I have been training really hard. I feel good and just so happy to be back here."
The 36-year-old American had not played in one of tennis's biggest tournaments since the Australian Open in January 2017, when she won her 23rd Grand Slam title. That broke a tie with Steffi Graf for the most in the Open era. The only player with more major singles championships was Margaret Court, with 24, but those were split between the amateur and professional eras.
Only later did Williams reveal that she was pregnant at the time. Her baby was born on Sept. 1, and Williams married Reddit co-founder Alexis Ohanian in November.
The first glimpse of Williams as she prepared for her comeback came in an exhibition in December against 2017 French Open champion Jelena Ostapenko. Next came a doubles match with older sister Venus for the US Fed Cup team in February. Then came singles matches that actually counted, with two wins at Indian Wells, California, before a loss to Venus, followed by a first-round loss at the Miami Open on 21 March.
Williams then took another break to work on her game, and that absence of more than two months ended Tuesday. And what a striking return it was, right down to the outfit — which called to mind the "catsuit" Williams wore at the 2002 US Open — and was paired with black high-top sneakers sprinkled with silver glitter.
The very first game featured an ace at 181 kph and when it ended with Pliskova netting a backhand, the chair umpire intoned, "Jeu, Madame Williams," — French for "Game, Mrs Williams," a change from the "Mademoiselle" officials use for unmarried female players.
Williams saved a break point in the 12th game to send the opener into a tie-break.
Williams then trailed 0/3 before eventually taking the set when Pliskova, who had never won a match at the tournament in three previous visits, put a forehand wide.
The three-time champion fell 0-2 behind in the second set and was forced to retrieve another break to level at 4-4.
As she served for the match, she slipped into the net, righting herself sporting an embarrassed smile.
She saved three break points in an eight-minute-plus 10th game before taking victory, setting up a second-round clash with Australia's Ashleigh Barty.
The only consolation for Pliskova, the twin sister of world number six Karolina, was finishing with 15 aces, the most hit against Williams since such records began to be kept in 2008.
With inputs from agencies
also read
Tennis
Seyboth Wild, who came through the qualifiers and had never previously won a Grand Slam match, triumphed 7-6 (7/5), 6-7 (6/8), 2-6, 6-3, 6-4 over world number two Medvedev.
Tennis
Marta Kostyuk was booed at French Open on Sunday after refusing to shake hands with Belarusian Aryna Sabalenka.
Tennis
French Open 2023 gets underway on 28 May without either 14-time champion Rafael Nadal and his storied rival Roger Federer.