French Open 2017: Rafael Nadal says he doesn't care about being the favourite for the title
Rafael Nadal insisted Friday that he didn't care if he was regarded as the favourite for a 10th French Open, even if his rivals begged to differ.
Paris: Rafael Nadal insisted Friday that he didn't care if he was regarded as the favourite for a 10th French Open, even if his rivals begged to differ.
"100% he's the big favourite," said Austrian star Dominic Thiem, one of the support cast waiting in the wings should the great Spaniard slip up.
"Of course I think he's back at his best this year, and then also he won here nine times. So he knows how it works to win here.
"I think he will try everything to win Le Décima, I think it will be very unique in tennis to win a Grand Slam title ten times. It's pretty crazy, I guess. So 100% he's the one to beat and the big favourite."
Thiem, the 23-year-old world number nine, has already faced Nadal three times on clay this spring -- losing in the finals in Barcelona and Madrid before gaining revenge in the quarter-finals in Rome.
It's that kind of surprising setback -- Nadal's only loss on clay this year -- that has the 30-year-old Spaniard eager to calm the mood.
However, with defending champion Novak Djokovic and world number one Andy Murray both struggling for consistency, it appears to be a thankless task.
"You have to write what you have to do, but I don't care," said Nadal.
"At the end of the day for me the only important thing is arrive here, play well. If I am playing well, doesn't matter if you believe or you don't believe that I am one of the candidates or not.
"The only way to have chances, real chances to play good event is play very well, be healthy, and then be with the right attitude in every practice and in every match, no?"
Nadal, who was forced to withdraw from last year's Roland Garros with a wrist injury after two rounds, has already reached the magical 10 titles number this year at the claycourt events in Monte Carlo and Barcelona.
For good measure, he also won Madrid for a fifth time, ending a seven-match losing streak, stretching back over two years against Djokovic in the process.
Nadal boasts a sensational career record at Roland Garros -- 72 wins and just two defeats, to Djokovic in 2015 and an injury-affected shock loss to Robin Soderling in 2009.
"Rafa playing on his favourite surface won three tournaments in a row this year, and playing confidently and much better than he was playing actually last year," said Djokovic.
"I definitely see him as the No. 1 favourite for this title."
Tennis
Roger Federer's last match left the players and fans at the O2 arena emotional, but the fans not present at the arena were no different as they shared their emotions on Twitter.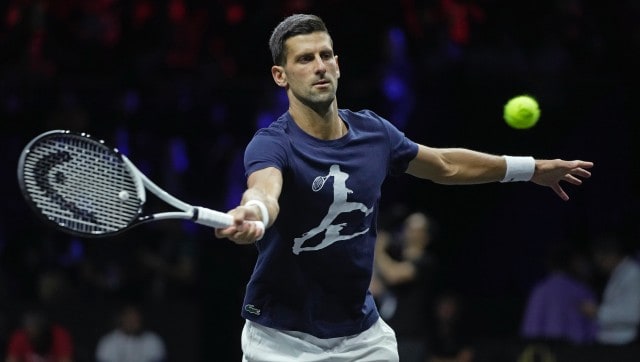 Tennis
Australia's new visa rules stipulate incoming travelers no longer have to have provide proof of COVID-19 vaccinations, or even provide a negative COVID test.
Tennis
Djokovic eased to a 6-0, 6-3 win over Andujar in 86 minutes, firing 30 winners and breaking the Spaniard four times.