French Open 2016: Time and history against him, Djokovic targets elusive Roland Garros title
Twelve months after his latest bid to complete a career Grand Slam was thwarted, Novak Djokovic targets an elusive French Open title with time and history threatening to conspire against him
Paris: Twelve months after his latest bid to complete a career Grand Slam was thwarted, Novak Djokovic targets an elusive French Open title with time and history threatening to conspire against him.
The world number one was left in tears in 2015 when Stan Wawrinka unleashed a battery of single-handed backhand winners to all corners of Court Philippe Chatrier on his way to a shock Paris title.
Djokovic turns 29 on Sunday and will be playing Roland Garros for a 12th time where he remains the overwhelming favourite to secure a trophy which would also place him halfway to the first calendar Grand Slam since 1969.
But tennis is littered with great names whose Grand Slam pedigree endured shattering reality checks on Roland Garros's unforgiving crushed red brick surfaces.
Pete Sampras won 14 majors but 13 times the great American tried to win the French Open and 13 times he failed.
Stefan Edberg also made 13 fruitless visits while Djokovic's coach Boris Becker tried nine times.
John McEnroe also flopped, the four-time US Open and three-time Wimbledon winner having to console himself with a runners-up spot in Paris against Ivan Lendl in 1984.
Djokovic, with 11 majors under his belt, has come closer than all of them. He has been runner-up three times and a semi-finalist on four occasions.
His record in 2016 reads 37 wins and just three defeats, although two of those came on clay — against Jiri Vesely in a freak Monte Carlo opening-round exit and a loss to Andy Murray in last weekend's Rome final.
"All in all, it was very good two weeks after dropping out in Monte Carlo early. I needed these kind of results, winning one tournament and playing finals is great," said a weary Djokovic who has won the last three majors.
"I got what I was looking for, a lot of matches, and confidence and I spent a lot of hours playing on the clay, which now, leading up to Roland Garros is exactly what I need. Hopefully it's going to help me perform well in Paris."
An extra motivation for the Serb is knowing that he is just a little over $300,000 short of becoming the first player to earn $100 million in prize money.
World number two Murray is shaping up as Djokovic's greatest threat.
He may be 8,000 points behind in the world rankings, but the former US Open and Wimbledon winner has developed a taste for clay relatively late in his career.
His 6-3, 6-3 win over Djokovic at the Foro Italico came on his 29th birthday.
It was the first title in Rome by a British player since Patrick Hughes in 1931 and ended Djokovic's 17-match winning streak against top 10 opponents.
Murray's three career titles on clay have all been in the last 12 months — Munich and Madrid in 2015 topped off by Rome.
He has also steadily improved in Paris with three semi-final runs in his last four appearances, losing a five-set epic to Djokovic in 2015.
"I had always been told that clay should really be my best surface. I'm going to Roland Garros with a lot of confidence and really good preparation. I feel like I'm on the right track," said the Scot.
Nine-time champion Rafael Nadal could be the kingmaker in Paris where he will be seeded at five and a likely quarter-final opponent for either Djokovic or Murray.
Written off after a 2015 campaign saw him endure his worst season in a decade, the 29-year-old Spaniard won in Monte Carlo for the ninth time and then clinched the Barcelona crown to equal Guillermo Vilas's record of 49 career clay-court titles.
A semi-final run in Madrid and quarter-final spot in Rome — where it took Murray and Djokovic respectively to halt him — illustrated his enduring power.
World number three Roger Federer, with his 35th birthday looming in August, has played only four tournaments in 2016.
A knee injury sidelined him after the Australian Open until Monte Carlo before a back problem ruled him out of Madrid.
The Swiss, the 2009 French Open champion, lasted just two matches in Rome where he was dumped out by Dominic Thiem.
Defending champion Wawrinka, 30, has endured a roller-coaster clay-court season — a quarter-final run in Monte Carlo followed by an opening loss in Madrid and just one victory in Rome.
World number six Kei Nishikori of Japan remains an outside hope.
The 26-year-old was runner-up in Barcelona to Nadal and then lost semi-finals to Djokovic in Madrid and Rome.
But Nishikori's record at the French Open is modest with a quarter-final spot last year representing his best performance.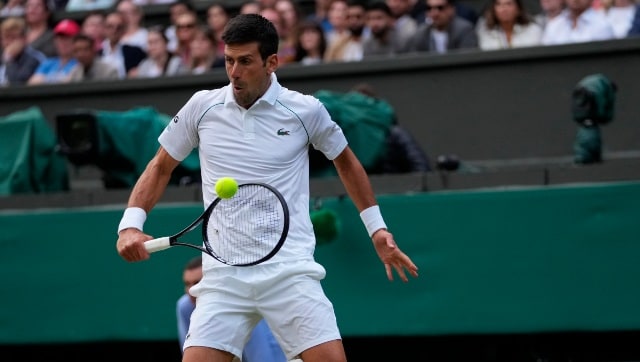 Sports
Djokovic stated he was not overjoyed with no fans being present inside the stadiums and the various limitations on movement but focused on winning a medal for his country.
Sports
The Japanese superstar who lit the Olympic cauldron defeated 52nd-ranked Zheng Saisai of China 6-1, 6-4 on Sunday in her first match in nearly two months.
Sports
The 18-year-old Carlos Alcaraz swept past 35-year-old Richard Gasquet of France 6-2, 6-2 in the final in Umag.