French Open 2016: High security, low-key start at Roland Garros in the aftermath of Paris terror attacks
The French Open gets under way at leafy Roland Garros on Sunday with security ramped up in the aftermath of the November terror attacks in Paris
Paris: The French Open gets under way at leafy Roland Garros on Sunday with security ramped up in the aftermath of the November terror attacks in Paris and with low-key fare on the playing schedule.
Storylines of Novak Djokovic chasing an elusive first title at the grueling clay-court tournament and Serena Williams looking to equal Steffi Graf's modern-day record of 22 Grand Slam singles titles will have to wait.
The first challenge for organisers is to keep the daily crowds of 30,000 fans safe and sound, a task which was fairly straightforward until last year when another of the city's showpiece sports venues, the Stade de France, was targeted by suicide bombers.
"Security is at the heart of our priorities and it will be reinforced," said Guy Forget, the former player and Davis Cup winner who was appointed as tournament director in February.
"There will be a double security perimeter with only three entry points. We cannot afford to take the slightest risk."
Metal detectors and sniffer dogs will patrol the gates while there will be pat-downs and bag searches.
The authorities have been plagued with security breaches in recent years, although all harmless in the context of the current era.
Last year, a young fan jumped over the advertising hoardings on Court Philippe Chatrier in an effort to grab a selfie with Roger Federer who was momentarily startled before burly security guards ushered the boy away.
In a previous year, Federer was targeted by a fan who sprinted onto the same court and attempted to place a hat on his head.
In 2013, the final between Rafael Nadal and David Ferrer was interrupted by flare-carrying demonstrators protesting against the country's gay marriage laws.
Forget insists the players are happy with the security.
"They are relatively confident. We have reassured them that the arrangements will be even more important this year."
Djokovic said he has no worries over the tightened security.
"Personally I never had an issue with security in this tournament. I'm aware of what happened several months ago in Paris and where the world is at this moment, of course we need to tighten up the security. I have nothing against it. You know, better safe than sorry," said the Serb.
Kvitova kicks off

Once inside the complex, fans will be aware that a radical facelift is under way with three courts -- including the bear-pit of Court Seven -- demolished as part of a radical reboot.
At the moment, Roland Garros is squeezed into 8.6 hectares; the All England Club which hosts Wimbledon boasts a roomy 17.7 hectares. Expansion will see the complex in Paris grow to 12.8 hectares.
Work is suspended after environmentalists and local residents groups successfully pushed for a halt to construction in the neighbouring Serres d'Auteuil botanical gardens.
"If we resume work, in 2018 there will be an alley to a semi-submerged court which will ease enormously the pressure on the grounds," said Forget.
He added: "The space (at the moment) is too small. When it rains in the first week, there is congestion and it's hard to move in the passage ways.
"We sell 450,000 tickets for the fortnight. If we had a bigger stadium with more capacity we could sell 600,000, 700,000 tickets."
Two-time Wimbledon champion Petra Kvitova from the Czech republic, the 10th seed, gets the tournament under way on the main Chatrier court at 11:00 am (0900 GMT) Sunday against Danka Kovinic of Montenegro.
Japan's fifth seed Kei Nishikori, who has yet to get past the quarter-finals, plays Italian veteran Simone Bolelli in the second match.
Also in action are 2014 runner-up and sixth seed Simona Halep against Nao Hibino of Japan while 2009 champion Svetlana Kuznetsova plays Yaroslava Shvedova of Kazakhstan.
Australian firebrand Nick Kyrgios, seeded 17, takes on Italy's Marco Cecchinato.
Sports
Djokovic condemned Nadal to only his third loss in 16 years and 108 matches at Roland Garros to reach his sixth Paris final after a classic showdown which even beat the country's Covid-19 curfew.
Sports
The 39-year-old Williams saw yet another of her potential title rivals exit the tournament on Thursday, as world number one Ashleigh Barty hobbled out during the second round with a hip injury.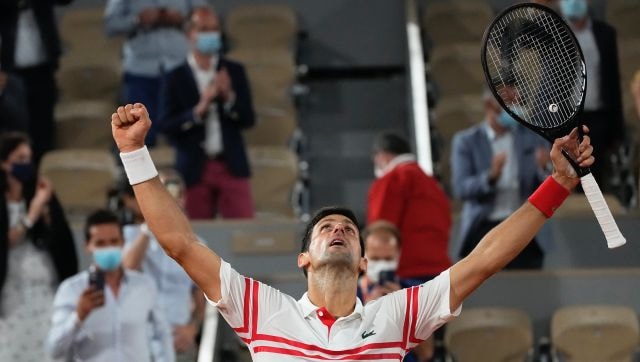 Sports
Novak Djokovic did the unimaginable by beating Rafael Nadal at the French Open in a high quality, one-for-the-ages contest.