French Open 2016 day 5 highlights: Djokovic's vegetarianism, Ivanovic's wedding, Nadal's record
Here are the highlight from Day 5 of French Open 2016
The fifth day of French Open 2016 saw red clay's favorite son Rafael Nadal record his 200th Grand Slam win while the not-so-favoured son Novak Djokovic won his 50th match at Roland Garros. In the woman's draw, Serena Williams advanced to the third round with ease, beating Teliana Pereira 6-2, 6-1. Here are the highlights from Day 5 . For more, you can follow our live blog here.
Headlines
- Grand Slam milestones for Djokovic, Nadal
- Serena eases into last 32
- Leander Paes-Martina Hingis make winning start, cruise into pre-quaters
Who's saying what
"The Scottish tennis player Andy Murray is ranked second in the world. He is also a walking existential crisis."
Caption in New Yorker magazine on a story profiling the British star
"My youngest sister called me yesterday and I answered the phone and she was just like, Where are you? I'm in Paris. Are you in the French Open? Yeah, I am. Oh. The teacher asked me about it and I wasn't sure."
American 15th seed Madison Keys on the low profile she has within her family
"Unacceptable to lose 10 games in a row."
Eugenie Bouchard on the key part of her 6-4, 6-4 loss to Timea Bacsinszky
"I was a little bit late for this press conference. Why? Before taking a shower, I met this person, and I thought that we would talk four or five minutes, and at the end of the day we talked 20 minutes, and it was with two wrestlers. I didn't know them very well, so we discussed 20 minutes only."
Timea Bacsinszky on her late arrival to meet the press
Sidelines
Something fishy as Djokovic goes vegetarian
- Novak Djokovic confirmed he has become a vegetarian after already having adopted a gluten-free diet.
"It's been almost a year. How do you call that? A pescatarian, a vegan with eating a little bit of fish here and there."
Wedding belle?
- Former champion Ana Ivanovic, who has been in a long-term relationship with German football star Bastian Schweinsteiger, sidestepped a question over rumours they were about to be married.
Questioner: It is your last tournament as a Miss, I think? Can you tell us something...
Ivanovic: About?
Questioner: About the wedding.
Ivanovic: What?
Press conference moderator: Next question.
Angry birds
- Alexander Zverev had to take evasive action to avoid two low-flying pigeons as he prepared to hit a forehand against France's Stephane Robert on Court Six. The German teenager pleaded in vain for the point to be replayed.
Not you again?
- Dominic Thiem and Zverev will meet for third time in four weeks on clay when they clash in the round of 32. Thiem previously won three-setters against his close friend in Munich and Nice.
Star spot
- NBA basketball star Tony Parker was watching the day's action on Court Philippe Chatrier.
Numbers up
31-6 - respective winners hit by Serena Williams and vanquished opponent Teilana Pereira.
42 - unforced errors by Novak Djokovic in his win against Steve Darcis
50 - number of match wins by Djokovic at Roland Garros.
200 - Grand Slam wins by Rafael Nadal, just the eighth man to reach the landmark.
1963 - the year the last time a Tunisian man reached the third round at Roland Garros. That stretch will continue after Malek Jaziri lost in the second round to Tomas Berdych.
With inputs from AFP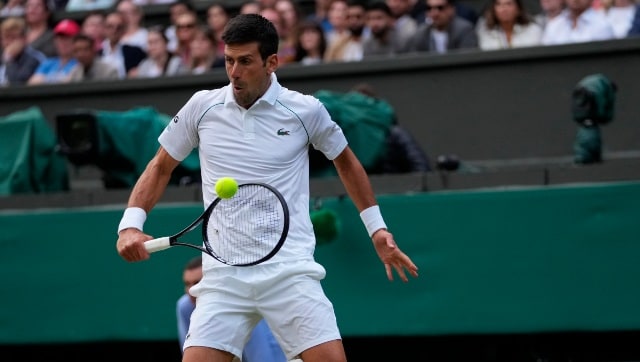 Sports
Novak Djokovic launches his quest for Olympic tennis glory on day one of the pandemic-delayed Tokyo Games on Saturday as Tour de France champion Tadej Pogacar goes for one of 11 gold medals on offer.
Sports
World number one Djokovic, the undisputed favourite for the men's title in Japan, easily dispatched Bolivia's Hugo Dellien 6-2, 6-2, avoiding a repeat of his first-round exit five years ago in Rio.
Sports
The World No 1 collapsed from a set and a break ahead as German fourth seed Zverev won 1-6, 6-3, 6-1 to set up a Sunday final against Russian Karen Khachanov.