French Open 2016, Day 14 as it happened: Muguruza wins maiden slam title, Lopez/Lopez win doubles
LIVE NEWS and UPDATES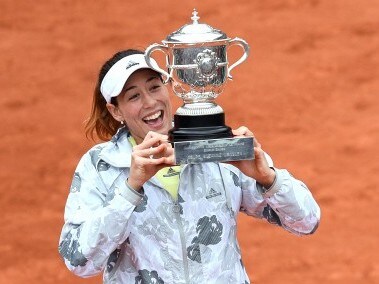 00:50 (IST)

Feliciano Lopez/Marc Lopez win their 1st Major title together, defeating Mike Bryan/Bob Bryan 6-4, 6-7(7), 6-3.

20:47 (IST)

Standing ovation for Serena Williams form the Paris crowd as she receives her runner-up trophy.

20:44 (IST)

It says something about how dominant Serena has been that reaching 3/4 Grand Slam finals and a 45-6 record in past 12 months is seen as poor

— Ian DW (@sportdw) June 4, 2016

20:42 (IST)

Garbine Muguruza has won the French Open by defeating top-ranked Serena Williams 7-5, 6-4 in the final.

20:37 (IST)

After winning 8 straight GS finals from 2012-15, #Serena loses 2 in a row for the first time in her career. Wow #RG16

— Nick McCarvel (@NickMcCarvel) June 4, 2016

20:32 (IST)

Muguruza has three more match points! This time, on her serve.

20:31 (IST)

Moment of truth: Muguruza serving for the Roland Garros title.

20:30 (IST)

The youngest active slam champion on either tour now is 26 years 2 months old Petra Kvitova. Muguruza is 22 years 7 months old.

— Oleg S. (@AnnaK_4ever) June 4, 2016

20:29 (IST)

It's Serena's time to double fault to bring up deuce again. But a forehand winner on the next point helps her to go ad up. some deep hitting and she survives the game. Serena hangs on at 5-4.

Muguruza will now serve for the Championship.

20:27 (IST)

Back to deuce as Serena slices long.

The American comes up with a good serve and brings up game point. Can she finally hold?

20:26 (IST)

Muguruza goes for the backhand crocc-court return on second serve but it's wide. Back to deuce.

20:25 (IST)

Serena nets a drop volley and it's championship point # 4 for Muguruza.

20:24 (IST)

Serena saves a THIRD match point with another big serve that forces Muguruza to return short and then dismisses it for a cross-court winner. Great movement from Serena.

20:23 (IST)

Two big serves and Serena saves both the match points. Deuce.

20:22 (IST)

A backhand return that Serena nets sets up two match points for Muguruza.

20:20 (IST)

One. Game. Away.

Muguruza holds with an ace. 5-3.

Some points are bigger than others.

Serena on BP: 2 for 8.
Garbiñe on BP: 4 for 6.

Muguruza holds to 75 53. #RG16https://t.co/QzhlA0Mbqv

— WTA Insider (@WTA_insider) June 4, 2016

20:17 (IST)

Garbiñe Muguruza is two holds of serve away from her first Slam title. Can she hold her nerve vs. Serena?

She starts off the game with...her 9th double fault.

20:16 (IST)

Serena hangs on. Bit of a relief for the World No. 1 as she has a comfortable hold.

Can she break back? She needs to if she wants this final to go on.

20:15 (IST)

Despite her 8th double fault, Muguruza holds quite easily for 4-2. She is just two games away from winning the French Open title.

20:11 (IST)

Muguruza, in some ways, is doing to Serena what Serena has been doing to opponents for years. The 4th seed is giving Serena no time on the ball, striking early and often in the rallies and forcing the world No.1 to hit so many shots off the backfoot. Serena has been caught off-balance on multiple occasions. Wonder if it's the abductor that is still bothering her?


20:09 (IST)

Serena is playing well, but Muguruza has been playing even better. The Spaniard can match the world number 1 for power but what she has been doing well so far is changing the direction of the ball.

20:08 (IST)

A loud COME ON from Serena as she holds after a passing winner. 3-2.

20:07 (IST)

Fabulous hitting! Muguruza comes to the net to drill a backhand off a short reply.

Serena leads 40-30.

20:05 (IST)

Crushing forehand winner cross-court gives Muguruza a hold and a 3-1 lead.

Can she hold on to her lead?

20:02 (IST)

With an insane down-the-line forehand, Muguruza earns her third break. 2-1.

1st serve points won Serena 70 %, Muguruza 68 %
2d serve points won Serena 32 %, Muguruza 36 %

— Christopher Clarey (@christophclarey) June 4, 2016

19:58 (IST)

Horror game for Muguruza who tosses in three double faults to break herself for 1-all.

19:56 (IST)

Ridiculously deep hitting from Muguruza and she manages to save the last break point.

And then...double fault again.

19:55 (IST)

Muguruza saves a break point on her service now to bring up deuce.

Then she follows it up with yet another double fault to hand another break point to Serena.

19:53 (IST)

Serena trying the same slapping gamestyle, slicing when she's in command. Not good. Broken to open the second set. pic.twitter.com/4Z7zaQBT5X

— Live Tennis (@livetennis) June 4, 2016

19:51 (IST)

Wow.

Muguruza looking cool, calm, and collected. Opens up the 2nd set with a break. She's just five games away from her maiden Major title.

19:49 (IST)

Serena only 2-5 in Slam finals when losing first set. Last comeback? 2005 Aussie vs Davenport.

(Serena 19-0 when winning first set.)#RG16

— Ben Rothenberg (@BenRothenberg) June 4, 2016

19:47 (IST)

Garbiñe Muguruza wins the first set!

She converts her third set point with a backhand down the line, takes first set 7-5 over Serena Williams. Hell of a set.

19:45 (IST)

Serena managed to save the set point with a swing volley but Muguruza has a second.

Serena saves this one again.

DEUCE.

19:42 (IST)

SET POINT FOR MUGURUZA!

19:42 (IST)

Muguruza DOUBLE FAULTS again!

Serena had two break points but the Spaniard saves both of them with massive serves.

19:41 (IST)

Serena isn't going to let Muguruza serve it out just that easily. She makes her way to the net for a glorious drive forehand. 15-30. Small window of opportunity.

19:40 (IST)

That is some outstanding hitting from Muguruza, who seamlessly changes the direction of the ball to get break point, then breaks for 6-5

— Reem Abulleil (@ReemAbulleil) June 4, 2016

19:39 (IST)

Muguruza breaks with a cannon of a forehand that Serena has no reply for. It's 6-6 and the Spaniard will serve for the opening set.

19:37 (IST)

Muguruza unleashes a great backhand and she has break point!

19:32 (IST)

Ripping servic return from Serena. 30-15.
Preview: Garbine Muguruza's chances of winning her maiden grand slam title -- and achieving the rare feat of beating Serena Williams twice in three years at Roland Garros -- may well depend on which version of the world number one turns up on Sunday.
Will it be the seemingly indifferent Williams who steps onto Court Philippe Chatrier for the French Open final -- or the hard-hitting, steely Serena?
Williams is looking for her fourth Roland Garros singles title and her 22nd overall in grand slams, which would equal the record of Steffi Graf and place her two behind all-time record holder Margaret Court.
After her semi-final win against Dutchwoman Kiki Bertens, Williams did not seem overexcited at the prospect.
"I guess it's how you look at it. The same with 21 and trying to get to another one. Nothing I can do about it," she told reporters. "The only thing can I do is just play to win the tournament and that's it."
While the American looks in a different league on paper, that may not be the case on court.
If the blips Williams suffered en route to laboured wins in her last two matches resurface, the 22-year-old Muguruza is well placed to take advantage.
The fourth seeded Spaniard was the last player to beat Williams at Roland Garros, crushing the American 6-2 6-2 in the second round in 2014 for her only win in four encounters.
"It was a really unbelievable lesson for me. It propelled me to many, many, many wins after that," said Williams.
The 34-year-old, who hopes to become the first woman to retain her title here since Justine Henin in 2007, won their grand slam confrontation 6-4 6-4 at Wimbledon last year in Muguruza's first appearance at that level.
The Venezuelan-born player says she has been on a learning curve since then.
"I have learned a lot how to control my emotions inside the court and outside the court," said Muguruza, who hopes to become the first Spaniard to lift the Suzanne Lenglen Cup since Arantxa Sanchez Vicario in 1998.
Failure to take a deep breath at key moments may have been a factor at Wimbledon last year.
"It was difficult for me to manage stress. I remember three points that I missed and she took advantage of this, but otherwise I wouldn't say I made a very big mistake," she said.
She may also draw hope from the fact that Williams could be suffering from a groin problem. Asked if she was injured, Williams said: "I have had some issues, but, you know, it is what it is."
(with inputs from Reuters)
Updated Date: Jun 05, 2016 00:57:22 IST