French Open 2016: 30 is the new 20 as veterans flood men's draw at Roland Garros
Paris: Once littered with a generation of teenage Grand Slam champions, the balance atop the tennis pyramid has since shifted markedly in favour of the sport's more experienced pros with a record 51 men aged 30 or over in the 2016 French Open main draw.
That figure, just a shade under 40 percent of the 128-man field, easily eclipses the previous high of 41 from this year's Australian Open and could have been higher if not for the withdrawal of 17-time Grand Slam winner Roger Federer.
But while the likes of Mats Wilander, Stefan Edberg, Boris Becker and Pete Sampras all claimed their first major titles before turning 20, Rafael Nadal remains the only teenage champion in the past 25 years.
The Spaniard, who himself turns 30 on June 3, downed Federer in four sets to win the 2005 French Open on his tournament debut -- the beginning of Nadal's remarkable clay-court reign.
However, just four teens are present in the first round of Roland Garros this year with promising German youngster Alexander Zverev the highest-rated of the quartet at 41 in the world.
Zverev is joined in the draw by Borna Coric, Quentin Halys and 2015 boys' singles finalist Taylor Fritz, with Croatia's Coric, who reached the third round in Paris last year, the only one to have registered multiple wins at a Grand Slam event.
Stepanek still going
At the other end of the spectrum is 37-year-old Radek Stepanek, the oldest player in the field, who came through three rounds of qualifying to set up a first-round match against second seed Andy Murray.
"These young guys, that's a challenge for me. It's three generations of players I'm meeting on the courts, and I'm still able to beat them, which is giving me confidence," Stepanek, the former world number eight, told rolandgarros.com.
"To be compared with guys like Jimmy Connors is very special because I was always keen to learn from the past generation. I always say that history proves everything and now it's only repeating in a different way."
Last year Stepanek became the oldest man to win a match in Paris since 38-year-old Connors in 1991, having recovered from a crippling back injury that could have ended his career.
Stepanek, who turns 38 in November, is far from the only veteran still plugging away in his twilight years with towering Croat Ivo Karlovic, also 37, seeded 27th at Roland Garros.
Even the average age of the top 10 seeds without the 34-year-old Federer is 28 years and six months, with defending champion Stan Wawrinka aiming to become just the fifth man in the Open era to win two or more Grand Slams after turning 30.
As for Nadal, bidding to become just the second player since Margaret Court to win 10 titles at any Grand Slam event, age is just a number for the world number five.
"No, I'm not feeling old. On court is true that I had a lot of years here on the tour, but in terms of mentality and in terms of life I feel myself young," said Nadal, who would also break Guillermo Vilas' record for most clay-court titles with another victory in the French capital.
"I don't think about going to be 30. You know, time never stops. Nobody stops the time. That's not a good thing, but at the same time, I am happy with my life. I enjoyed all these years on the tour, and I hope to keep enjoying the next couple of years."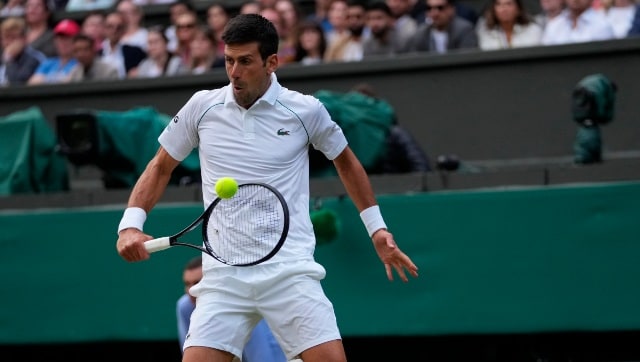 Sports
Djokovic stated he was not overjoyed with no fans being present inside the stadiums and the various limitations on movement but focused on winning a medal for his country.
Sports
The ITIA, which is responsible for safeguarding the integrity of professional tennis worldwide, received two alerts from the betting industry during the grass-court Grand Slam in south London.
Sports
The All India Tennis Association (AITA) earlier this month named a three-member Under-14 boys team comprising of Rethin Pranav RS, Kriish Ajay Tyagi and Tejas Ahuja for the prestigious tournament, scheduled to be held from 2 to 7 August.