Four Nations Invitational Hockey: India go down fighting in final after shootout ends in Belgium's favour
For India, this was their second consecutive loss in a final to Belgium; and their third defeat to the Olympic silver medallists across both the legs.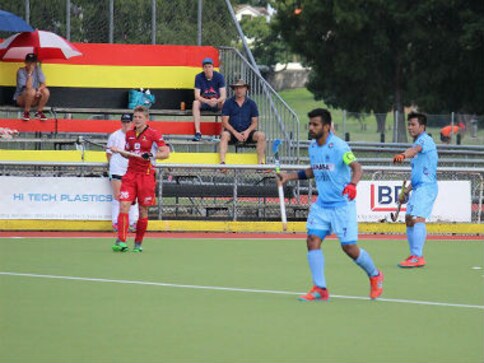 Flashy passes, super-strikes, swift counters, reverse hits, acrobatic saves and in the end a shootout. The perfect pot-boiler that you expect in a final with two teams that are trying to realign the power structure in world hockey. Belgium began in a hurry blowing away four penalty corners and a stroke, all in the first quarter, and then on the back of an Indian resurgence, came back to equalise not once or twice but four times before taking the game to a shootout and winning it 3-0 to clinch the second leg of the 4-Nation Invitational Hockey Tournament. India, surprisingly, good shootout exponents couldn't slot in a single goal. At the end of regulation time, both teams were locked 4-4. In a way, it would be slightly shattering for India as they had weathered most of the Belgian storm but a wayward defensive line and a few soft goals let India down. For India, this was their second consecutive loss in a final to Belgium; and their third defeat to the Olympic silver medallists across both the legs.
Seventeen goals in two matches between these two sides pitch fork the concept that this is a rivalry to look forward to. In the earlier match in the Pool, India beat Belgium 5-4 and on Sunday they took the lead four times in a match they should have wrapped up in regulation time. Both the sides know each other well and quite a few of the Belgian players are also in the Hockey India League. And against India, Belgium does a good press knowing fully well that an early goal does put India under pressure.
But, hard as they might have tried, they couldn't get past the Indian defence in the first quarter. It was a quarter which saw hard hits into the striking circle along with some immaculate aerial balls. Counters from both teams lit up play in the middle phase of the quarter. And then off the fourth penalty corner Belgium had the stroke. All that aggression was about to pay off. Loick Lupayert had chosen his corner well. Except that PR Sreejesh saw the flick early and brought off a brilliant save, the ball hitting him on the glove and deflecting off.
In the second quarter, India started with pace, using both the flanks. Chinglensana, quite a mover in the middle sent in a few through balls that had the Belgian defence scrambling and giving away three penalty corners. Vincent Vanasch, however, did well by not conceding. The player to impress from India's side was Mandeep Singh. Constantly, harassing with runs on the flanks, he was a thorn in their defence. It was one of those on the right flank where he drew out the Belgian defence and then perfectly passed to Ramandeep Singh on top of the circle for him to smash home as India led 1-0.
The third quarter saw a more compact India in the defence. They rotated the ball well and looked for space. Belgium, looking for an equaliser found it in the 41st minute off their fifth penalty corner. Tanguy Cosyns pushing it past the outstretched stick of Sreejesh. Within the minute, India snatched the lead off a brilliant aerial ball. Varun Kumar saw Mandeep inside the Belgian striking circle and his scoop landed on Mandeep's stick who again drew away the Belgian defence before passing it into the middle of the circle for an overlapping Nilakanta Sharma to slam in for a 2-1. Two Indian goals had come of Mandeep assists. India could easily have gone another goal up when Arman Qureshi went on a lone run and then twisted around to hit a reverse hit. But probably couldn't see an overlapping Mandeep rushing in. Individual skill combined with slightly individualistic mind-set had probably robbed India off a goal.
And that proved expensive a minute later in the 43rd minute when Cedric Charlier found a little space in the Indian striking circle to hit a shot that went in through Sreejesh's pads. It was a soft goal. Charlier surrounded by Indian defenders didn't have any hope of getting through so he tried a lame-duck strike that proved to be lucky as the Indian goalkeeper let it slip between the pads.
Tied up at 2-2, the fourth quarter promised a battle. None of the teams were trying to bottle each other up. Opportunistic strikes and some lovely moves had got the goals. And when India stretched their play on the Belgian flank, Surender Kumar, standing right next to the corner flag, dispatched a hard it into the Belgian striking circle. It beat the defence but Mandeep deflected in for a brilliant super-opportunistic strike. Two assists and a goal, Mandeep was in the thick of action.
Two minutes later, Belgium were back on track. A swift move into the Indian striking circle and Sreejesh came off the line, misjudged and couldn't control the ball which Amaury Keusters sent into an empty Indian goal. At 3-3, it was anybody's game. Both the teams had opened up the midfield, not afraid to go in and snatch a goal. Sizzling runs on the flanks, perfectly laid passes through the middle and pacy counter-attacks dazzled the local fans.
In the 53rd minute, India snatched the ball off a counter-attacking Belgian side and Rupinder Pal gave it to Manpreet who twisted, turned and passed to Nilakanta. Ramandeep was in position to accept Nilakanta's pass and with a reverse hit gave India a 4-3 lead. It seemed India would hang on but Belgium had two penalty corners in succession and off the seventh, Felix Denayer pushed it past Sreejesh's glove. For a moment it seemed that the ball came in from the outside netting but the umpires ruled it as a goal. Not giving much away, India hung on with the ball not allowing Belgium to build up more attacks. Both teams played out the four minutes to take the match to a shootout.
It was the second shootout in the last five matches with Belgium. In the quarter-final of the HWL Final in December, India had beaten Belgium 3-2 in the shootout. On Sunday, all the scorers who scored that night cheered on by a packed stadium couldn't convert. Harmanpreet Singh, Lalit Upadhyay and Rupinder Pal Singh muffed up their chances. Rupinder slightly unlucky that after beating the goalkeeper his stick hit the upper portion of the ball sending it sideward rather than inside the goal. Sreejesh saved the first but couldn't keep away Felix Denayer, Florent van Aubel and Arthur van Doren from scoring. India played eight matches across two legs and lost three matches – all to Belgium. It's a matter of concern but not a crisis. Not yet. In those two legs, they have shown courage, guts, striking power and an ability to come together and create goals. In a year, where bigger prizes are at stake, Indian coach Sjoerd Marijne would do well to make a team that adapts quickly to changing equations in a 4-quarter match and also shows some old-fashioned thick-skinned robustness.
Hockey
Veteran goalkeeper PR Sreejesh starred in the shootout which India won 4-3 to notch up their fourth win on the trot at the Birsa Munda Stadium.
Hockey
This was India's second win over Germany in three days and the victory took the Harmanpreet Singh-led side to the top of the table with 17 points from seven matches, ahead of Spain on goal difference.
Hockey
The 24-year-old Hardik beat his illustrious senior players like Manpreet Singh and Harmanpreet Singh to win the coveted award for 2022 named after hockey legend Balbir Singh senior at the fifth Hockey India Annual Awards.