Formula One: Lewis Hamilton's comments were blown out of proportion, but will controversy lead Mercedes to gag him?
History has proved that such a straightforward approach can be a double-edged sword, increasingly in the viral world of social media. In case of Hamilton, the sheer number of clarifications he has had to issue on social media indicate that he is human after all.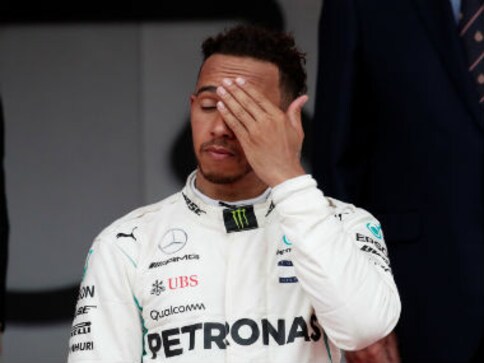 Loved, hated but never ignored. Lewis Hamilton is the spectacle F1 needs.
We penned a long-read with this very headline a few weeks ago when the Briton won his fifth Formula 1 World Championship. However, the last 48 hours have seen Hamilton attract hate from Indians, irrespective of whether they are fans of the sport, or not.
Reason? A mis-quoted headline followed by a different interpretation of what Hamilton had to say about India and the Indian Grand Prix.
Hamilton's comments highlight the misplaced priorities we have long had as a country. But this post isn't meant to be a political one, since that wouldn't be in line with the image that Hamilton has built for himself — straight, honest and a personality who doesn't think twice before expressing his point of view.
In fact, it has become a regular practice for Hamilton to take to social media to clarify his statements. It was only at last weekend's Brazilian Grand Prix when Hamilton had to clarify what he actually meant to say about Williams driver Sergey Sirotkin.
Human moments
In a world where Formula 1 drivers are labelled as PR robots, Hamilton's media statements often stand out — whether it was urging Formula 1 to work with the drivers to fix the no-overtaking problem that the current cars have or when it came to making the circuit layout of the proposed Miami Grand Prix more fun than it actually was and more.
History has proved that such a straightforward approach can be a double-edged sword, increasingly in the viral world of social media. In Hamilton's case, the sheer number of clarifications he has had to issue on social media indicate that he is human after all, something most of us doubted after witnessing his pole lap in the 2018 Singapore Grand Prix.
As Formula 1 and Mercedes' ambassador, should Hamilton need to think twice before expressing his opinion? First things first, like all of us, Hamilton is entitled to express his opinions and he does seem to have one too many (again, like all of us!)
The only difference being that unlike us, he carries the burden of being the sport's legendary world champion. However, it would be interesting to dissect the current episode from Formula 1, Mercedes and Hamilton's point of view.
Hamilton: an ambassador for Formula 1 and Mercedes
For Formula 1, the key question has always been whether it is a sport or a business. Liberty Media (and Bernie Ecclestone) definitely see it as a business and have taken decisions accordingly. The constant conflict has always been of maintaining a stronghold in the traditional motorsport markets while developing new ones. The traditional markets attract a legion of fans while not adding much to the coffers; they reportedly don't pay race hosting fees as high as the new ones.
The news of Silverstone, Nurburgring, Hockenheim and several other circuits struggling for financial stability and their chances of pulling out have done rounds for a large part of the last decade. In such a scenario, one can't fault Formula 1 for exploring newer markets to tap into. It only makes sense to take the circus wherever it can make money.
The emerging economies are an easy target, given the potential country's need for global awareness to attract attention, investment and tourism — all of which one assumes is towards aiding growth in the country. But of course, not all of these countries come with an inherent interest in motorsport, let alone Formula 1.
It was this very point that Hamilton was trying to highlight. However, one could argue that as a professional racing car driver, Hamilton should be prepared to race wherever the sport asks for him to and let the management run the business. But in the same breath, one can't fault him for expressing his personal opinion; and in this case, he did raise a pertinent question. As a country, India has more important priorities than chasing a Formula 1 Grand Prix!
Mercedes-Hamilton: Brand building the millennial way
Were Hamilton's comments in line with his role as the ambassador for one of the most popular automobile brands in the world? We believe it wasn't.
Much like Formula 1, Mercedes is expanding business outside of their saturated traditional markets — India being a key player. While the Mercedes racing team operations clarified Hamilton's views on social media, the Mercedes India social media handles ignored the drama completely. Such a spike in negative chatter around their brand wouldn't have been anticipated and sales are unlikely to be affected — unlike Snapchat (or Snapdeal) in April 2017 after their CEO made a similar statement about 'poor' India.
But Hamilton's comments can be classified as out-of-line for Mercedes. And let's remember that unlike his teammate Valtteri Bottas, Hamilton is paid extra to be a global ambassador for Mercedes — his services extend more than just racing their cars.
Like Formula 1, Mercedes too is an elitist brand in developing economies like India and if one agrees that investments towards basic life needs should take priority over a Formula 1 circuit, the same can be said about purchasing a Mercedes road car — why not donate those millions to social development?
Apart from winning races and championships to establish technical supremacy over their rivals, Mercedes' participation in Formula 1 is towards their global branding building. As a flawed genius, Hamilton is already forcing us to rewrite laws of brand building in the millennial age.
Will Mercedes gag Hamilton?
Mercedes' carefree approach on and off track has made it the brand it is today — from letting their drivers race for victories and championships to allowing them to speak their mind publically. However, with Hamilton's growing personality and stature, will the German automobile manufacturer be forced to rein him in? Could brand Lewis Hamilton prove to be a ticking time bomb for Mercedes? Will Mercedes be conflicted in their hiring of Hamilton — perfect on track and imperfect off it?
Yes, the Ferrari-Schumacher story from 2006 (where Michael Schumacher was becoming a bigger brand than Ferrari) does come to our memory, but Mercedes has shown time and again that they aren't Ferrari and we don't expect them to let go of Hamilton's superlative racing talent while embracing his PR imperfections.
As for Hamilton, his brand strengthens thanks to his existing persona, achievements and spiritual thinking. After all, how many drivers on the grid do we hear being concerned about poverty, plastic pollution or the ill-effects of the meat industry?
All in all, personalities such as Lewis Hamilton don't brace the world of Formula 1 as often, so let's enjoy 'The Lewis Hamilton Show' for as long as it lasts. Lastly, let's consume content from our favourite Formula 1 teams and drivers as it is and not succumb to click-bait headlines!
Sports
Aston Martin, formerly known as Racing Point, currently sit seventh in the constructors' championship, with Vettel recording their best result — finishing second in Azerbaijan.
Sports
Hamilton turned Verstappen's five-point championship lead into a two-point lead of his own as the Dutch driver finished second after a dramatic drive from last on the grid.
Sports
A Formula 2 sprint race, scheduled for Saturday, was postponed.