Following a successful outing in the first ever Formula E race in Beijing last month, Mahindra Racing is looking at the possibility of bringing the electrically-powered car series to India in the 2016-2017 season.
With the inaugural 2014-15 seasonal calendar set and 2015-16 unlikely to see an ePrix in the subcontinent, Mahindra Racing team principal Dilbagh Gill said the team is exploring options of bringing the race to India in the third season.
"I have no definite information but we at Mahindra are exploring the possibility of bringing the race to India in year three i.e. the 2016-2017 season. It is definitely on the cards. I don't think we would be ready for next year," Gill said from London.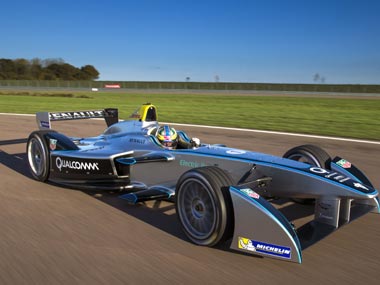 With most of the races being held on temporary street circuits, the ePrix can be organised in any Indian city.
"We haven't really started the exploration on that part but the obvious choice of cities would be some of the major centres. Personally, we would like it to be in Mumbai while New Delhi and Bangalore could be the other possibilities," added the team principal.
The first and only Formula E race yet, the Beijing ePrix, was held Sep 13 with Mahindra Racing's Karun Chandhok finishing a strong fifth after a topsy-turvy race.
Chandhok's teammate Bruno Senna looked fast during practice but a battery issue during qualifying hampered the Brazilian's race, where he eventually retired after an early collision.
"We have a very fast car. Karun did a fantastic job in qualifying fourth and drove a credible race. We had some technical issues but he was able to drive around it and we are very satisfied with his performance.
"In practice we were doing the fastest laps with Bruno setting the lap record. He could not set his qualifying lap and this compromised his race," said Gill.
"The Mahindra cars, on paper, seemed to be the best team in qualifying in terms of average performance. So overall, we are a bit disappointed because we did not bring in the results we had demonstrated."
Now that the first race is over, with the next scheduled Nov 22 at Putrajaya in Malaysia and the team aware of the advantages and disadvantages of others, have Mahindra Racing set an aim for the season?
"It is too early to have an aim. We are definitely among the contending teams and are among the top 3-4 teams. We have demonstrated that."
Questioned about the 'Indianness' of the only Indian team on the Formula E grid, Gill explained that their priority is to be a strong racing team with an Indian identity.
"We want to be a strong racing team with an Indian identity. We have Indian ingredients in our outfit which will be augmented. Karun is an Indian driver, his race engineer is of Indian origin. I, in my capacity as team principal, am of Indian origin," said Gill.
"Most importantly, lot of our engineers are Indian. We will be looking for talent and if we find that in India we will encourage it."
Since Formula E is a one-make series (all cars being essentially the same), how do the teams differentiate their cars from others?
"The biggest variable is the driver because each one drives differently. Also, a lot of work can be done on set up and strategy and that is how the differentiation comes in," said Gill.
"In Formula E, it is not the fastest driver who is going to win but the most efficient one. So it is a combination of speed and energy utilisation. So while all things might look equal, it is not. There is a lot of strategisation that is done."
IANS
Firstpost is now on WhatsApp. For the latest analysis, commentary and news updates, sign up for our WhatsApp services. Just go to Firstpost.com/Whatsapp and hit the Subscribe button.
Updated Date: Oct 10, 2014 08:48:30 IST