Verstappen's Max-imum on debut, Mercedes' clash, Ferrari on podium: Talking points from Spanish GP
Max Verstappen's heroics will hopefully infuse new interest in Formula 1, a sport that has suffered from outright domination and boredom for the past few years.
The weekend of the 2016 Spanish Grand Prix has been a blockbuster for Formula 1, the one that would've sent the box-office register crazy.
Max Verstappen, the sport's youngest ever sensation, won the first race of his career in a week where his controversial mid-season swap to Red Bull Racing hogged the headlines. Verstappen's win was the first non-Mercedes win since September 2015 and the 18-year-old's heroics will hopefully infuse new interest in a sport that has suffered from outright domination and boredom for the past few years.
Strangely enough, Mercedes' multi-race winning streak was brought to an end by none other than a Mercedes after Lewis Hamilton and Nico Rosberg clashed on the opening lap that led to a double retirement for the team. The FIA Stewards deemed 'no action' in their post-race investigation but fans and pundits were quick to take sides. A 'racing incident' would be the most neutral way to settle the matter – one that cost Mercedes 43 points in the World Constructors' Championship and Lewis Hamilton the second spot in the World Drivers' Championship.
It was heartening to see Niki Lauda think like a driver (he's most consistent at that!) and blame Lewis Hamilton for the clash while most armchair experts thought that Nico Rosberg starting the race in the incorrect 'engine mode' and the distraction of changing it mid-corner a few seconds before the crash was to be blamed. If that was the case, one wonders how Rosberg overtook Hamilton at the first corner in the wrong mode despite a reported 180bhp deficit.
Would either of the Mercedes drivers be demoted for the team's points they lost in Spain? If Mercedes do think like Red Bull Racing, Pascal Wehrlein should be ready for a call up for Monaco.
This certainly seems to be the season for intra-team clashes – Renault had one too. Though Kevin Magnussen got a post-race penalty, one wonders that in the case of his demotion, would any budding driver want to fill the cockpit in the struggling Renault?
While the Renault car-engine combination might not be a race-winning package, the Renault powered (and Tag Heuer badged) Red Bull Racing team made the most of the Mercedes carnage to keep the Ferraris at bay and score their first win since August 2014. The team had stunned the Formula 1 world by demoting Daniil Kvyat and replacing him with Max Verstappen mid-season – but it was true to their tagline of 'Gives You Wings'.
Max Verstappen's promotion meant that all eyes (and ears!) were on him as he prepared for his Red Bull Racing debut. Could he cope up with the pressure of racing for a former World Champion team? Would he be able to battle the fast and composed Daniel Ricciardo? Would he be able to settle and find rhythm in the car mid-season? Come the Spanish Grand Prix weekend, Verstappen answered all questions perfectly, as he not only challenged the Mercedes cars in qualifying but also drove a controlled race on Sunday to clinch his win on debut.
Verstappen's victory was aided by two factors. First, his talent and confidence – he drove the RBR12 like he'd done a million miles in them already. Second, Red Bull Racing's decision to put Daniel Ricciardo, Verstappen's team-mate who led nearly 2/3rd of the race distance, to a supposedly quicker but controversial three-stop tyre strategy while choosing to keep Verstappen on a two-stopper.
Did Red Bull Racing want Max Verstappen to win? It appears that the only way Red Bull could sway the headlines away from the Mercedes carnage was by orchestrating a Verstappen victory – one that would create multiple records by itself, such as :
- Youngest Race Leader
- Youngest Points Scorer
- Youngest Podium Finisher
- Youngest Race Winner
- First Dutch Race Winner
Though this Formula 1 Season has been a typical so far with single-team and driver domination, there have been stories in the Paddock -- like Verstappen's -- that have kept interest in the sport high. Is Max Verstappen the start of a new era in the sport? Is Verstappen the new 'Baby Vettel'? Red Bull Racing seems to claim so. But then again, if Sebastian Vettel is 'Baby Schumi' himself, one can't wait to see a Vettel-Verstappen battle on-track in the near future. And would that ever be in a Ferrari?
However, Ferrari would be upset about two things after the Spanish GP — Red Bull Racing's retaining of Max Verstappen by offering him a promotion and Kimi Raikkonen's inability to mount a challenge for the lead in the closing laps. It was a case of the sport's youngest driver fighting against the sport's oldest for the win. To think of it, Raikkonen has raced against two Verstappen generations – Jos and now, Max.
Come Monaco, normalcy could be expected to resume with the Mercedes drivers battling at the front. As Ferrari seem to struggle, it does seem that fans will have to rely on Red Bull Racing to take the fight to Mercedes. One a track that neutralizes the power-unit advantage, could Max Verstappen challenge the Mercedes drivers again? And will Daniel Ricciardo be allowed to challenge the new blue-eyed boy in the Red Bull Racing garage? Max Verstappen has only just started, so it isn't too late to join the party.
Sports
Extreme E was set up by the man behind Formula E, Alejandro Agag, to draw attention to some of the world's most pressing environmental issues.
Sports
Chandhok is one of the only two Indian drivers to have made it to Formula 1 with the other being Narain Karthikeyan.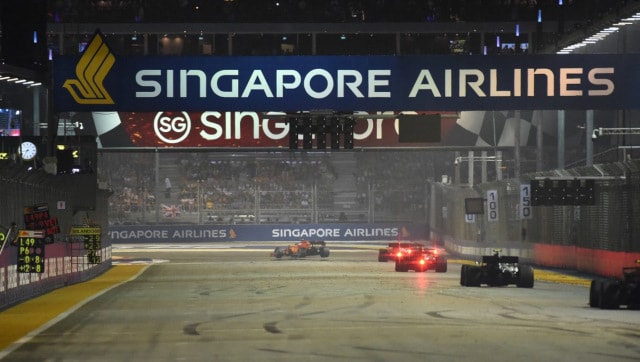 Sports
Races in Turkey (Istanbul) and China (Shanghai), postponed earlier this season, could replace Singapore, while the United States could also host a second race.