Formula 1 mid-season review: Sebastian Vettel-Lewis Hamilton spat, Ferrari's surge and other highlights
Ferrari was finally challenging Mercedes in the front. It was doubly exciting when Ferrari followed up their win in Australia (round one) with a win in Bahrain (round three).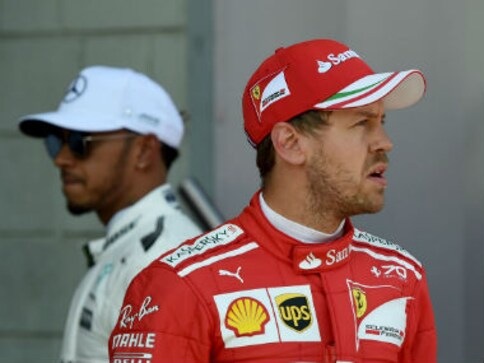 The first 11 races of the 2017 Formula 1 season have been unexpected and exciting in numerous ways. We have been having a battle for the Drivers' Championship, keenly contested by drivers from competing teams. There have been teammates turning against each other (and taking each other out), while others surprisingly letting their teammates through. Some veterans are waiting to make a comeback, while others must be content with a number two slot. We have highlighted and dissected the 10 most defining moments of the 2017 season. Read on!
Ferrari wins. And then wins again: Admittedly, we didn't see it coming. And when it happened, it was a streak of scarlet that jolted us awake into rapt attention – we could not believe that Ferrari was finally challenging Mercedes in the front! Perhaps the first time was a fluke. That's why it was doubly exciting when Ferrari followed up their win in Australia (round one) with a win in Bahrain (round three). It has been a long time since we saw two constructors matched so closely at the front, blow for blow. It was a relief to watch races not knowing who will be on the top step of the podium. Even better, the Sebastian Vettel versus Lewis Hamilton showdown was the stuff motorsport dreams are made of! Bernie Ecclestone fuelled a conspiracy by suggesting that Mercedes 'helped' Ferrari catch up – as if we needed any more drama!
Hamilton lets Valteri Bottas through: Till last season, Hamilton was F1's enfant terrible – the baddest boy of them all. Despite being matched by Vettel at every point, Hamilton suddenly seems unafraid to lose. He unexpectedly chose to play by the rules when he swapped back places with Bottas in Hungary, never mind that it cost him three valuable points in the Championship battle.
Maybe it is the confidence that comes with knowing that he is the fastest driver in the fastest car. That said, nearly three-quarters of F1's world champions were leading at the halfway point in their title-winning season; history is on Vettel's side.
Daniel Ricciardo clashes on track with Max Verstappen: Yes, it happened and we could not believe our eyes. Outrageous teammate battles were reserved for Hamilton versus Nico Rosberg till last season, but 2017 has seen a mini civil war break out in the Red Bull Racing camp. Verstappen, the team's prodigy couldn't seem to catch a break, running into all sorts of bad luck. Verstappen only finished six out of 11 races with a lone podium finish in China.
Meanwhile, Ricciardo couldn't seem to put a foot wrong. He had five podium finishes in a row, including a victory in Azerbaijan. No doubt Verstappen has been frustrated with the way the season is shaping up – it was supposed to be his chance to make a big impact and consolidate on his form from last season. The Red Bull teammates clashing in Hungary was a culmination of several weeks of tension that seemed to have been brewing.
Bottas wins, finally: Okay, we will just admit it right away – Bottas has proven us wrong. After he got off to a lukewarm start (and seemed to be snug in his number two driver slot), he started flexing his muscles slowly, driving to a first-ever race win in Russia. Bottas has shown that he is dependable, consistent and can keep a cool head. The results speak for themselves – he has scored eight podium places this year, the most on the grid (along with Vettel). His last corner surge on Lance Stroll in Azerbaijan was plucky, as was his winning drive in Austria. Amazingly enough, he also seems to get along well with Hamilton, a driver notorious for never getting along with teammates. We are likely to see Bottas around in Mercedes next season too and surely he has earned that drive.
Lance Stroll grabs a podium: After weeks of laughing at Lance Stroll jokes our jaws hit the ground when he pulled off his first spectacular podium finish in Azerbaijan, right on the tail of his first points finish at his home race in Canada. It seems that Stroll has finally found his feet in Formula 1 and has been getting the car home consistently off late. The other rookie who has all our attention is Esteban Ocon. The Force India driver has scored points for 10/11 races until now this season, including a remarkable P5 in Spain. The next debut that everyone is looking forward to is of Charles Leclerc, the Ferrari junior driver who is the reigning GP3 champion and has been setting the tracks and podium ablaze in GP2 this season.
When Kimi Raikkonen wasn't allowed to race: It has been an interesting first half of the season for Raikkonen, arguably the most popular driver on the grid. For the initial races, he struggled for pace and was far behind Vettel (the Ferrari management even publicly labelled him a laggard). Things started looking up for the Finn eventually. He won the pole in Monaco, which was his first pole in nine long years. Despite his improved pace, Raikkonen was little more than Vettel's perfect number two all through.
The Hungarian Grand Prix was a telling example – Raikkonen was much quicker than Vettel on race pace but unfortunately, Ferrari didn't let their drivers race. Clearly, the team has chosen the Driver's Championship battle as their battle of choice with the Constructors crown pretty much out of reach. But has Raikkonen done enough for yet another contract extension?
Sergio Perez versus Ocon: This was another of those 'did it really happen' moments from this season. Perez is a Force India veteran, while Ocon is a rookie. Commendably, both have been driving in top form to take Force India to P4 in the Constructors table, with more than double the points that Williams have. Trouble struck in paradise when the Force India cars came together in Azerbaijan – something the team called 'inevitable'. It seems that Perez is not comfortable with Ocon challenging his numero uno status by occasionally outperforming him and the two drivers have been habitually 'touching' each other at almost every race.
Fernando Alonso misses Monaco for Indy 500: Trust Alonso to shake things up, just like that. A dismal season in Formula 1 saw Alonso opt out of the Monaco Grand Prix to instead race the Indy 500, gunning for the triple crown of motorsport. It was truly a spectacular debut – he even managed to lead some laps, but fate had other plans in store. While he didn't win, Alonso opened doors for greater collaboration between motorsport series. He also taught Formula 1 a thing or two about fan engagement (no wonder he has become a rage in the US). With Mclaren waiting till September on their engine decision, one really hopes that Alonso doesn't pay the price for Honda's inability to develop a competitive Formula 1 engine.
F1's live event in London: This blockbuster event definitively signalled what this new era of the sport is going to be like: friendly, open, interactive and fan-centric. Even though Hamilton decided to skip the event, it was a great success. In all, this has been a year that Formula 1 opens itself up for its fans, right from using Snapchat to talk to younger audiences to announcing the advent of the summer break with Alonso's deck chair installation in Hungary (love the humour!) and the unforgettable Raikkonen fan moment. We are really looking forward to future initiatives that the sport has lined up.
Robert Kubica's return looks likely: Kubica has many fans all over the world, who would have been thrilled beyond words when he tested the Renault in a specially organised trial. The chance of him returning to Formula 1 seems very real, especially since Jolyn Palmer has been doing nothing right in his Renault all season. Another veteran without a racing seat, Paul Di Resta made an unusual return to the grid at Hungary, filling in for a sick Felipe Massa. He had an impressive run, leading to chatter around the paddock about an imminent return. Williams' need of an 'older' driver known to all. Will Massa make way for Di Resta?
The first half of the 2017 season has been action packed and how! One can't wait for the latter half of the season, more so as the battle between Hamilton and Vettel heats up and finally, a champion is crowned.
Sports
In front of a Silverstone record attendance of 142,000, part of a total of 401,00 spectators for the weekend, the seven-time champion finished third for Mercedes after a thrilling race won by Carlos Sainz of Ferrari.
Sports
The seven-time champion Mercedes driver said he had hoped to fight for a front row start in Sunday's race, but was unable to find the pace required in the final minutes of a sodden rain-lashed session.
Sports
Verstappen struggled with the conditions and also had a minor mechanical problem.