Formula 1 2020: Max Verstappen's incredible recovery from pre-race crash to Valtteri Bottas' false start, talking points from Hungarian GP
Lewis Hamilton won the Hungarian GP to take the lead in the Drivers' Championship for the first time in 2020, we bring you this and more in our talking points from the race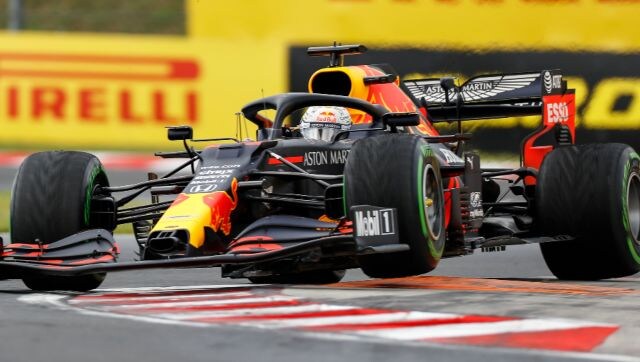 The 2020 Hungarian Grand Prix was yet another Lewis Hamilton masterclass - a race he's been unbeaten at since 2018. Hungaroring, a circuit where the reigning World Champion has excelled throughout his career, saw Hamilton convert his 90th pole position on Saturday to his 86th career win on Sunday. Red Bull Racing's Max Verstappen finished second followed by Valtteri Bottas in third.
This was Hamilton's eighth win at the circuit - equalling yet another record with Michael Schumacher, this time for most wins at a single circuit. After winning two races on the trot, Hamilton took the lead in the Drivers' Championship for the first time in 2020.
The second racing venue of the season was vastly different than the first - given the tight and twisty layout of the Hungaroring. Dubbed as 'Monaco without the walls', the circuit confirmed the superiority of Mercedes' package for yet another season, clearly marking the team and its drivers as the ones to beat.
Here are the biggest talking points from the race.
Daring overtakes ??

Drama before the lights even went out ??

And battles to the final lap ??

Watch race highlights from Sunday's race at the Hungaroring ??#HungarianGP ???? #F1

— Formula 1 (@F1) July 19, 2020
Pre-race drama
The drama for the 2020 Hungarian Grand Prix started before the race itself as rain showers made for a wet-dry start to the race. In fact, the mixed conditions caught out Verstappen who crashed into the barriers on his way to the grid about 20 mins before the start. The crash inflicted damage to the front wing and left-front suspension of Verstappen's car. At the time, one would have imagined that Verstappen, the driver who would have excelled in the mixed conditions, wouldn't start the race let alone challenge Hamilton for victory.
Red Bull Racing's mechanics need to be credited for their quick repairs on Verstappen's car. They displayed the one thing that pit crew in Formula 1 are known for - team-work. And of course, there was a deadline looming over their repairs - less than twenty minutes to get their car ready before the five minute mark to the start of the race. As fans waited with bated breath, Verstappen's car was ready with about 30 seconds to spare! "I want to say a big thank you to the mechanics because they saved the day. You guys are legends. Thank you so much!" radioed an excited Verstappen after the race.
Haas' masterstroke of a mistake
As the drivers started the formation lap, the tyre of choice by the Haas drivers raised eyebrows. While all others chose to use the intermediate tyre, Romain Grosjean and Kevin Magnussen were on the full wet tyres - a mistake by the team given the drying conditions. However, their misery turned into a miracle as both drivers pitted at the end of the formation lap to swap for dry rubber, a move that saw the duo run third and fourth early in the race.
As the race progressed, Grosjean fell down the order while Magnussen managed to score his and Haas' first point of the season by crossing the chequered flag in 9th place.
Not the start that Valtteri Bottas was looking for ??

Michael Masi, FIA Race Director, said the movement was within the tolerance of the sensors and systems used to determine a jump start

But Bottas ended up losing several places in the run to Turn 1#HungarianGP ???? #F1 pic.twitter.com/kUhGbnb7Xf

— Formula 1 (@F1) July 19, 2020
However, the team fell foul of a Technical Directive by the FIA - one that doesn't permit the team to radio instructions to the drivers on the formation lap. In Haas' case, they asked both drivers to pit at the end of the formation lap. As a result, 10 seconds were added to the final race time of both drivers. Magnussen dropped from 9th to 10th place - meaning that in just three races of the season, 9 out of the 10 teams have scored points already.
The other start infringements were Kimi Raikkonen being out of place - a mistake that cost him a 5 second time penalty and for Red Bull Racing who were thought to be drying Alexander Albon's grid slot - an action that isn't permitted. However, Red Bull Racing were exonerated post-race.
Bottas' botched start
After narrowly missing out on pole position, Bottas had set his sights on turn 1 in an effort to snatch the lead from Hamilton.
"It's going to be a bit of a drag race into turn 1 between us tomorrow, so I look forward to that - the first lap will definitely be interesting," said Bottas after qualifying.
However, the Finn went backwards on the opening lap - literally speaking, after a botched start. "I reacted to a light on my dash that went off. I don't know what it was, so something changed on my dash and I reacted to that instead of the start light and I had to do the start again and lost it there," explained the Mercedes driver.
Unfortunately, he was in an unexpected sixth place at the end of the first lap and there was initial surprise as to why Bottas' movement before the start wasn't considered as a 'jump start'. Post-race, it was explained that Bottas' movement was within FIA's acceptable limits and didn't evoke a penalty.
Lights out ??@Max33Verstappen ??#HungarianGP ???? #F1 pic.twitter.com/9Yid8RYKcC

— Formula 1 (@F1) July 19, 2020
After making a smooth start, Hamilton led the field and opened up a sizable gap after the opening few laps. In fact, the action was behind Hamilton - for positions second and lower after Verstappen and Racing Point's Lance Stroll battled early on. Despite his pre-race issues, Verstappen drove a stunning opening lap to elevate himself to third before overtaking Stroll for second place in the early laps. It was expected that Bottas would fight through the field and challenge Verstappen for second place and he did exactly that.
The fight for P2
The Bottas-Verstappen battle for second place evolved through the 70 lap race with the Finn fighting through the field and narrowing the gap to his Dutch rival twice in the race. Mercedes backed their driver fully and attempted a three-stopper strategy to give Bottas fresh rubber to aid his charge. Their strategy was similar to the one they used last year at the same circuit - that time it was Hamilton chasing Verstappen for victory. In 2020, Bottas couldn't make it work and had to settle for third and cede the lead of the Drivers' Championship to Hamilton.
When your race might be over before it's even started ??

But you eventually finish P2 ??#HungarianGP ???? #F1 @Max33Verstappen pic.twitter.com/o9JDpGYUsy

— Formula 1 (@F1) July 19, 2020
Up ahead, Hamilton's advantage over Verstappen was more than a full pit-stop. This prompted Mercedes to pit their star driver and give him the softer rubber to try to score an extra point for the fastest lap of the race - which he did. Hamilton said post-race, ""What an incredible race. Honestly, that was one of my favourites that I've raced, even though I was on my own for the majority, it's a very different kind of challenge and I was pushing hard out there - particularly for the fastest lap at the end."
In a season where it increasingly seems like the Mercedes drivers will be title rivals, both drivers have registered a finishing position less than second place - fourth in Austria for Hamilton and third in Hungary for Bottas. The gap between the two is five points and Hamilton has two victories to Bottas' one.
Racing Point score big
Lance Stroll was the highest place mid-field driver who ran an uninterrupted race to finish fourth albeit almost fifty seconds adrift of Bottas. Stroll had one of his better race weekends after he qualified third - ahead of the much-experienced Sergio Perez. Despite the apparent pace of their car, Racing Point would be disappointed to have not scored a podium finish yet.
"I think the podium was close today because we were in a big battle with Bottas and maybe we could have done things differently, but you can always say that after the race. That's racing and we've got to be happy with fourth," summarized Stroll.
Take a few seconds to kick back with some epic @LandoNorris v @Charles_Leclerc 🍿 ⚔️#HungarianGP 🇭🇺 #F1 pic.twitter.com/2NOiFR4yZ8

— Formula 1 (@F1) July 19, 2020
Mclaren, the mid-field stars from the first two races, had to settle for 9th place with Carlos Sainz Jr. whose progress was halted by a slow pit-stop. Lando Norris failed to recover after a poor start and opening lap. However, the team would be pleased to have held onto 3rd place in the Constructors' Championship. Ferrari, who have been relegated to the mid-field in 2020, could only manage 6th with Sebastian Vettel - who lost 5th place to Red Bull Racing's Albon due to a driver error on worn out tyres.
Charles Leclerc drove a feisty race that included battles with Bottas, Norris and Sainz to finish 11th and outside of the points. Luckily for Ferrari, Vettel's call to switch to the medium tyre instead of the soft (a wrong choice the team made for Leclerc) saved them further blushes after a challenging start to the season. Finally, Renault's Daniel Ricciardo ran a medium-medium strategy to finish 8th.
Daruvala's double score
It was also a good race weekend for India's lone Formula 2 racer, Jehan Daruvala. After a challenging few rounds in Austria, the Red Bull Racing junior driver scored points in both races. He is currently 13th in the Drivers' Championship and will be looking to claim lost ground as the circus regroups in Silverstone a fortnight from now.
Find latest and upcoming tech gadgets online on Tech2 Gadgets. Get technology news, gadgets reviews & ratings. Popular gadgets including laptop, tablet and mobile specifications, features, prices, comparison.
Sports
Lance Stroll's unexpected teammate Nico Hulkenberg was seventh after filling in at the last minute for Sergio Perez.
Sports
Formula 1 scrapped all four races in North and South America due to the COVID-19 pandemic, a blow for the sport's hopes in a region it views as key for future growth.
Sports
Hamilton needs five more wins to equal Michael Schumacher's Formula One record of 91 GP wins. The defending champion is also odds-on to equal the F1 great's record of seven world titles.