Former World No 1 Andy Murray ends season after pulling out from China Open due to ankle injury
Andy Murray is battling to regain top form and fitness following hip surgery in January and said that he was very sorry to miss the China Open.
Beijing: Former World No 1 Andy Murray has brought his truncated season to a premature end, pulling out of the China Open in Beijing after suffering an ankle injury during his quarter-final defeat at the Shenzhen Open.
The 31-year-old Briton is battling to regain top form and fitness following hip surgery in January and said that he was "very sorry" to miss the China Open.
The tournament — which begins this weekend — has been hit by several high-profile pull-outs with Rafael Nadal not involved because of injury, Roger Federer saving himself for Shanghai and Serena Williams all absent.
World No 3 Novak Djokovic is also not involved despite being offered a wildcard.
Murray, ranked 311 in the world, previously said that Beijing would be his final event this season and he is carefully managing his schedule following his operation in order to get the most out of his creaking body.
"I am very sorry to have to withdraw from the China Open," Murray said in a statement on Saturday.
"I was sincerely looking forward to returning to Beijing, where I won the championship just two years ago.
"I injured my ankle in my match in Shenzhen last night and there is no way I can compete effectively next week."
Murray was beaten 6-4, 6-4 on Friday in Shenzhen by Spanish veteran Fernando Verdasco, although he defeated World No 11 David Goffin in the last 16 for the best win since his comeback in June.
Murray, a three-time Grand Slam title winner, will spend the winter working himself back to the sort of fitness levels that saw him capture nine titles in a stellar 2016 campaign, including his second Wimbledon crown and another Olympic gold.
"It was another three matches, which is positive," said Murray after the defeat to Verdasco.
"But obviously I want to play better than that, I have higher ambitions than losing in the quarter-finals. I want to try to be better in these events.
"I need to spend more time on the practice court and the gym so that I'm more robust and physically in better shape."
Juan Martin del Potro, the top seed in Beijing, will play Albert Ramos in his opener.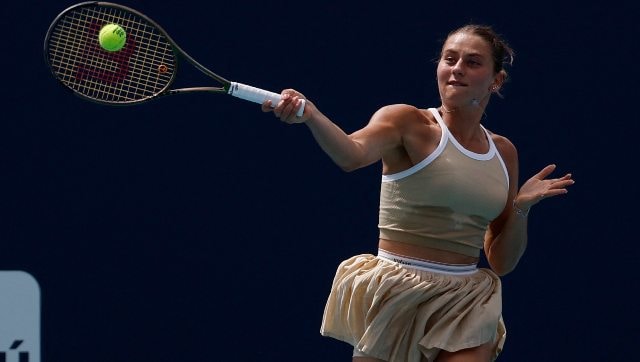 Tennis
Ukraine's Marta Kostyuk says the WTA Tour has ignored a request for a meeting with players from the war-torn nation in the latest signs of the conflict-related tensions in women's tennis.
Tennis
Martina Navratilova revealed in January she had been diagnosed with throat and breast cancer.
Explainers
The Swiss national football team, the country's top football division, tennis great Roger Federer, golf star Sergio Garcia, and Zurich's new stadium were all sponsored by Credit Suisse, which is being taken over by Swiss rival UBS. This has raised concerns about the bank's sponsorship deals