Former USA Gymnastics doctor Larry Nassar, jailed for sexual abuse of hundreds of girls, claims he was assaulted in prison
In the Michigan state court filing, Larry Nassar also asked for a new sentencing hearing, alleging the presiding judge lacked impartiality.
Former USA Gymnastics team doctor Larry Nassar, who sexually abused hundreds of women and girls, claimed in a court filing made public on Wednesday he was assaulted in federal prison and sentenced by a biased judge.
Nassar is serving a life sentence for convictions in three courts on charges of child pornography possession and sexual assault.
In the Michigan state court filing, he asked for a new sentencing hearing in one of those courts, alleging the presiding judge lacked impartiality.
The 54-year-old disgraced doctor has admitted to sexually assaulting athletes over decades, including USA Gymnastics and Olympic champions, under the guise of medical treatment.
But Nassar's attorneys criticised Judge Rosemarie Aquilina, who presided over a powerful televised sentencing hearing in January as some 160 victims gave seven days of emotional impact statements.
Aquilina made headlines with pointed and frank comments during the hearing, and the encouraging words she offered each testifying victim, whom she called "sister survivors."
"Judge Aquilina's efforts to demonise Dr Nassar in front of the entire world were successful. He was attacked inside the courtroom in Eaton County and attacked in federal prison," his attorneys wrote.
The Eaton County hearing took place after Aquilina's sentencing. During it, the father of one of Nassar's victims lunged toward him, but was stopped by police guards.
Nassar's attorneys did not provide further details in the court filing about the alleged prison assault.
Aquilina sentenced Nassar to 40 to 175 years and told him, "You do not deserve to walk outside of a prison ever again."
Nassar's attorneys argue Aquilina never properly considered a lesser sentence and are asking that a different judge resentence him.
"(Aquilina) herself proclaimed she wished she could impose cruel and unusual punishment upon Dr Nassar, expressed her expectation that he would be physically harmed in prison, and finally stated that she was signing his 'death warrant,'" the attorneys said.
In a hearing next week, Nassar's attorneys will appear before Aquilina on the motion that she recuse herself.
Find latest and upcoming tech gadgets online on Tech2 Gadgets. Get technology news, gadgets reviews & ratings. Popular gadgets including laptop, tablet and mobile specifications, features, prices, comparison.
Sports
Brown had worked with the Australian men's team in the 1990s and early 2000s and again from 2009-12 before joining 76ers. He was hired again in November last year on a short-term basis for the Olympic assignment after Andrej Lemanis quit, and had been expected to do work with the Boomers during the NBA break.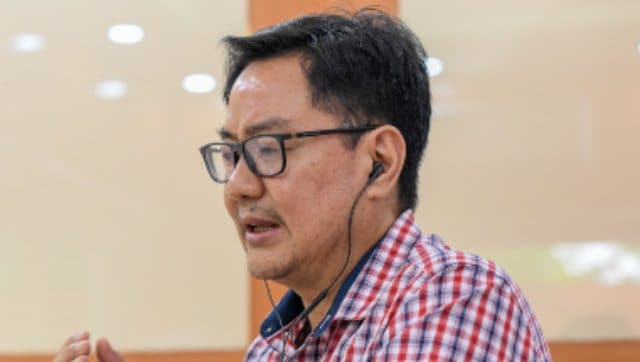 Sports
Rijiju said the government is working hand-in-gloves with the national federation of the game in creating a strong talent pool keeping in mind the 2024 and 2028 Olympics.
Sports
IOC is not expected to reveal concrete plans until later this year, or early in 2021